Remembering Mohsin Naqvi – by A Z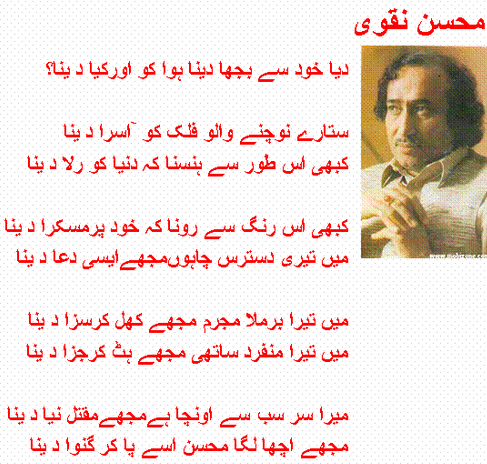 Mohsi Naqvi, a renowned Urdu poet, was gunned down at his home in Lahore on this day nineteen years ago (15 Jan 1996). He was 48 years old. Mohsin was also a consummate orator with the soul of a poet. Mohsin was killed by the banned terrorit outfit Sipah-e-Sahaba Pakistan (SSP aka ASWJ) for being a Shia in a reign of terror that has been unleashed on Pakistan over the past over twenty years. The SSP (ASWJ-LeJ) and its cohorts have killed over ten thousand Shia citizens of the country over the past years, including highly qualified people from every walk of life.
Mohsin's brief was large enough to accord a right of expression to each of his varied talents. He was a possessor of remarkable gifts and impeccable instincts and his extremely varied interests (religious scholar, public speaker, poet, lawyer, human rights campaigner etc) meant that at the age of 48, his astonishing career was just beginning to get into its stride with all of it coalescing together in a manufactured coherence.
Mohsin was a very popular poet and was widely seen as a model for a young generation of poets. When he was killed, Mohsin was still blossoming as a poet. Many critics think that, as a poet, he had not even scratched the surface of his potential. While that can be debated, he was definitely on his way up as a poet. He was credited with introducing modern themes into traditional verse forms like the ghazal. He developed classical forms to explore every day events and address social and political issues, including minority rights and freedom of expression. His poetry derived its impact from clarity of expression, from plain speaking – an ability to be subtle without being oblique.
Mohsin was small in stature. But when he got behind the microphone, he always commanded the audience with his strong metaphors, witty delivery, and amazing crowd presence. Most of all, he was grounded in spirituality. I only met Mohsin a handful of times, but I heard him on stage often. I always walked away impressed by his delivery and his grip on his audience. As an accomplished poet, he had the literary tools and dazzling vocabulary to speak a language that never failed to make an impact.
In personal life, he was a bighearted and open person. It seemed like everyone loved him. As a casual observer, I saw that others seemed drawn to him. He won numerous awards for his verse, including Pride of Performance in 1993. For his many friends and admirers Mohsin's brutal murder brought a tremendous sense of private as well as public bereavement.
Mohsin belonged to a rare breed which confirms that there is an intersection between philosophy, poetry, and theology. A breed that can host an audience exiled by the frightening functionaries of institutional religion. That is a breed we badly need in these times of puritanical bigotry. Mohsin's lasting epitaph, though, remains his poetry offering people of all faith a means to express their feelings and their love in a simple kind of language.
Here are two of his Ghazals.
Jisam tarpa khak per tanha
Rooh karti rahi safar tanha
Nend valo'n ko khabar kya iss ki
Kon jaga hy raat bhar tanha
Log soe kahi'n band kamro'n mai
Chand bhatakta hy dar-badar tanha
Sath deta hy kon manzil tak
Sath chalti hy rahguzar tanha
Shehr ka shehr bujha jata hy
Ja raha tha vo apne ghar tanha
Ae gham.e.zindagi k raat k chand
Dhoond mujh ko nagar nagar tanha
Vo jo hansta tha ehl.e.dil pe kabhi
Ro para khud ko dekh kar tanha
Bhool kar apne husan k aadab
Mere dil mai kabhi utar tanha
Ye khudao'n ka dor hy iss mai
Reh gaya faqat bashar tanha
Yad ae hazar shehr mujhe
Jab b dekha koi khanda'n tanha
Iss bhare shehr mai MOHSIN
Anjuman tha koi magar tanha
جسم تڑپا ہے خاک پر تنہا
رُوح کرتی رہی سفر تنہا
نیند والوں کو کیا خبر اس کی؟
کون جاگا ہے رات بھر تنہا؟
لوگ سوئے تھے بند کمروں میں
چاند بھٹکا ہے در بدر تنہا
ساتھ دیتا ہے کون منزل تک؟
ساتھ چلتی ہے رہگزر تنہا
شہر کا شہر بجھتا جاتا تھا
جا رہا تھا وہ اپنے گھر تنہا
اے غمِ زندگی کی رات کے چاند
ڈھونڈ مجھ کو نگر نگر تنہا
وہ جو ہنستا تھا اہلِ دِل پہ کبھی
رو پڑا خود کو دیکھ کر تنہا
بھول کر اپنے حسن کے آداب
میرے دِل میں کبھی اُتر تنہا
یہ خداؤں کا دَور ہے اس میں
رہ گیا ہے فقط بشر تنہا
یاد آئے ہزار شہر مجھے
جب بھی دیکھا کوئی کھنڈر تنہا
اِس بھرے شہر میں کبھی محسن
انجمن تھا کوئی مگر تنہا
———————————————
zikr-e-shab-e-firaq se wahashat use bhi thi
meri tarah kisi se muhabbat use bhi thi
mujh ko bhi shauq tha naye chehron ki did ka
rasta badal k chalne ki adat use bhi thi
us rat der tak wo raha mahw-e-guftagu
masruf main bhi kam tha faragat use bhi thi
sunata tha wo bhi sab se purani kahaniyan
taza rafaqaton ki zarurat use bhi thi
mujh se bichar k shahar main ghul mil gaya wo shakhs
halanke shahar bhar se raqabat use bhi thi
wo mujh se barh k zabt ka adi tha ji gaya
warna har ek sans qayamat use bhi thi
ذکرِ شبِ فراق سے وحشت اسے بھی تھی
میری طرح کسی سے محبت اسے بھی تھی
مجھ کو بھی شوق تھا نئے چہروں کی دید کا
رستہ بدل کے چلنے کی عادت اسے بھی تھی
اس رات دیر تک وہ رہا محوِ گفتگو
مصروف میں بھی کم تھا فراغت اسے بھی تھی
سنتا تھا میں بھی سب سے پرانی کہانیاں
تازہ رفاقتوں کی ضرورت اسے بھی تھی
مجھ سے بچھڑ کے شہر میں گھل مل گیا وہ شخص
حالانکہ شہر بھر سے رقابت اسے بھی تھی
وہ مجھ سے بڑھ کے ضبط کا عادی تھا جی گیا
ورنہ ہر ایک سانس قیامت اسے بھی تھی
Comments
comments