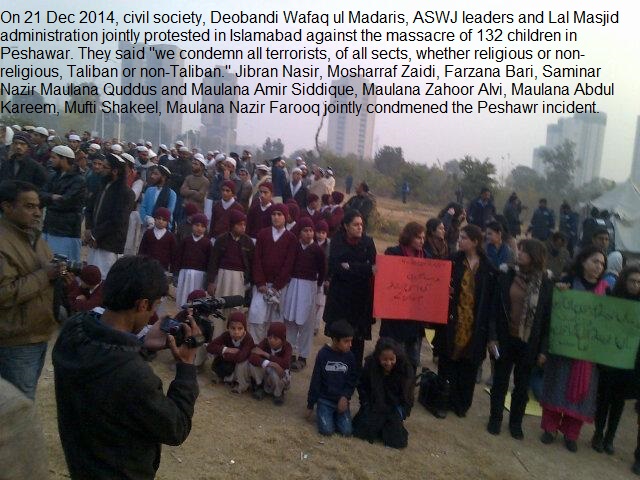 Dawn's report (21 Dec 2014) confirms that fake civil society has backstabbed the victims of Peshawar army school massacre, forges alliance with takfiri Deobandi wafaq, ASWJ and Lal Masjid
As expected, the Sethi-Beena liberal sponsored fake liberals have undermined the sacrfice of more than 132 students massacred by takfiri Deobandi khawarij at the Peshawar army school.
According to Dawn, (fake) civil society and leaders of Laal Masjid, Sipah-e-Sahaba (ASWJ), and Deobandi madrass association Wafaq-ul-Madaaris were united in protest against the Peshawar massacre.
Leaders of the fake civil society said that their goals were common, they decided to remove the protest from outside the Laal Masjid, and also commented against execution of convicted terrorist of ASWJ-TTP-LeJ.
There was no mention of the common takfiri Deobandi identity of TTP, ASWJ, LeJ, Ahrar, Jundallah etc terrorists who have killed more than 45,000 Sunni Sufis, 22,000 Shias, and hundreds of Ahmadis, Christians and other communities across Pakistan.
These Mosharraf Zaidis, Najam Sethis, and Beena Sarwars have always been committed allies of Deobandi takfiri khawarji.  Ali Chishti is the same person who promotes Ludhyanvi and Ashrafi as prophets of peace and wants tighter anti-blasphemy laws against Shia Muslims.

https://lubpak.com/archives/231304
Najam Sethi is the same person who released more than 100 LeJ-ASWJ terrorists when he was caretaker CM of Punjab (2013) and Mosharraf Zaidi is a known agency mole notorious for obfuscating the Deobandi takfiri ideology of terrorists. It's ironical that many of these Karachiites have come all the way to Islamabad to protest against a mad Deobandi cleric while remaining tight lipped on takfiri terrorist Aurangzeb Farooqi who is killing scores of Sunni Sufis and Shias in Karachi on a weekly basis. They also remain tight-lipped on how Pakistan army's FC remains key protector and supporter of Ramazn Mengal in Balochistan. Their only aim was to ally with good Taliban against bad Taliban and to deflect attention from the ASWJ, Wafaq ul Madaris and other enablers and supporters of takfiri Deobandi terrorism. Those who trusted these fake liberals in the first place should learn a lesson or two from this episode. Will they?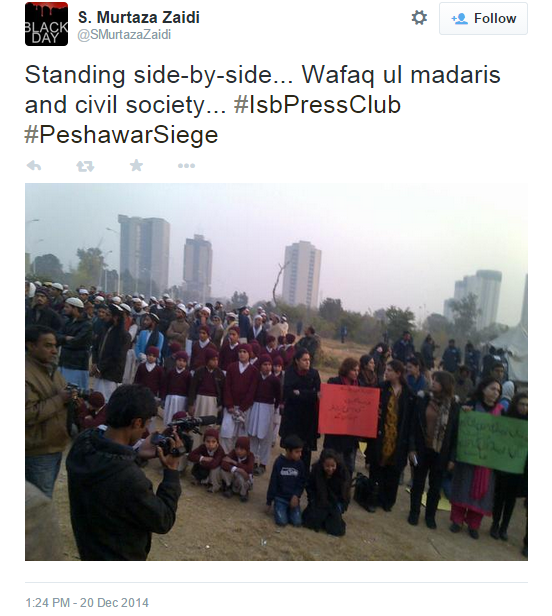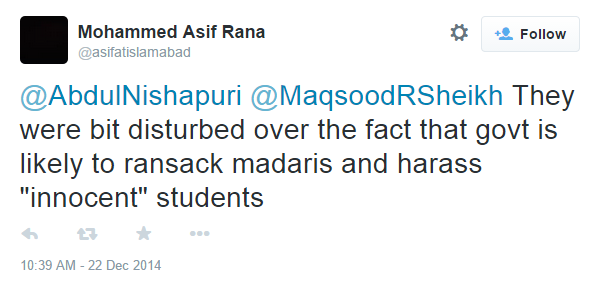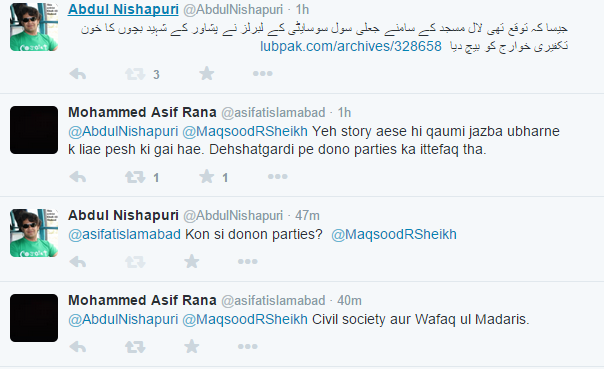 Here's a copy of the report by Dawn newspaper:
…………..
Lal Masjid tries to ease out pressure
Ikram Junaidi
Source: Dawn, 21 Dec 2014
ISLAMABAD : On the third consecutive day of the protest against Maulana Abdul Aziz of Lal Masjid on Saturday, the deputy khateeb of the mosque along with representatives of the federation of seminaries joined the civil society activists to condemn the massacre of schoolchildren in Peshawar. The civil society activists started their protest against Maulana Aziz after he refused to condemn the killing of schoolchildren three days ago.
For two days, the protest was held in front of the mosque during which the cleric threatened the protesters with dire consequences. As a result, the police registered cases against both sides.
On Saturday, when the civil society activists reached outside the National Press Club at 4pm, they were surprised to see Lal Masjid Naib Khateeb Maulana Amir Siddique and leaders of Wafaqul Madaris al Arabia (WMA) along with scores of students from seminaries already staging a protest against the Peshawar incident.
A large number of police officials were also deployed at the spot.
Deputy khateeb, other clerics join civil society to condemn Peshawar carnage
A police officer said his men would stand between both the groups to avoid any clash, but the civil society activists and the religious scholars talked to each other and decided to stand side by side as the goal of their protest was the same.
WMA spokesman Maulana Abdul Quddus said Wafaqul Madaris al Arabia was the biggest network with around 20,000 seminaries and two million students.
"WMA condemns the Peshawar incident and has held prayers for the children who were killed in the attack. We believe that all children who died during attacks in Peshawar, tribal areas, Karachi and other parts of the country are martyrs," he said.
"No one can support the killing of innocent children and that is why Lal Masjid's Naib Khateeb Maulana Amir Siddique is here today," he said.
Later, talking to Dawn, Maulana Quddus said Maulana Aziz had also condemned the Peshawar incident but unfortunately only one sentence of his statement was highlighted.
President WMA Islamabad chapter Maulana Zahoor Ahmad Alvi, head of Jamia Qasmia Maulana Abdul Kareem, Mufti Shakeel of Jamia Mohammadia, Maulana Nazir Farooqi of Jamiat Ulema-i-Islam (JUI) and other religious leaders also participated in the protest.
Maulana Farooqi said: "The Peshawar incident was brutal and condemnable. We stand by the parents of the schoolchildren killed."
Jibran Nasir, one of the organisers of the civil society protest, added: "Though an FIR has been registered against Maulana Aziz, the investigation officer has not contacted the complainant. We will hold a protest in front of Aabpara police station on Monday if the police did not start preparing a challan against the Maulana." He demanded that a monument for the martyred children be built on the vacant plot in front of Lal Masjid.
Jibran Nasir said: "We appreciate the step taken by the (Deobandi) WMA which has condemned the Peshawar incident and declared that Maulana Aziz's statement was in his individual capacity."
Mr Jibran told Dawn that though the venue of the protest on Saturday was Lal Masjid, it was changed to the NPC on the request of the residents.
Civil society activist Samina Nazir said the state should be careful while executing convicts because the judicial system of the country was faulty.
Intellectual Mosharraf Zaidi said it was a positive step that both liberal and religious segments were united in condemning the tragedy.
Human rights activist Farzana Bari said if the government was serious about eradication of terrorism, it should take action against those who did not condemn terrorism.
Educationist and human rights activist Ahmad Ali told Dawn that though he was the one who had decided to hold a vigil in front of Lal Masjid, he did not agree with those who chanted slogans against the management of the mosque and the military establishment. "I believe that everyone has the right to have a difference of opinion," he said.
Published in Dawn, December 21st, 2014