Editor's note: Thanks to Sunni Sufi, Shia and Christian volunteers, Deobandi clerics and parties are feeling the heat because of empirical and robust exposure of their links with and patronage to takfiri terrorist outfits. This report by daily Dawn about the union of Deobandi clerics to repair their tarnished image is a proof.
However, instead of cosmetic surgery, Deobandi clerics need to take substantive steps to retract the takfiri and derogatory fatwas against Sunni Sufis and Shias and must refrain from visible and discreet patronage of takfiri terror outfits including Sipah-e-Sahaba (ASWJ) and Taliban (TTP). However, as the news items confirms, the meeting was attended by all Deobandi groups including the Deobandi terrorist outfit ASWJ (aka Sipaha-e-Sahaba LeJ) which shows that Deobandi clerics and madrassas are shamelessly adamant at patronizing and owning up the Deobandi takfiri terrorists.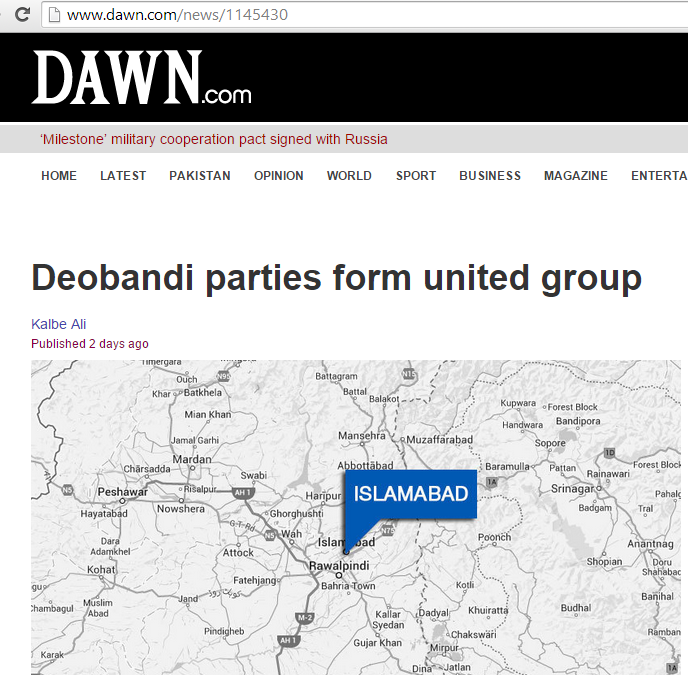 ISLAMABAD: The country's politico-religious parties of the Deobandi school of thought, including two factions of Jamiat Ulema-i-Islam led by Maulana Fazlur Rehman and Maulana Samiul Haq, decided on Tuesday to form a united group.
The decision was taken by leaders of the parties at a Deobandi conference convened by the relatively unknown Majlis Ahrar-i-Islam Pakistan group headed by Maulana Hafiz Ataul Momin Shah Bukhari.
The conference decided to form two committees to strengthen unity of different Deobandi groups.
One committee, the supreme council, will formulate policies for a collective struggle. It will be headed by Maulana Dr Abdul Razzaq Iskander, the head of Jamia Uloom-i-Islamia, Binori Town, Karachi.
The second committee will be responsible for implementing policies formulated by the supreme council. It will be headed by Maulana Hafiz Ataul Momin Shah Bukhari, son of renowned Deobandi cleric Ataullah Shah Bukhari.
Published in Dawn, November 19th , 2014
http://www.dawn.com/news/1145430