Curbs on free media in Pakistan: PM Nawaz Sharif bans popular TV anchor Mubasher Lucman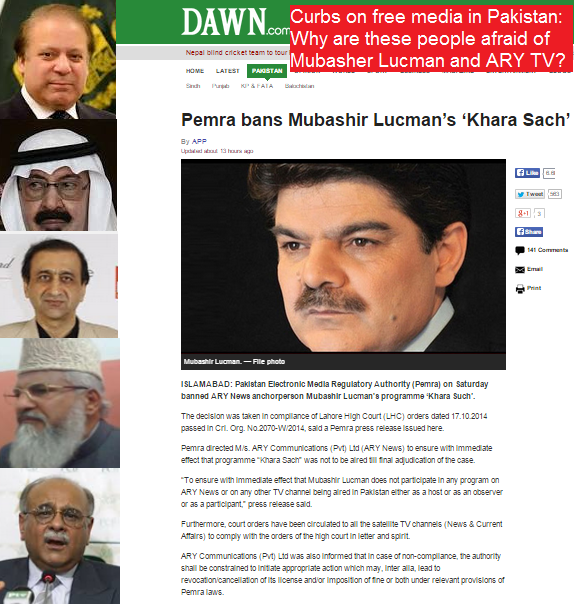 It seems that Pakistan's incumbent Prime Minister Nawaz Sharif is back to his old days and tactics when he used to place censorship on critical newspapers and arrest independent journalists, in the footsteps of his political mentor and benefactor General Zia ul Haq.
We condemn his draconian plans against free media in Pakistan. In particular, we condmen the Nawaz government's recent decision to ban Mubasher Lucman, popular TV anchor of ARY News TV.
It is evident that this decision was motivated by Mr Lucman's criticism of PM Nawaz Sharif's corruption and also on Sharif's alliance, on Saudi behest, with the banned takfiri terrorist outfits known as Taliban (TTP) and Sipah-e-Sahaba Pakistan (ASWJ). In recent past, Mr Lucman did a series of TV pogrammes exposing Saudi Arabia's sinister role in sectarian and takfiri terrorism in Pakistan. Mr Lucman also exposed the corruption and incompetence of PM Nawaz Sharif and his party and family members. PM Sharif is supported by a pro-Taliban media group i.e. Jang/Geo, which along with the ASWJ-TTP and the Saudi lobby is a major influence on the PMLN govt in Pakistan.
We also note that judiciary in Pakistan, particularly the Lahore High Court, Islamabad High Court and the Supreme Court are acting as PMLN Lawyers Wing, serving the political and economic interests of the Nawaz Sharif's family and party.
We call upon all media associations, journalists and anchors within and outside Pakistan to show solidarity with Mubasher Lucman. Today it is Mr Lucman, tomorrow it could be you! Nawaz Sharif and his Deobandi takfiri allies (ASWJ-TTP) want to implement an ISIS-style censorship in Pakistan. All of us must unite to foil this plan.
According to a report by Dawn newspaper (http://www.dawn.com/news/1138827/pemra-bans-mubashir-lucmans-khara-sach):
ISLAMABAD: Pakistan Electronic Media Regulatory Authority (Pemra) on Saturday (18 Oct 2014) banned ARY News anchorperson Mubashir Lucman's programme 'Khara Such'.

The decision was taken in compliance of Lahore High Court (LHC) orders dated 17.10.2014 passed in Crl. Org. No.2070-W/2014, said a Pemra press release issued here.

Pemra directed M/s. ARY Communications (Pvt) Ltd (ARY News) to ensure with immediate effect that programme "Khara Sach" was not to be aired till final adjudication of the case.

"To ensure with immediate effect that Mubashir Lucman does not participate in any program on ARY News or on any other TV channel being aired in Pakistan either as a host or as an observer or as a participant," press release said.

Furthermore, court orders have been circulated to all the satellite TV channels (News & Current Affairs) to comply with the orders of the high court in letter and spirit.

ARY Communications (Pvt) Ltd was also informed that in case of non-compliance, the authority shall be constrained to initiate appropriate action which may, inter alia, lead to revocation and cancellation of its license and/or imposition of fine or both under relevant provisions of Pemra laws.
Comments
comments