Saudi rogue lobby in Pakistani establishment using Deobandi terrorists to spoil Pakistan-Iran relations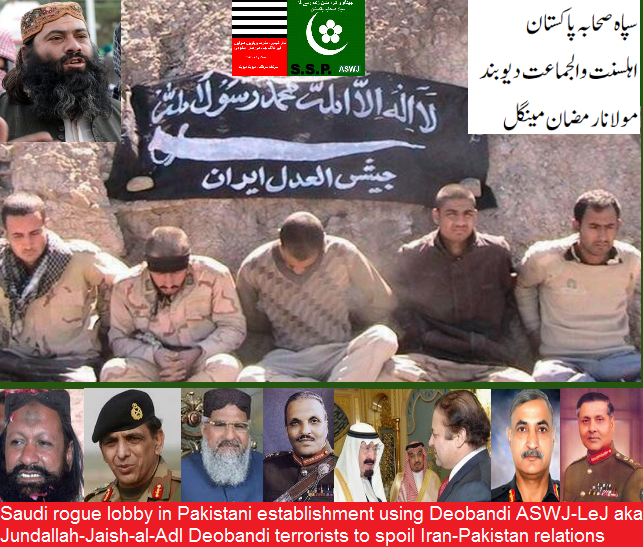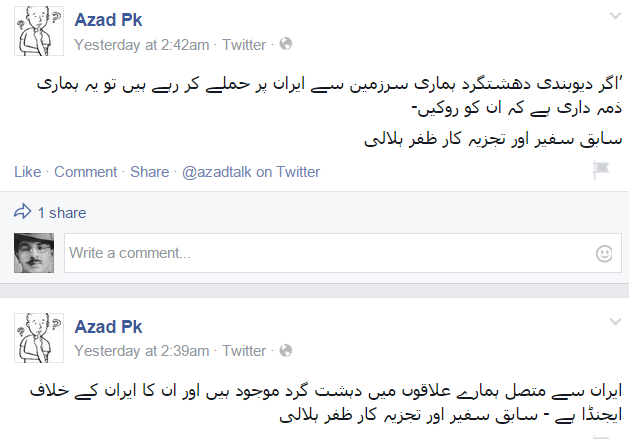 It is with deepest concern that we notice Deobandi terrorists transnational terrorist operations against Iran and Pakistan on the Iran-Pakistan border. In the last few days, scores of Iranian security personnel have been killed by Deobandi terrorsits based in Pakistan who cross the Iranian border to conduct terrorist attacks in Iran and then return to their safe refuge in local Deobandi mosques and madrassas in Balochistan. We would like Pakistan and Iran governments and army to beware of the Saudi-CIA plans against both countries in this region.
The interests of the Pakistan army and Iran converge when it comes to the issue of the fanatical Islamic State (aka IS or ISIS) which is currently operating in Paksitan in the shape of banned Deobandi takfiri terror outfit Sipah-e-Sahaba Pakistan (SSP aka ASWJ aka LeJ aka Jundullah).
The Pakistan army under General Raheel Sharif has been trying to get rid of the Ziaist generals' influence from his institution – those who support banned terrorist outfits such as ASWJ-LeJ aka Jundullah to achieve Jihadist geostrategic gains in Afghanistan and elsewhere. By raising the specter of Iran, these Takfiri-inspired Ziaists in Pakistani establishment want to create a divide between Iran and the Pakistan army and also take the attention away from the domestic violence that the Taliban  (TTP-ASWJ) are wreaking in Pakistan.
The most important Saudi proxy in Pakistan, a fact that is publicly boasted by the Saudi monarchy, is Nawaz Sharif.  Contrary to the propaganda of a certain lobby of commercially-motivated liberals, Nawaz Sharif is not "anti-establishment" but an important plank of the Saudi establishment that is intent on re-making Pakistan into an image of its intolerant and bigoted society. Nawaz Sharif never actually called for an army action against the Taliban – that decision was clearly taken by the new Army Chief.  Nawaz Sharif, through his brother Shahbaz Sharif always kept close contacts with the previous pro Taliban army chief, General Kiyani. However, General Raheel clearly does not share the same reluctance to take on the Taliban that General Kiyani did and that has pitted him against the Saudi establishment stooge, Nawaz Sharif. 
The Deobandi militants in various garbs have openly given their allegiance to IS. By creating the specter of Iran, the Ziaists want to deflect the army's attention away from the IS-related activities in various parts of Pakistan. Under the instructions of their Saudi masters, the pro-takfiri loyalists of Generals Kayani, Aslam Beg and Hamid Gul, i.e., rogue elements in Pakistan military establishment continue to support banned sectarian terror outfit ASWJ-LeJ-Jundullah. The same group was responsible for the Jihadi alliance of Deobandi and Salafi-Wahhabi terror groups known as the Defence of Pakistan Council (DPC). Particularly in Balochistan, the ASWJ-LeJ terrorists are operating as Jundallah under the leadership of Ramzan Mengal Deobandi, the provincial head of ASWJ-LeJ. 
Ramzan Mengal Deobandi has visible and tacit support of Pakistan Army's Frontier Corps and the ISI in Balochistan. He enjoys full protocol and protection of the provincial government and Pakistan army's intelligence.
The Ramzan Mengal Group has been given three tasks by the Saudi takfiri rogue lobby of the establishment:

1. Radicalize the peaceful Sunni Baloch Muslims to convert them into bigoted takfiri Deobandi and Wahhabi terrorists. These brainwashed terrorists are then used to target kill secular Baloch nationalists, Sunni Sufis and Hazara Shia Muslims of Balochistan. The aim is to somehow weaken the Baloch nationalist movement but also to contain the Sunni Sufi and Shia influence in Balochistan.

2. Cross-border attacks on Iranian border security personnel and other officials. The aim is to spoil the brotherly relations between Pakistan and Iran.

3. Expand the dangerous Saudi-CIA plan to export ISIS to Pakistan and Iran.

It is high time that Generals Kayani, Aslam Beg, Hamid Gul be arrested, the provincial chief of FC and ISI must be investigated to explain their links with the ASWJ-LeJ-Junduallah complex, particualrly with Ramzan Mengal and Rafiq Mengal and their role in target killings of Hazara and other Shia Muslims, secular Baloch activists and cross-border atacks on Iranian officials.
Here's a relevant news report from the New York Times:
TEHRAN — Sunni (Deobandi) insurgents in Pakistan increased attacks on Iranian border posts in the southeast of the country this week, employing methods similar to those used by Islamic State militants in Syria and Iraq.

In one instance, a car bomber struck a fortified base near the city of Saravan, killing a senior officer and prompting Iranian commanders and politicians Thursday to call upon Pakistan to control its borders. On Tuesday, three police officers were killed in an ambush after responding to a distress call.

These were only the latest in a series of attacks. Last month, insurgents rammed a vehicle laden with more than 1,000 pounds of explosives into one of the outer walls of a central base before launching a surprise attack with a convoy of pickup trucks carrying 70 insurgents, a senior military official told the Fars news agency this week.

http://www.nytimes.com/2014/10/10/world/asia/pakistan-sunni-insurgents-step-up-attacks-in-iran.html

The Reaction from Iran:

Iran has summoned the Pakistani ambassador and demanded immediate steps to stop attacks by "terrorists and rebels" that sparked deadly clashes on the countries' border, state media reported Sunday.

Noor Muhammad Jadmani was called to the foreign ministry on Saturday evening following the deaths in the restive border province of Sistan-Baluchistan, the official IRNA news agency said,.

Two Iranian border guards and a Pakistani paramilitary officer were killed in a shooting on Thursday evening, sources on the two sides said. Iran said rebels had tried to infiltrate the country.

"It is unacceptable that terrorists and rebels attack our country from Pakistani territory and kill our border guards," the foreign ministry's western Asia director, Rasul Salami, told IRNA.

He asked the Pakistani government to "take serious steps to prevent any recurrence of such incidents," the news agency said.

Thursday's border shooting came after rebel attacks killed five people in Sistan-Baluchistan province earlier this month, four of them security personnel.

Iranian media said 14 people were arrested in connection with those attacks.

Last month, an Iranian soldier was killed and two pro-government militiamen wounded in an attack authorities blamed on Deobandi extremist group Jaish-ul Adl (Army of Justice).

The same group captured five Iranian troops in February, four of whom were released in April. The fifth soldier is presumed dead but his fate remains officially unknown.

Sistan-Baluchistan has a large Sunni Muslim community in otherwise predominantly Shiite Iran and it has been plagued by violence involving Sunni extremists and drug smugglers.

Ethnic Baluchis straddle the border into Pakistan's Baluchistan province, where a long-running separatist conflict was revived in 2004.

The nationalists charge that the central government in Islamabad has exploited the region's natural resources and committed human rights abuses.

But the idea of giving greater autonomy to the province, the size of Italy but with only nine million inhabitants, is highly sensitive in a country still scarred by the independence in 1971 of its eastern portion, now Bangladesh.

http://www.france24.com/en/20141019-iran-summons-pakistani-ambassador-over-border-killings/

Pakistan Army should not fall prey to the old tactics of Ziaist Generals like Aslam Baig and proceed to do joint operations with Iranian Army against Deobandi Terrotists of TTP,Sipah Sahaba (ASWJ LEJ)  and Jandullah in Balochistan.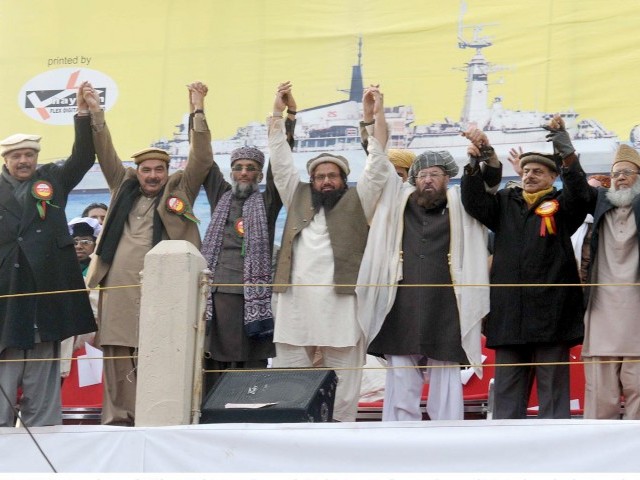 Comments
comments