Editor's note: The other day, we published a post about whether Bahrain exists or not. We argued that Bahrain may have been existing as a country where sporting events take place, but Bahrain as a country with human beings does not exist because the suffering of the Bahrani people are seldom reported in the media. The people of Bahrain are ruled by a family which is baked by the Saudi Royal family. Bahranis live in sub-human conditions, politically speaking. Here is an instance of how a Bahraini human rights activist has been arrested by the Bahrani authorities. Sadly, the West led by the United States has been supporting Bahrani and Saudi Salafi ruling elites. This shows how bogus the Western claim of supporting democracy all over the world is.
Why is Nabeel Rajab being punished by the Bahraini rulers? He is exposing the Pakistani Takfiri Deobandi mercenaries, hired by the pro Takfiri Salafi Deobandi rulers of Bahrain to control the Shia Majority in Bahrain, are now joining ISIS.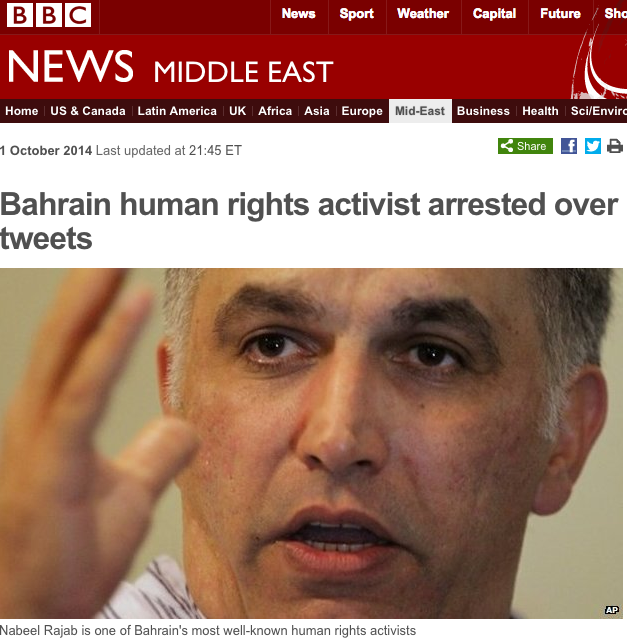 Rajab, who heads the Bahrain Centre for Human Rights, had just returned to the country after an advocacy tour abroad. He had served two years in prison for organising anti-government protests before being released in May.
Despite being a majority Shia country, Bahrain's government is Salafi Wahhabi and has faced ongoing protests since 2011. Mr Rajab was often seen in the forefront of those demonstrations and is a vocal critic of the ruler, King Hamad al-Khalifa.
He is also a prominent voice on social media, with almost 240,000 followers on Twitter.
The Gulf Center for Human Rights confirmed that Mr Rajab had been arrested on Wednesday.
He was summoned for questioning at Bahrain's Cyber Crimes Department before being detained overnight, the statement said.
Bahrain's interior ministry confirmed that Mr Rajab had been summoned and said that he had "acknowledged the charges".
He is due to appear before the public prosecutor on Thursday, the interior ministry said in a statement.
It did not mention which Twitter postings the charges related to.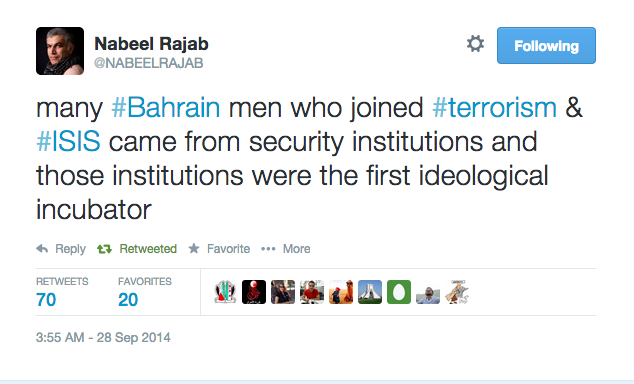 In a tweet made on Sunday, however, Mr Rajab said that many Bahrainis who had joined the Islamic State (IS) militant group had come from state security institutions.
These institutions served as the "ideological incubator" for IS, the tweet alleged.
Before his imprisonment in July 2012, Mr Rajab was repeatedly detained in connection with the pro-democracy protests that erupted the previous year.
http://www.bbc.com/news/world-middle-east-29454283#?utm_source=twitterfeed&utm_medium=twitter