About PTI's performance in KP – by A Z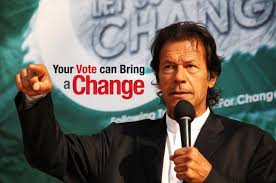 Many people have talked about the PTI's performance in the KPK. It has been far from optimal and surely should have been better.
However, there has been palpable progress in the past 15 months frustrating the people who thought they had set the PTI up for failure by asking it to form a government in the KPK. Even a recent coverage from the BBC, grudgingly accepts that there has been improvement. While the performance has certainly not been sterling, it is surely a pass with a lot of hope for a party that had no previous experience at all of governing at any level and government which (unlike Punjab's, for instance) is woefully poor at publicizing its achievements.
Imran Khan dismissed two QWP ministers for corruption and lost an ally at the risk of losing his government. It has never happened before in Pakistan.
PTI has been paying attention in KPK to improvements in education, health, police, patwari culture, and designing processes of civil works contracting to eliminate corruption. These are the areas which concern a common person and, hence, their results are recognized right away by masses. In education, schooling up to grade 10 has been made free with provision of free books. The attendance of not only teachers but also other government officials is closely supervised through a central monitoring system, which has significantly improved school and office attendance. PTI has started a program of improving and upgrading government schools all over the province which would be completed in a couple of years. Initiatives such as Education City and Uniform Learning System are underway.
Encroachments, particularly along the roads, have been largely removed and roads condition improved. Roads are kept clean and green areas are being developed along them.
In hospitals, all systems including registration, attendance, cleanliness, and management have improved. All treatments in emergency wards are free. Insulin is also provided free of cost to all patients.
People have reported based on personal experience that with respect to corruption, situation in police and patwari culture has significantly improved. Accountability is indiscriminate and harsh, which has acted as a deterrent for government employees. An FIR can be registered through an e-mail. Thousands of online FIR have been registered. Well over four hundred policemen have been dismissed for corruption in the past one year alone.
Yes a large part of development fund remains unused, but that is because misappropriation is not allowed anymore. The KPK government prefers to delay the work till it can ensure that corruption does not contaminate a project.
Here is something a senior Banking Executive wrote to me. "We review during our monthly (bank) meetings the security situation across the country and one section shows a couple of slides on reported street crime that includes murders, theft, dacoities, kidnapping, kidnapping for ransom etc. For last few months in the province-wise break up slide on all of the above, KPK's bar on the chart is almost invisible, in some cases zero. Mind you it is based on publicly available information, so no chance of manipulation. When I noticed this a couple of months back, I jokingly told our security head to sell these slides to PTI. It has become a standard joke since then and everyone in the mancom eagerly waits for that slide to be shown. You are right, they don't do a good job of publicizing their own (great) achievements."
Who in Pakistan's history has done such legislation???
Ehtisab Bill (That renders even the CM accountable)
Right to Service bill (Gives people right to govt services in a certain time, failing which the officials are held accountable)
Right to information bill (to guarantee people's access to govt information and ensure transparency in affairs of the government.)
KPK Population policy (plans to decrease population growth rate from 2.05% to 1.8% by 2020 by proposing the inclusion of family planning in the curriculum for higher secondary education and academic levels above it.)
Ramzan Price control (There was no runaway hike in prices in Ramzan in the KPK as online price markets meant that businesses were forced to sell their goods at a non-monopolistic price, in line with fair trade rules)
Asset Declaration (All government employees are required to declare their assets.)
Biometric polling instituted
According to the March 2014 survey by Gallup, public satisfaction in K-P was highest with 57%. As opposed to public satisfaction in Punjab (27%) and Sindh (26%).
Comments
comments