Pakistan: Eleven Shia doctors target killed by Deobandi militants during Jan-Sep 2014

Karachi, Pakistan — Another Shia doctor was target killed in Karachi, Pakistan, on 11 September 2014.  According to initial reports, sectarian terrorists of banned Deobandi outfit Sipah-e-Sahaba Pakistan (ASWJ) attacked and target killed Dr Abdul Aziz, a Shia physician,  at his clinic near Madni Mosque, Korangi 1-1/2. This the the latest attack targeting Shia Muslims community in Pakistan. Shia professionals in particualr Shia doctors are being targetted by Deobandi militants along  with ordinary Shia citizens. Moreover, Deobandi militants are also target killing Sunni Sufi Muslims because of sectarian hatred.
Only a few days ago, on Thursday, 28 August, another doctor was killed  in the same city. Dr Aun Naseem Jafferi was shot dead while he was examining and treating patients at his clinic. Three gunmen riding on a motorcycle appeared and opened fire on the doctor, injuring him. The wounded victim was taken to Jinnah Post Graduate Medical Centre (JPMC) where doctors pronounced him dead on arrival, said Dr Seemi Jamali, head of the emergency department.
Dr Aun's assassination increased the death toll of killed Shia doctors to eleven during the last nine months. In the last four years, more than 29 Shia doctors along with dozens of lawyers, teachers and businessmen have been target killed in Pakistan.
In the long unabatedly ongoing systematic killing of Shia Muslims, professionals from many sectors, including doctors, lawyers and teachers, have been frequently targeted right across Pakistan.
While Shias and Sunni Sufis are being target killed across Pakistan, Sindh province, Karachi in particualr, has become a graveyard of Shias and Sunni Sufis. Sindh government, currently ruled by Pakistan Peoples Party (PPP) has failed to take action against Aurangzeb Farooqi Group of ASWJ, known for frequent incitmnt of violence against Shias and Sunni Sufis.
Three weeks earlier, Dr Amir Mehdi, 56, was targeted exactly in the same manner at his 'Rifah-i-Aam Clinic' in Karachi when two assailants riding on a motorcycle emerged there, fired shots and rode away. Dr Amir and his compounder brother, Nihal Ali, suffered bullet wounds and were taken to, where Dr Mehdi was pronounced dead.
Condemning the killing of Dr Amir in an emergency meeting, Pakistan Medical Association (PMA C & K) said, "The menace of sectarian violence in our society is increasing day by day. Up-till now, so many innocent doctors have fallen prey to this barbarism. It seems that the government is totally unmoved and unwilling to fulfill its responsibility of providing safety and security to the doctors."
The systematic target killing of Shia doctors in Pakistan is a part of systematic massacres of Sunni Sufis, Barelvis and Shia Muslims in Pakistan at the hands of the Wahhabi influenced Deobandi militants. Two banned Deobandi terror outfits, namely Ahle Sunnat Wal Jamaat (ASWJ aka LeJ) and Tehreek-e-Taliban Pakistan (TTP) are known for hate speech and violence against Sunni Sufis, Barelvis and Shia Muslims. According to an esimate, more than 10,000 Sunni Sufis, 22,000 Shias and hundreds of Ahmadis and Christians have died at the hands of Deobandi ASWJ-TTP militants. Ruling PMLN party of PM Nawaz Sharif is known for political and ideological sympatheis with Deobandis while provincinal government of PPP in Sindh has failed to take action against ASWJ Farooqi Group known for hate speech and violence against Shias, Sunni Sufis and other non-Deobandi communities.
On 30 May 2014, Dr Hassan Ali was ambushed near Fatima Bai Hospital, Hussainabad area of District Central Karachi and sprayed with bullets. He died on the spot.
Ali Abbas Taj, a well-known Human Rights Campaigner based in Los Angeles, condemned the systematic target killing of Shia doctors who serve fellow human beings without discrimination. Taj also urged media and rights activists to clearly mention that Shia and Sunni Sufi identity of vcitims and Deobandi identity of perpetartors of violence.
On the evening of 13th May, unknown masked men gunned down Dr Faisal Manzoor, while he was standing outside his hospital on Grant Trunk (GT) Road, Hassanabdal. The deceased was a famous social and political personality of the area. He also served as the general secretary of Abdalians Old Boys Association for some time. Dr Babar Ellahi, a cousin of the Dr Faisal Manzoor, was also shot and killed on March 18 when he was returning from the same hospital.
Hassanabdal is small town, 40 km northwest of Rawalpindi and has a population of about over 50,000 yet the police failed to apprehend the culprits. Interior Minister Chaudhry Nisar Ali Khan took notice of the target killing of two health practitioners and formed a special probe team to investigate the case and arrest the target killers but any result is yet to been seen.
Dr Syed Haider Raza, 50, Dr Qasim Abbas, a 45 years old homeopath, were targeted and killed in Karachi. On April 9th, after performing his duty in the outpatient department, Dr Raza left the Darul Sehat Hospital in his car for his residence in Gulshan-i-Iqbal. Three suspects riding a motorcycle and wearing helmets intercepted him, said Karachi East SSP Syed Pir Mohammed Shah. They fired at him at point-blank range in the temple and fled, the police added. The victim died within seconds on the spot. The deceased, father of two, was a surgeon and head of the emergency section of the hospital.
While Dr Qasim (8 April) along with his driver, Kaleemuddin, came out of the clinic to go somewhere, "two unidentified men on a motorcycle intercepted their car and opened fire on Abbas and his driver, Kaleemuddin, sustained several bullet wounds. They were shifted to a nearby hospital where Abbas succumbed to wounds.Police Officer Muhammad Irfan revealed that several empties of 9mm of pistols were found from the site.
Dr Ghulam Mustafa, an owner of the Shakir Medical Centre in Khanpur (Rahimyar Khan, Punjab), was on his way home when unidentified men on a motorcycle shot at him and fled on January 28. His son Farhan Mustafa told media that his father was receiving threats calls from unidentified persons and he had no enmity in the area. The incident was followed by several protest rallies organized by members of the Shia Muslims community. The protesters gathered in front of Mustafa's house and shouted slogans against the police. Shia Ulema Council tehsil president Syed Sajjad Hussain Shah said the assault was a target killing and part of the Shia genocide in the country.
16 Jan: Dr Asif Hussain arrived in a car at his clinic in Sector 15-A-1 of Buffer Zone, Karachi, and was walking towards his clinic after parking the car when two armed pillion-riders, who were already waiting for him there, fired at him and fled. The wounded doctor was taken to the Abbasi Shaheed Hospital where doctors pronounced him dead on arrival. Police said, "The murder appeared to be an outcome of sectarianism."
Demonstrating their presence in South Punjab, the unidentified target killers, believed to be Deobandi militants, shot twice 59-year-old Dr Azhar Hussain as he arrived at his residence on January 05. When he fell off his colleague's motorbike, the target killers shot him eight times at point blank range before escaping. Dr Hussain served as executive district health officer Rajanpur and in 10 other executive medical positions in different districts of Punjab.
Residents of the district Rajanpur and blocked the Indus National Highway in protest, refusing to bury the body. Around 15,000 people participated in the demonstration chanting slogans against the government for allegedly supporting militant outfits.
Systematic massacres of Shia Muslims and Sunni Sufis by Deobandi militants
Shia Muslims are considered infidels or kafir based on their sect by the extremist Deobandi militants groups such as Tahreek-e-Taliban (TTP), Sipah –e-Sahaba (SSP)/ Ahle Sunnat Wal Jamaat (ASWJ), Lashkar-e-Jhangvi (LEJ), Jundullah, Jaish-e-Muhammad and other splinter groups belonging to Salafi/Wahhabi and Deobandi Islam.
These very Deobandi terror outfits have also attacked Sunni Sufi shrines in Lahore (Data Darbar), Karachi (Abdullah Shah Ghazi), Balochistan (Jhal Magsi and Zikris), Islamabad (Bari Imam) and Peshawar (Rehman Baba) murdering more than 10,000 Sunni Sufis. In the most recent incident, at least 10 Zikri Sufi Muslims were killed by Deobandi militants in Awaran, Balochistan on 28 August 2014.
These formally banned but practically un-banned organizations have given public pledge to rid the Shia Muslims and Sunni Sufi Muslims off the country. Hence their violent campaign has been persistent in the country targeting Shia and Sunni Sufi communities. The ASWJ, the urban arm and face of TTP, is known to be a political ally of ruling PMLN party of PM Nawaz Sharif government.
The targeted elimination of prominent and professional members of the Shia Muslim community is now a norm in Pakistan. Doctors, lawyers, bankers, police officers and other professionals have been targeted amid at installing fear in the remaining community members, forcing them to cut-short their activities, change their faith or leave their country.
In a recently released report, Human Right Watch said, "since 2008, Pakistan's Shia Muslim community has been the target of an unprecedented escalation in violence as militants have killed thousands of Shia Muslims across the country. " The HRW clearly identified Deobandi outfits LeJ, ASWJ and TTP as perpetrators of violence against Shias. It may be noted that Sunni Muslims in general have rejected Deobandi outfits and their terrorism against Sunni Sufis and Shias.
"The Pakistani government's response to this violence suggests incompetence, indifference, or possible complicity by security forces and other state personnel with the extremists. Authorities have failed to apprehend or prosecute members of militant groups. While Pakistan authorities claim to have arrested dozens of suspects linked to attacks against Shia since 2008, only a handful have been actually charged with any crimes," said Phelim Kine, Deputy Asia Director, Human Rights Watch. "Until the Pakistan government takes all necessary measures to stop that campaign of violence, the slaughter of Shia Muslims community will continue with a vengeance," He said further.
Adapted with additional information and edits from shiagenocide.org and LUBP.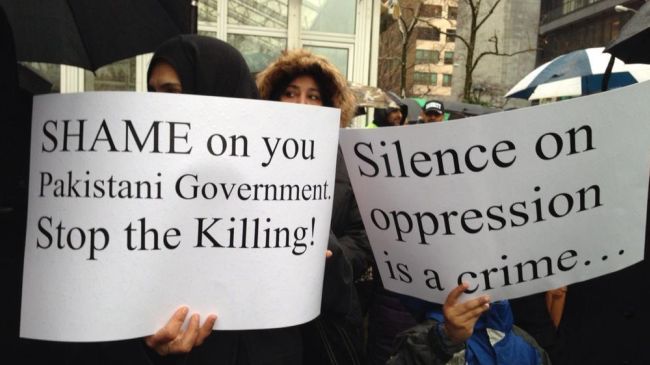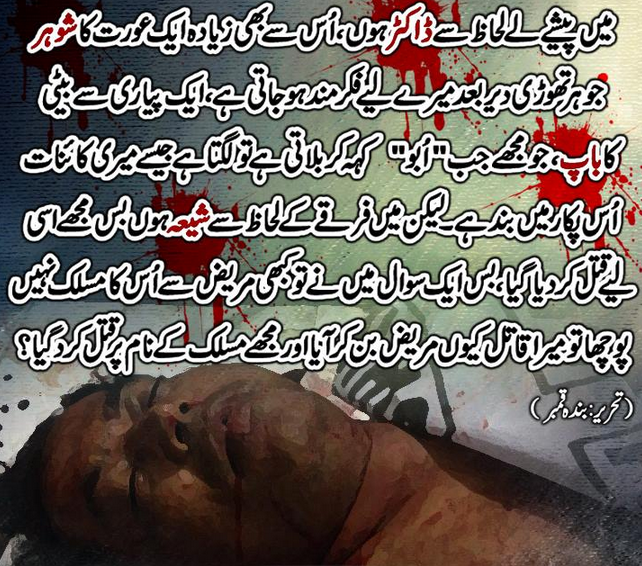 Comments
comments