Qatar and the reason US hostage Peter Theo Curtis has been released – by Robert Fisk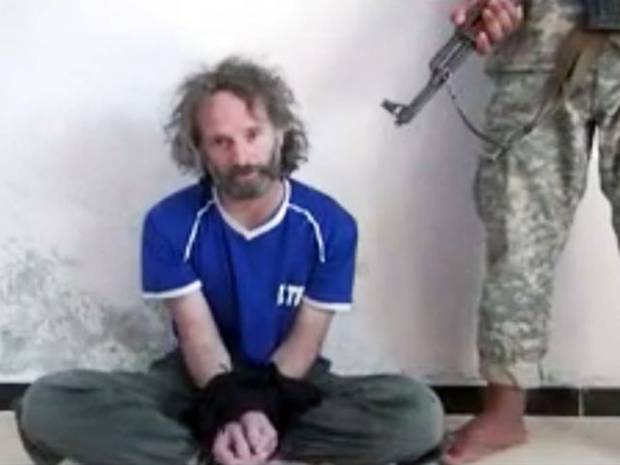 The clue came when the equally predictable Qatari "source" confided that Curtis was handed over to UN representatives. Qatar wished to free captives "for humanitarian reasons", he (or she) said. It had been a matter of "communication with the right people in Syria." So who had these "right people" been? The nuns, incarcerated in the frontier town of Yabroud, could not have been freed last March without both Lebanese security agencies and President Bashar al-Assad of Syria. And he's the man we have to hate – or had to hate even more until Isis dedicated to overthrowing the very same Assad hated us more than we hated him – whose own regime is now the one of the last bastions against Abu Bakr al-Baghdadi's horrifying "caliphate".
The Qataris are playing a very interesting game. On the one hand, they are telling Assad that they are important in Syria. Assad is well aware of this, since Qatar has been throwing millions of dollars at the "moderate" rebels trying to overthrow Assad's government – "moderates" who no longer exist – but whose successors have more recently been doing Assad a few favours. Without Qatar's influence – let us not dirty our thoughts with a single dollar of cash – the nuns would not have been freed and Assad's army might have been forced to storm into the border town of Yabroud in March. And now suddenly – after the hideous decapitation of James Foley – along come the Qataris to tell the Americans that their tiny little emirate can arrange the release of a US hostage.
Two points to notice. The Saudis did not manage to free an American hostage in the "caliphate" – the Qataris did that – and not for many months now have the Qataris spat much venom at the Assad regime. Could it be that in the interests of Middle East peace and Obama's peace of mind – which means trying to avoid yet another American debacle in the region – the old Fairy Godmother is pushing herself centre-stage again? This would enrage the Saudis – which is something the Qataris do quite often – and once again position the gas-rich Emir of Qatar as a dependable ally of America as well as a potential ally of Assad.
Cynics will blab away, of course. It is a pity, for example, that the Emir cannot be as influential in freeing his own Al Jazeera journalists from their Egyptian prison as magically as he appears to have whisked Peter Curtis from captivity. Peter Greste and his mates, banged up in the Tora prison outside Cairo, must be wondering when their prison keys will be jangling in the lock. Not yet, I fear. After Qatar supported President Mohamed Morsi of Egypt rather than his nemesis Field Marshal/President Abdel-Fattah al-Sisi, Al Jazeera was forfeit. That, of course, is why the reporters are in jail after their farcical trial. And the Saudis, who support the pro-Sisi Salafists in Egypt, are unlikely to come to the rescue of Al Jazeera's reporters.
It's all about whose side you're on – and whose side you wish to be seen to be on. And about how much money you've got. So far, Qatar appears to have the ear (or is filling the wallet) of the Jabhat al-Nusrah rebels in Syria who are scarcely moderate, rather quasi al-Qa'ida but not (yet) totally embraced by the "caliphate". Of course, the authorities in Doha can swiftly deny that any money has changed hands. When you're a Gulf state supporting armed militias, you don't have to pay for the release of a hostage – especially if you're already paying the wages of the hostage-takers. And if the Nusrah boys will give Assad a break and tough it out against the "caliphate" and vomit forth a hostage or two, well – in the eyes of the West – that's money well spent.
Source:
http://www.independent.co.uk/voices/comment/qatar-and-the-reason-us-hostage-peter-theo-curtis-has-been-released-9690048.html
Comments
comments