Widespread election rigging: Main architect shameless Iftikhar Chaudhry – by Basit Umar
Former Additional Secretary Election Commission of Pakistan (ECP) Afzal Khan has said that former Chief Justice Iftikhar Muhammad Chaudhry had appointed returning officers (ROs) for the election duties. Former bureaucrat revealed that there was massive corruption and rigging in the 2013 general elections. He alleged that the Chief Justice interfered in the process of free and fair elections to result in the present regime illegitimate rule. He said, there weren't only 35 punctures rather there were more than hundred. Former Additional Secretary ECP informed that former Chief Justice Iftikhar Mohammad Chaudhry deployed returning officers (ROs) although it was not his domain. He said election commission is responsible for the deployment of ROs. He said bogus voting was carried in all constituencies except with those having cameras installed like Islamabad adding that the people's mandate was stolen in the elections. Accusing Justice Riaz Kiani of being directly involved in rigging elections in Punjab, Afzal Khan said that he rigged 90 percent of last year's general elections and he was directly appointed by current Prime Minister Mian Muhammad Nawaz Sharif while the PM also interfered in the appointment of Election commissioners of Balochistan and Sindh. Afzal Khan claimed that votes can be verified in seven days while here in this corrupt system a verification case which can be solved in 60 days was not solved even in 365 days.
2013 elections represent a model case of unlawful interferences persist in electoral process. No doubt Imran has been making a meal of the verdict, because the contemptible practices turned out to be too costly to the PTI. The PPP may have also suffered.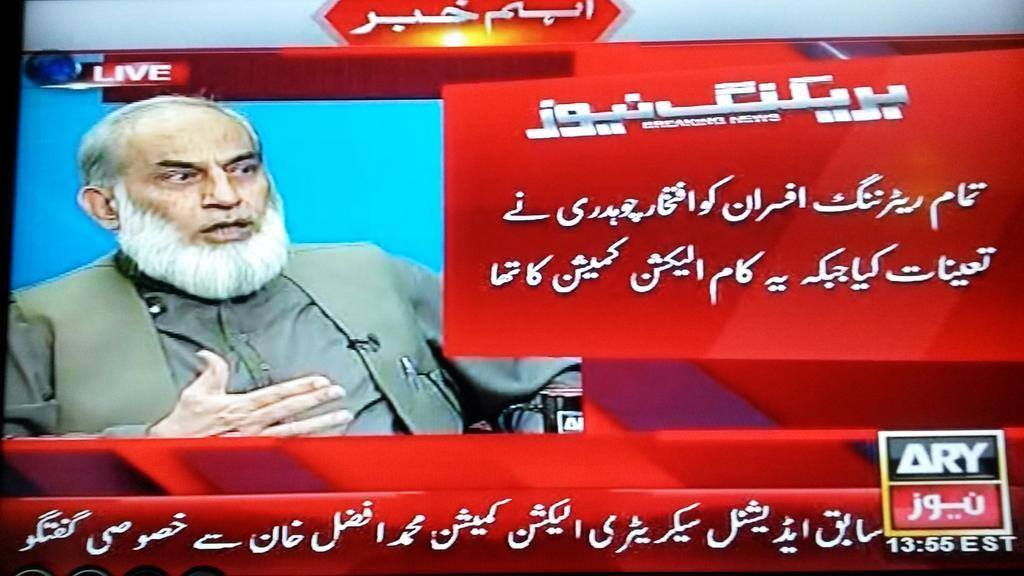 Comments
comments