The Pakistani state has undoubtedly been patronizing Deobandi extremist organizations – by Marvi Sirmed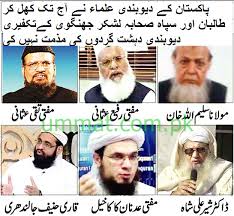 While at the people's level, I can say with confidence that there is little discord. In all kinds of neighborhoods, Shias, Sunnis and Deobandis live peacefully. The peace however, is a whisper away from carnage. The state has undoubtedly been patronizing Deobandi extremist organizations, with undeniable linkages of the ruling party with these organizations. That probably explains why portions of our persecuted Shia community are standing with the bearded Inquilab of Mr. Qadri, a Barelvi cleric soft on Shiites. Who could blame them for that? The state and the ruling party have left little reason for them to see the PMLN stay in power.
Last year, former Chief Justice of the Supreme Court of Pakistan disposed off a public interest petition under article 184(3) of the Constitution, taking note of violation of the rights of and violence against different minority communities. Let me bring to your attention what the SC Judgment called for.
The judgment asked the government to constitute a task-force to develop a strategy for religious tolerance, develop appropriate curricula to promote inter-faith harmony, to take steps to check hate speech against religious minorities, to constitute a National Council for Minorities' Rights, a special Police Force to protect worship places of minorities, implement the 5% job quota for minorities and take strict action against the culprits of desecration of worship places alongside appropriate measures to avoid such incidents.
I, as a citizen of this country, want to ask the government where the compliance with this judicial order lies? My question to the parliament is, where is the oversight on government, to see if it complied with the court's judgment?
Source: Excerpt from The Nation
Comments
comments