Rs. 20 billion defamation notice to Imran Khan: Is Iftikhar Chaudhry serious?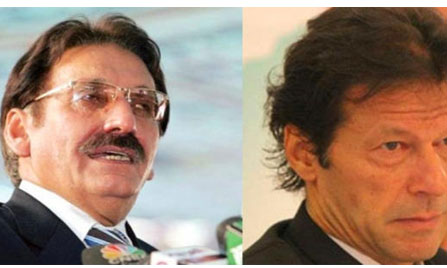 A man not even worth Rs. 20 demands Rs. 20 billion for defamation? Is he serious?
It must be very frustrating for former Chief Justice Iftikhar Muhammad Chaudhry for not being in the news through his famous constipated thoughts called Suo Moto notices anymore. Having retired finally last year in December 2013, Iftikhar Muhammad Chaudhry has tried to remain in the news by not leaving his official residence, demanding protocol and security for his movement, announcing that he will establish a think tank that will serve to address the problems of people of Pakistan and finally having his highly capable and more than able business tycoon son, Arsalan being made a Vice Chairman of Balochistan's Board of Investment.
While one has to appreciate Imran Khan for having named the nexus of Iftikhar Muhammad Chaudhry, Jang/Geo Group that played its role in massive rigging in the May 2013 elections, one really wishes that Imran Khan had seen through the man named Iftikhar Muhammad Chaudhry and considered him an enemy from day one. LUBP has to its credit writing many critical pieces against the shenanigans of Iftikhar Muhammad Chaudhry while he was unfortunately the Chief Justice of Pakistan. He was a one man destruction machine who ensured that Pakistan suffered most through his interventions. Be it hurting the economy, the constitution, democracy and people, he did it all. Who he supported were Jang/Geo Group, Nawaz Sharif, Shahbaz Sharif, Taliban and the various Jihadis. One can expect him to be showered with shoes for his sins on the people of Pakistan.
While the contents of his defamation notice are laughable, it is the sheer magnitude demanded that makes us all laugh. Does he even know how many zeros there are in twenty billion? Even the ibn-ul-corrupt, Arsalan cannot differentiate between millions and billions.
One has to ask that under his august leadership of Pakistani judicial leadership, how many libel and defamation cases our courts had disposed off? One only wishes that he was man enough to come on TV and answer his charges rather than being in the news by sending a senseless notice.
One can only say, he is nothing but frustrated for his megalomaniac self cannot accept that he is not a CJ anymore but nothing more a pension seeking and self loving crazy trying to be in the news.
We support Imran Khan in his full frontal attack in exposing Iftikhar Muhammad Chaudhry and his nexus with Jang/Geo that helped Nawaz Sharif into power. We wish Imran Khan had spoken earlier, but couldn't till the time Iftikhar Muhammad Chaudhry the megalomaniac was in power.
Iftikhar Ch seeks unconditional apology within 14 days

by Sohail Khan

ISLAMABAD: Former chief justice Iftikhar Muhammad Chaudhry on Thursday sent a defamation notice of Rs20 billion to Pakistan Tehreek-i-Insaaf (PTI) chief Imran Khan for injuring his reputation while leveling allegations against him in his statements and press conferences.

The PTI chief, Imran Khan, during his statements and rallies addressed in various cities of the country, leveled allegations against the former chief justice for rigging the 2013 general elections.

The former chief justice served a notice on the PTI chief under Section B of the Defamation Ordinance-2002 demanding an unconditional apology within 14 days or face legal action before the competent forum in accordance with the law.

"I also reserve my right to initiate other civil and criminal proceedings against you, in accordance with the law, both inside and outside the jurisdiction of Pakistan, if an unconditional apology is not tendered by you," the ex-CJ said in the notice.

"I may withdraw my claim if you willingly tender an unconditional apology or you agree to pay the damages within a period of 14 days, otherwise I would have no option except to bring a civil action against you before the competent forum in accordance with the law," the former chief justice told Imran in the notice.

The ex-chief justice cited in the defamation notice, speeches and press conferences made by the PTI chief against him."Your nefarious designs in causing injury to my reputation is nothing but to lower my the civil society, legal fraternity, general public, etc. as they all have great respect for my efforts for the independence of judiciary in the country", the ex-CJ told Imran Khan.

Former chief justice Iftikhar Muhammad Chaudhry further stated in the defamation notice that the press-conferences/speeches had been made decidedly and calculatedly by Imran Khan with the underlying mischief of harassing him and the members of his family, saying that the PTI chief succeeded in damaging his reputation and image.

"Your false allegations against me have caused immeasurable mental as well as physical anguish to me and my family and lowered my reputation in the society, amongst acquaintances, friends, relatives and general public", said the former chief justice.

"I am thus entitled to damages for causing defamation to my well recognised reputation due to your spoken words from time to time and mental torture, harassment, agony, humiliation, etc. which I and my family have suffered and are undergoing at present because of wrongful acts on your part", the ex-CJ added.

The former chief justice further said that no amount of damages could adequately compensate him for the loss that Imran's mischievous and false statements have caused to him, or to the judiciary and other institution of Pakistan, or to the people of Pakistan who are the ultimate custodians of both the judiciary and the electoral process.

"However, I feel compelled to seek legal recourse against you because I believe strongly that our country should be governed by the rule of law and that my hard-earned reputation must remain protected", the ex-CJ said in the defamation notice.

"Thus, I have decided to invoke the law of defamation against your maliciously false, motivated and reckless statements and claim from you in damages a token sum of Rs15 billion only; and another Rs5 billion only as damages for mental agonies, torture, harassment, humiliation, etc. caused to me as well as my family", the defamation notice further stated.

It further reads, "Ultimately, the respect and honour that Allah Almighty has, in His munificence, bestowed upon me cannot be quantified in these terms, nor can a person like you ever succeed in depriving me of what Allah Almighty has bestowed on him."Justice (R) Chaudhry further said that he was claiming this token sum only to publicly vindicate his innocence.

"Let me also tell you that I have no desire to use the damages that shall be recovered from you for my personal gain but this sum, once recovered, shall be dedicated to an honourable cause, for the furthering of a national institution and for the welfare of the downtrodden sections of our society", the ex-CJ said.

The former chief justice recalled in the defamation notice that in 2009, the National Judicial (Policy Making) Committee (NJPMC) comprising the Chief Justice of Pakistan and the Chief Justices of the respective High Courts, constituted under the National Judicial (Policy Making) Committee Ordinance, 2002, followed the principle of separation of powers of the judiciary from the executive and decided that "in future the judiciary would avoid its involvement in the conduct of elections, as it distracts the judicial officers from professional duty and complaints of corrupt practices tarnish the image of judiciary." But before the announcement of general elections of 2013 all the stakeholders through Election Commission of Pakistan (ECP) resolved that Chief Justice of Pakistan might be requested to consider the desirability of appointing District and Sessions Judges as District Returning Officers (DROs) and Additional District and Sessions Judges/Senior Civil Judges/Civil Judges as Returning Officers (ROs).

 http://www.thenews.com.pk/Todays-News-13-31825-Iftikhar-Ch-seeks-unconditional-apology-within-14-days
Comments
comments