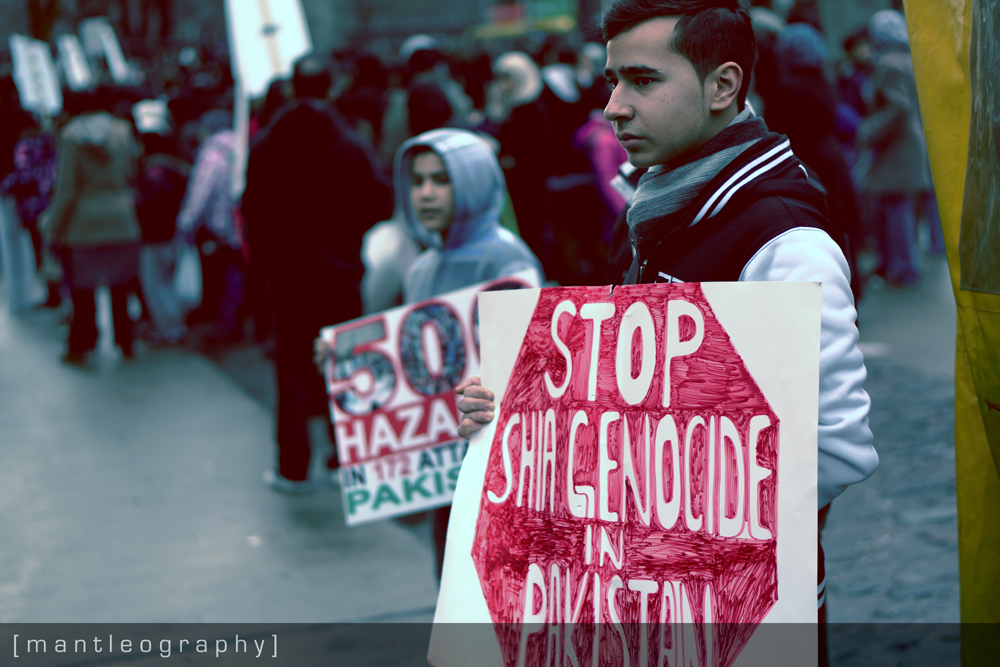 The top mainstream newspapers like Jang, Nawa-e-Waqt, The Nation, Dawn, and Daily Express, and Dunya ignored it completely, but those which reported it blacked out all relevant facts about it. The incident was what Express Tribune called "Target killing". In it issue of 30 June, Express Tribune published a front-page report titled "Target killing: Two traffic police personnel shot dead in Karachi" (http://tribune.com.pk/story/729153/target-killing-two-traffic-police-personnel-shot-dead-in-karachi/). The report begins with, "Two traffic police personnel were shot dead in Orangi Town in what is believed to be target killing in reaction to law enforcement agencies' operation against militants in Karachi," and ends with the statement of a Karachi police officer, "Apparently, the militants are busy taking revenge of killings and arrests by law enforcers, says Sadozai."
Strangely, the Express Tribune reporter who was able to make into the emergency section of the hospital and speak to the doctors was not able to obtain the names of the policemen killed. He spoke to the boss of the slain policemen, but he did not get their names. Did the doctor and the police officer withhold the names from him?
Not to b left behind was the liberal Daily Times, which reported killing of six persons in Karachi ("City violence claims 6 more lives":http://www.dailytimes.com.pk/sindh/01-Jul-2014/city-violence-claims-6-more-lives). Again, its reporter was able to gain access to the sites of the killings and the hospitals where the corpses of the killed were taken. The Daily Times reporter even spoke to the Home Secretary of Sindh,
"Talking about the crime rate in the city Home Secretary Dr Niaz Ali Abbasi said that in the light of previous records, the possibility of incidents of street crimes particularly purse/mobile snatching and also bank robbery may increase during the holy month of Ramazana."
The Daily Times reporter gave details about how one girl was killed, ". . . a roof-collapse incident kills six-year-old, Zainab, and four-year-old, Hafizullah, at Korangi 100 Quarters". But no other person was identified. It was safe to report Zainab who died a 'safe' death. But no mention was made of those who were killed by terrorists.
Both Express Tribune and Daily Times withheld the names of the victims so as to hide their sectarian or ethnic identities. Were the victims Shias, Christians, or Hindus, we will never know thanks to the partisan journalism practiced by the mainstream media of Pakistan. But a non-mainstream web site reported the following:
Shia youth martyred in Yazidi takfiri terrorist attack in KarachiYazidi takfiri nasbi terrorists of banned Sipah-e-Sahaba shot martyred a Shia youth in Karachi's district central on Monday, first day of the sacred Islamic month of Ramazan.
Syed Mazhar Naqvi son of Syed Ghulam Naqvi, 30, was made target by the notorious Yazidi takfiri nasbi terrorists of banned Sipah-e-Sahaba near Al-Haaj Restaurant in Surjani's area of KDA Flats. Due to targeted firing, Mazhar Naqvi embraced martyrdom. His body was taken to a government hospital for autopsy.Banned Sipah-e-Sahaba has been renamed as ASWJ that is also a proscribed outfit and these both are mother organization of banned Lashkar-e-Jhangvi. All of them are now affiliates of Al-Qaeda and Taliban.

Shia parties and leaders have condemned the targeted murder of another Shia Muslim in Karachi. Talking to the Shiite News, they said, government needs to launch operation on the pattern of North Waziristan in Karachi and liquidate the terrorists here. They demanded public hanging of the terrorists.

http://www.shiitenews.com/index.php/pakistan/10598-shia-youth-martyred-in-yazidi-takfiri-terrorist-attack-in-karachi

Shia Youth embraced martyrdom due to Yazidi takfiri terrorist attack in Karachi

Yazidi takfiri nasbi terrorists of outlawed Sipah-e-Sahaba shot martyred a Shia Muslim in Karachi's district east on Thursday.

Notorious terrorists of banned Yazidi takfiri nasbi terrorist outfit Sipaah-e-Sahaba (ASWJ) opened fire upon Akbar in Gulistan-e-Johar. He embraced martyrdom. Body was shifted to Imam Bargah Shohda-e-Karbala.

Shia parties and leaders have condemned the continued Shia genocide in Pakistan. Talking to the Shiite News, they said, a military operation on the pattern of North Waziristan Operation Zarb-e-Azb should be expanded to entire country including Karachi, Quetta, and other parts of the country where Taliban-allied Yazidi takfiri nasbi terrorists massacre Shia Muslims.

They demanded hanging of the Yazidi takfiri nasbi terrorists. They demanded compensation, free jobs and government employments to the heirs of the Shia martyrs.

http://www.shiitenews.com/index.php/pakistan/10542-shia-youth-embraced-martyrdom-due-to-yazidi-takfiri-terrorist-attack-in-karachi