Iraq government slams Saudi Arabia for creating false Sunni-Shia sectarian tensions and enabling Salafi-led genocide in Iraq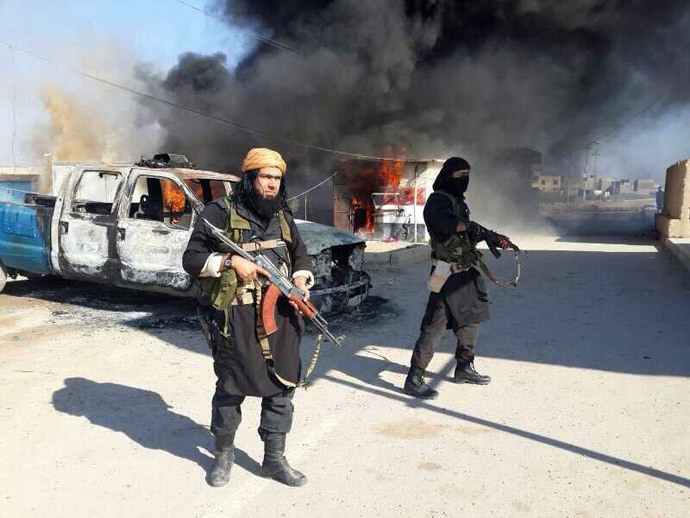 Baghdad slams Saudi Arabia for 'encouraging genocide' in Iraq
The Iraqi government says that it holds Saudi Arabia "responsible" for the current crisis and has blamed Riyadh for encouraging "genocide" in the country through the backing of Sunni militants.
"We hold them [Saudi Arabia] responsible for supporting these groups financially and morally, and for the outcome of that – which includes crimes that may qualify as genocide: the spilling of Iraqi blood, the destruction of Iraqi state institutions and historic and religious sites," the Shiite-led cabinet said in a statement issued by Prime Minister Nouri al-Maliki's office.
Comments from Riyadh this week "indicate siding with terrorism."
Maliki pointed the finger at both Saudi Arabia and Qatar for perceived support of terrorism in Iraq in March.
Source :
http://rt.com/news/166592-saudi-arabia-genocide-iraq/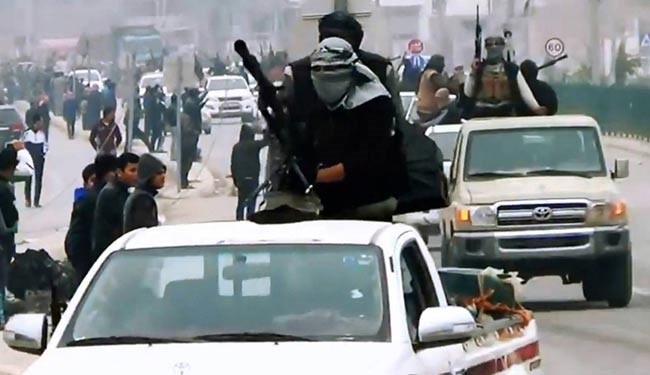 'America can't be part of any solution to stop the ISIS violence'
The solution has to be within the region itself and that is why the people in the way should oppose any further involvement of the Americans or their allies as they have created this terrible scenario inside Iraq, political analyst Chris Bambery told RT.
RT:What's next for Iraq if ISIS continues to capture cities?
Chris Bambery: I think what ISIS is going to discover is that a number of countries in the region which up to now have been on different sides of the civil war in Syria are going to step in. Iran can't simply watch the Shia holy places fall and Baghdad itself fall to ISIS. But also the Turks must be worried and the Kurds are going to worry about an intrusion into their region as well. So at some stage that it's going to come up against various regional powers and what is strange about this is that the different positions that people took on the Syrian civil war are being subsumed by this crisis, so we will see Turkey siding with Iran. The Americans are already talking about drone strikes, further warships in the Persian Gulf, further drones as well. So we are going to see lines coming through here. In the meantime hundreds of people have been killed in what the United Nations is calling war crimes. I think ISIS is going to discover that in some ways it's bitten off for more than it could chew.
RT: We have a new propaganda video reportedly produced by Sunni jihadists from ISIS. This was posted right before the fighters launched an offensive in the country's north. Are you surprised that ISIS uses such ways to attract more people?
CB: I'm not surprised because it has been somehow coming. It has been obvious that the war in Syria, in which those people have been involved and brutalized, is the same war we should be seeing in Iraq for some time, the sectarian killings. So it has been obvious that the war is spreading from Syria into Iraq. I was watching another video where one of the ISIS fighters kills a captured soldier and describes him as "the Shia dog". It's interesting that his accent is from North Africa, it's obviously not from Syria or from Iraq. We know there had been Chechens and others there involved in this war. So firstly, they are brutalized, secondly, they use of course social media in terms of projecting themselves. That is going to backfire across the region. The neighboring governments all around will be very nervous about what is happening here and would be very keen whatever past differences have been with the Maliki government in Baghdad, to buttress the Maliki government against the ISIS because it is going to have major implication potentially for Turkey, for Iran and every other country in the region, apart from Saudi Arabia in the short term who has been backing these people so far.
Source :
http://rt.com/op-edge/166468-iraq-isis-violence-usa/
Selling terror: how Isis details its brutality
Nigel Inkster, former assistant chief of UK intelligence service MI6, and now director of transnational threats at the International Institute for Strategic Studies, said: "They produce [them] almost like a company, with details of martyrdom operations and targets. You have a clear overlay of structure, planning and strategy to the organisation."
Isis's ambition had been gradually unfolding over the past year but in the past week it has taken shape with lightning speed, with the territory under its control stretching from east of the Syrian city of Aleppo, across northern Iraq.
What is clear from the documents is that Isis's campaign to control Sunni-populated Iraqi territory – and its capture of the second city of Mosul – should not have startled either the Shia-led government in Baghdad or its western allies. They highlight the extent to which Nineveh, the province that includes Mosul, seized last week, has long been a target.
The Institute for the Study of War's analysis shows that 30 per cent of Isis attacks in 2012 and 2013 were in Nineveh, making the province the "primary attack zone" for the group.
Few who have been following closely the progress of the US-trained Iraqi security forces were surprised that so many of them appeared to have abandoned their posts in Mosul when Isis attacked, he added.
Isis now counts 15,000 hardened fighters in its ranks, according to regional experts, and, in addition to funds from private jihadi networks in the Gulf, it has developed internal sources of financing, through oil smuggling in Syria, racketeering and kidnappings.
Source :
http://www.ft.com/cms/s/2/69e70954-f639-11e3-a038-00144feabdc0.html#axzz34wVc5SNz
Sources said on Tuesday that the terror organization of Islamic State of Iraq and the Levant (ISIL) has opened a clandestine branch in Jordan to prepare for its expansion into the region.
Although military sources reported no "unusual movement" along the Iraq border, one source familiar with the situation stressed that border guards "remain on high alert" as ISIL continues to make gains in nearby western Iraq.
Despite having a low-profile presence in Jordan over the past six months, with over 800 Jordanian nationals reportedly serving under the ranks of ISIL, the movement has allegedly been reluctant to open an official branch in Jordan due to its ongoing rivalry with Al Qaeda, which retains larger popularity and support among extremists in the country.
According to some other news, the ISIL has launched its office in Jordan to get more supports from Jordanian administrative figures within government to continue their offensives in Iraq.
Senior members of Jordan's hard-line Salafist movement, which keep strong ties with both Al Qaeda and the Baghdad-based ISIL terrorist group, had previously mediated "understandings" with the ISIL to forego expansion into the country in a bid to prevent ongoing war in Syria to spill over into the country.
– See more at: http://en.alalam.ir/news/1603612#sthash.DciVYDmn.dpuf
ISIL opens clandestine branch in Jordan: reports
Comments
comments