Gun and suicide attack on Shias kills 23 in Taftan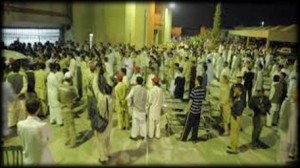 QUETTA: As many as 23 people were killed and several others injured when a suicide bomber stormed a hotel in Taftan, where Shia pilgrims were staying, and blew himself up, late on Sunday. Talking to Daily Times, Balochistan Home Secretary Akbar Hussain Durrani said that around 300 Shia pilgrims had entered into Pakistan from Iran and were staying in two hotels in Taftan, a border town.
"They were waiting for transportation for onward journey to their destinations in different parts of the province," the home secretary said and added that a suicide bomber entered into one of the hotels and blew himself up. As a result, three Shia pilgrims died on the spot while several others were injured.
Levies personnel and Frontier Corps (FC) cordoned off the area. The security personnel exchanged fire with the militants, who hurled hand grenades and fired with sophisticated weapons. The dead and injured were shifted to a nearby hospital. Arrangements were later made to shift the injured to the Combined Military Hospital (CMH) through helicopters.
Meanwhile, other security sources told Daily Times that two suicide bombers entered both the hotels and only one of them was able to detonate himself.
They added that around 10 dead bodies were taken out from the hotel. However, when contacted, the Levies sources said that the death toll has reached 23, while Edhi sources placed the figure at 35. FC spokesperson Khan Wasey, in a media statement, said that one the suicide bombers was killed by the FC personnel after the attack. Meanwhile, a banned outfit, Jaish al Islam, claimed responsibility for the attack. The spokesperson of the outfit, Aazam Tariq, called media houses from an undisclosed place and claimed responsibility for the attack.
The attack came when a bus carrying the pilgrims returning from a visit to Shia holy sites in Iran stopped in Taftan. "So far we can confirm 23 people killed including several Shiite pilgrims and security personal. Seven others are injured," Akbar Durrani, home secretary of Balochistan, told AFP.
"Four attackers including two gunmen and two suicide bombers attacked the restaurant in Taftan," he added.
Nearly 1,000 Shias have been killed in the past two years in Pakistan, a heavy toll on the community that makes up roughly 20 percent of the country's population of 180 million, which is predominantly Muslim.
Source :
http://www.dailytimes.com.pk/national/09-Jun-2014/gun-and-suicide-attack-on-shias-kills-23-in-taftan
Comments
comments
Tags: Al-Qaeda, Balochistan, ISI, Jihadi and Jihadi Camps, Religious extremism & fundamentalism & radicalism, Sectarianism, Shia Genocide & Persecution, Sipah-e-Sahaba Pakistan (SSP) & Lashkar-e-Jhangvi (LeJ) & Ahle Sunnat Wal Jamaat (ASWJ), Takfiri Deobandis & Wahhabi Salafis & Khawarij, Taliban & TTP, Terrorism