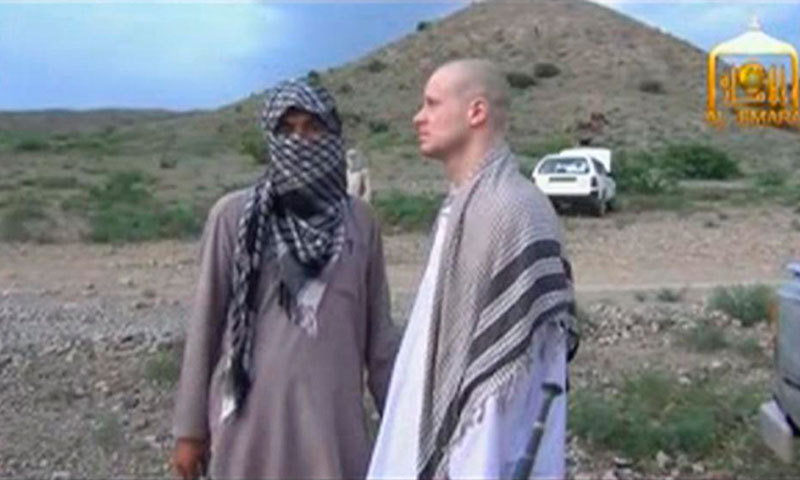 US Army Sergeant Bowe Bergdahl (R) waits before being released at the Afghan border, in this still image from video released June 4, 2014. — File photo
American troops were fully prepared to enter Pakistani territory in order to secure the release of US Sergeant Bowe Bergdahl but restrained themselves due to the absence of actionable intelligence, BBC Urdu quoted a former Pentagon official as saying.
David Sedney, who until last year served as the Pentagon's top official overseeing policy in Afghanistan and Pakistan, told BBC that when Bergdahl was taken hostage in 2009, the first attempt was to prevent him from being taken to Pakistan.
He, however, added that once Bergdahl had been taken to Pakistan, it became difficult to negotiate his release and therefore assistance was sought from the Pakistani military and the Inter-Services Intelligence (ISI).
The circumstances surrounding Bergdahl's capture in 2009 are ambiguous while Pentagon claims that he left the military outpost in Paktika province without seeking permission.
Sedney said they were aware that Bergdahl was held captive by the Haqqani network, adding that the US also knew that a certain relationship existed between the ISI and the Haqqani network.
"I am not aware of receiving any assistance from Pakistan on the matter," he said.
He said Bergdahl was held captive on Pakistani soil and the organisation which had information of his whereabouts was associated with the country.
"As such, it was their responsibility to ensure his release," he said.
He said that Pakistan did not do anything to ensure his recovery and in future whenever relations between Pakistan and US would come under deliberation, this issue would be focused upon.
Sedney said discussions in the US concerning the agreement to secure Bergdahl's release were becoming more heated after a video released by the Taliban as to whether this was the only way to free him.
According to the Washington Post, officials discovered evidence pertaining to Bergdahl's location in Pakistan at least twice, adding that there was debate in Washington as to whether an incursion inside Pakistani territory should be carried out to release him.
Adm. Mike Mullen, then chairman of the Joint Chiefs of Staff, and then-CIA Director Leon Panetta were responsible for managing the investigations in Pakistan.
Sedney said that after the operation against Osama bin Laden in Abottabad, matters had become more difficult as US relations with the Pakistani army had already deteriorated.
He said the Pakistani army had issued orders that US helicopters should be shot down if they were seen flying on its territory. Sedney said they required solid information to devise a strategy in this regard, which was not available at the time.
Therefore, he said, Sergeant Bergdahl remained in the captivity of the Haqqani network for five years and the US government even exerted pressure on its Pakistani counterpart for his release.
Sedney was of the view that such a situation arose because the Pakistani government gave greater importance to its relations with the Haqqani network, adding that if the former had decided to help US on Bergdahl's release, then their relations would have taken a turn for the better.
Meanwhile, an event to celebrate the homecoming of Bergdahl in his hometown of Hailey, after five years of Taliban captivity, was cancelled. The reasons cited for the cancellation were that firstly, large numbers of people would have been unable to attend the event due to security concerns and secondly some detractors have accused Berghadl of deserting his post.
Source :
http://www.dawn.com/news/1110736/us-troops-were-ready-to-enter-pakistan-to-secure-bergdahls-release