Improving media's discourse on Deobandi identity of Taliban, LeJ-ASWJ and other terrorists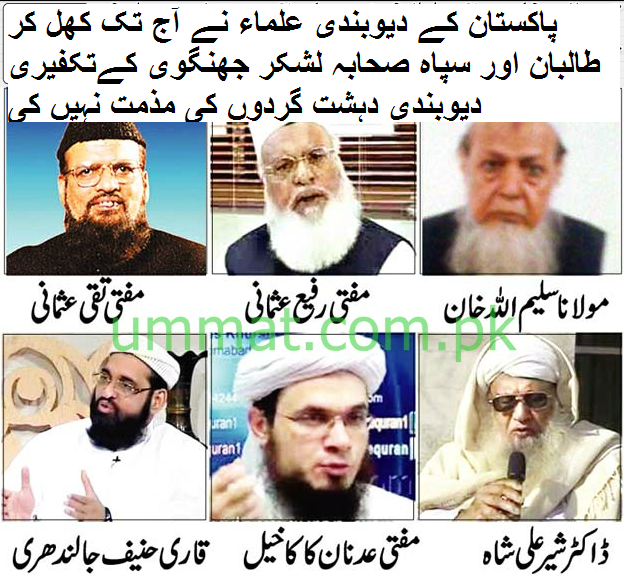 The international and local media have finally started to use the specific ideological denomination, i.e., that is adhered by the Taliban (TTP) and its urban face, the Ahle Sunnat Wal Jamaat (ASWJ) aka Lashkar-e-Jhangvi (LeJ).
Previously, generalizing terminology like "Sunni radicals" or even worse, vague terminology like Islamists or terrorists was used to obfuscate the specific identity of the perpetrators of terrorism in Pakistan. Due to a combination of sectarian biases as well as a strategic policy of concealing the Deobandi faith identity, many sections of the Pakistani media were deliberately vague on this crucial issue. Foreign journalists were also misguided by their local Pakistani counterparts to perpetuate the intellectually dishonest "Shia vs Sunni" binary. This is an atrociously misguiding binary as it lumps the Sunni Sufi/Barelvi victims of Deobandi terrorism in the same category. Thousands of Sunni Sufis/Barelvis have been ruthlessly massacred in the attacks on Sunni Sufi shrines by Deobandi groups.
In Pakistan today, all faith and sectarian groups are being targeted by takfiri Deobandi groups like Taliban and ASWJ-LeJ. Even fellow Deobandis have not been spared by these groups that have shown an increasingly cannibalistic nature in killing their own. Refer to the murder of the ASWJ Punjab President, Sams Muavia by rival ASWJ factions as well as the vicious infighting and power struggles between the Taliban that have erupted in North Waziristan.
Copied below are extracts from both local as well as international media that have specifically used the Deobandi terminology to identify the ideology that motivates Taliban and ASWJ violence against Sunni Sufis/Barelvis, Shias, Hindus, Christians, Ahmadis as well as against those Deobandis who don't toe the line of the Taliban and ASWJ-LeJ.
Media discourse on Deobandi terrorism 1-9 May 2014
Dawn, 8 May
Prison in Nooriabad planned for 'terror suspects'
60% of prisoners belong to Deobandi sect
Deobandis are only 20% of Pakistani population but account for 60% of prisoners. This percentage could be much higher because Deobandi terror outfits (TTP, ASWJ, JeM etc) are responsible for 99% of acts of terror against Pakistani State and civilians.
Dawn's report: "1.74pc are Christians and a negligible number of Hindus. Among the Muslims, over 59pc belong to the Deobandi, 33pc to the Barelvi and over four per cent to the Shia sect."
http://www.dawn.com/news/1104835/prison-in-nooriabad-planned-for-terror-suspects
Daily Mail Online, 9 May
Three of the main fundamentalist Muslim sects — the Wahhabi fanatics in Saudi Arabia, the Salafi extremists of the Muslim Brotherhood in Egypt, and the Deobandi zealots from India-Pakistan — are foisting their fabricated notions about it down our collective throats.
http://www.dailymail.co.uk/debate/article-2623879/We-Muslims-appalled-sale-halal-meat-stealth.html
Foreign Policy, 7 May
Pakistani Taliban Push into Punjab
Rahim Yar Khan, Rajanpur, Sadiqabad, and Bahawalpur house the banned echelons of the Sipah-e-Sahaba and Jaish-e-Mohammad right-wing militant Deobandi franchises. Along with Dera Ghazi Khan, these districts have seen a surge in violent extremism in recent years, backed by a growing push to rehabilitate the leadership's public face,
http://southasia.foreignpolicy.com/posts/2014/05/07/patrolling_pakistan_s_southern_corridor
The News, 5 May
The JUI-S chief Maulana Sami-ul-Haq said the Darul Uloom Haqqania is South Asia's second Deoband. He said the West, especially the US, wanted to create chaos in the Muslim world by forcing the rulers to fight against own citizens.
http://www.thenews.com.pk/Todays-News-2-248181-Religious-forces-striving-for-peace-says-JUI-S-chief
The Nation, 5 May.
An unholy mess
Along with Saudi riyals, the puritanical Wahabbi version of Islam also entered Pakistan's social milieu. Majority of Pakistan's population believes in the 'low-church' Barlevi Islam but there were always people here who believed in the 'high-church' Deobandi version. The Wahabbi variant is more puritanical and literalist than either of the two. Wahabbi Islam shuns local customs that have worked their way into culture. This clash of ideologies has disrupted the previously fragile bond between variants of Sunni Islam.
http://www.nation.com.pk/columns/05-May-2014/an-unholy-mess
Dawn, 4 May
The sectarian divide
International players also moved in at that stage. In Karachi's sectarian violence of 1983, the Deobandi Sawad-i-Azam Ahl-i-Sunnat led by Maulana Samiullah and Maulana Asfandyar was an anti-Shia movement launched in the city with financial support from Iraq. However, the movement was overshadowed with the establishment of the Anjuman Sipah-i-Sahaba in Jhang, Punjab, later renamed Sipah-i-Sahaba Pakistan by Maulana Haq Nawaz Jhangvi.
The establishment of the SSP triggered the phenomenon of sectarian-based groups, and other sects also established organisations as a reaction, leading to escalating sectarian tensions. At the same time, hardliners in these groups got involved in sectarian-related terrorism.
http://www.dawn.com/news/1104075/the-sectarian-divide
Pakistan Today, 3 May
Finally there or more lingering?
And, interestingly, since then the religious lobby has been paraded on primetime media, influencing the orthodox periphery, particularly the deobandi lobby. The Taliban have also gained precious time to regroup. They never believed the military was behind the talks, and said so throughout the sea-saw, so they probably didn't ask their donors to suspend arms and monies while they gave talks a shot. And they have emerged as the figurehead of all things sharia and khilafat, which is a major achievement for an insurgent group at open war with the state, with 50,000-plus casualties to its credit. All religious organisations, including the Jamat, have given them their stamp of sharia approval, and even a growing section of the press seems to echo Molana Sami ul Haq's understanding of the TTP, that they are "not at war with the state, but at war for the state".
http://www.pakistantoday.com.pk/2014/05/03/comment/finally-there-or-more-lingering/
Times of India, 10 April.
Both Madani and the students I spoke to in Darul Uloom cringed at the question of the ultra-conservative "Wahabi" linkage often established between the Islamic schools practiced in Saudi Arabia and Deoband. In the West, especially these days, "Deoband" has somehow become a catch-all word for hardline Islamic thought and practice, as if it is another word for the 'Taliban.'
http://blogs.timesofindia.indiatimes.com/ist/entry/in-deoband-thoughts-of-modi
Business Recorder, 3 May
Profoundly dangerous
Three pupils were killed and four others injured in an explosion inside a classroom for youngsters at a seminary in Orangi Town Karachi last Monday. This particular seminary is attached to the Jamia Masjid Islamia Tahira in Orangi Town's Agror Colony. It is the biggest seminary in the area, and its madressah has 750 pupils, 70 of whom were in the classroom where the tragedy occurred. It is of the Deobandi persuasion, affiliated with Jamiat Ulema-i-Islam-F (JUI-F). The jockeying for greater power is well known between religious groups and religio-political parties. Masjids have been taken over by one group or other; and there are clashes between students studying in rival madressahs.
http://www.brecorder.com/weekend-magazine/0:/1179152:karachi-chronicle-profoundly-dangerous/?date=2014-05-03
Comments
comments
Tags: Al-Qaeda, Jihadi and Jihadi Camps, Media Discourse on Deobandi Terrorism, Pakistani Media, Religious extremism & fundamentalism & radicalism, Sectarianism, Shia Genocide & Persecution, Sipah-e-Sahaba Pakistan (SSP) & Lashkar-e-Jhangvi (LeJ) & Ahle Sunnat Wal Jamaat (ASWJ), Takfiri Deobandis & Wahhabi Salafis & Khawarij, Taliban & TTP, Terrorism