Shia Genocide in Sindh and Bilawal Fan Club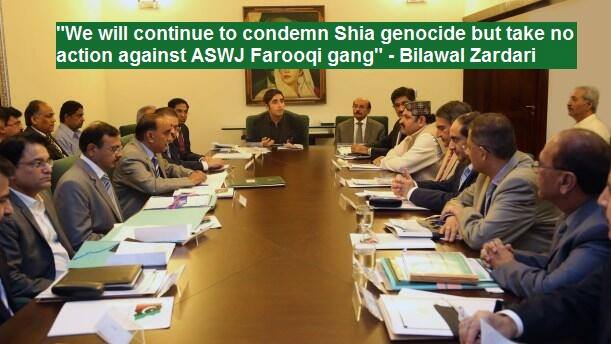 23-04-2014: Ejaz Hussain killed in Karachi.
22-04-2014: Sajid Mehdi, 25, killed in Karachi.
22-04-2014: Yet another Shia Muslim, Sajjad Raza, killed by ASWJ Farooqi Group in Karachi.
21-04-2014: A Shia Musim, Shahid Hussain, killed in Karachi.
20-04-2014: Ali Raza killed in Karachi.
The above is in addition to the list of incidents of Shia genocide in Sindh from 28 Dec 2009 to 12 Apr 2014 https://lubpak.com/archives/311563
How many more dead bodies? Is there an end to Shia genocide in Karachi? More Shias are being killed in Karachi than Balohcistan, Punjab and KP altogether.
Not a single day passes when a Shia Muslim is not target killed by ASWJ in Karachi.
Who rules Karachi? PPP government led by Bilawal Bhutto Zardari, his advisor Sherry Rehman and puppet CM Qaim Ali Shah. Are they blind, deaf and dumb? Why don't they take action against ASWJ's Aurangzeb Farooqi Deobandi who has openly waged war against Sunni Barelvis and Shias?
It appears that Bilawal is committed to massacre of more Shias in Sindh than were killed in Balochistan in CM Raisani govt when Bilawal's father Asif Zardari was Pakistan's President.
For every single Shia and Sunni Barelvi target killed in Sindh, PPP's Bilawal and ASWJ's Farooqi Deobandi are equally responsible.
In the meanwhile, also keep an eye on those flatterers who praise PPP while Shias and Sunni Barelvis are being target killed like flies by ASWJ in Sindh. They are surely Kufis.
You sympathize with Shia professionals target killed in Sindh but don't hold Bilawal Zardari, his advisor Sherry Rehman and puppet CM Qaim Ali Shah to account? Shabash, Kufio. That's what your elders did!
For us, the cause of human rights is much more important than party affiliation and flattery.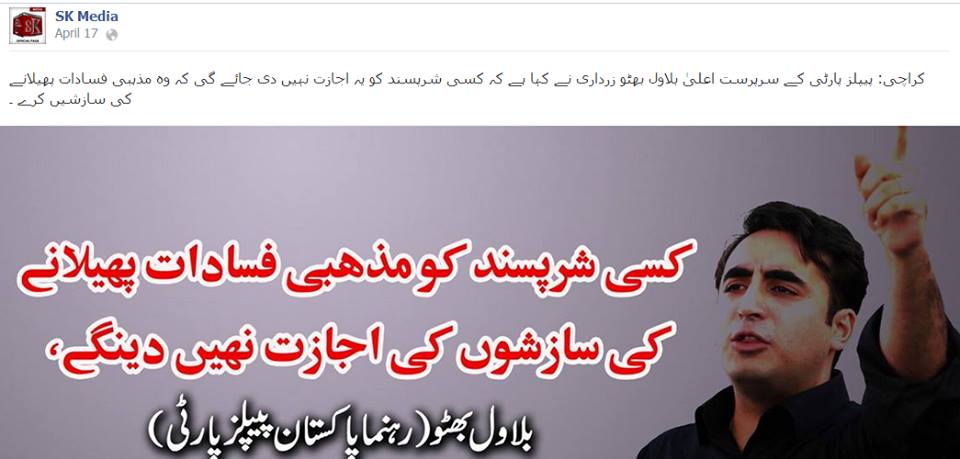 Shias are being killed non-stop in Karachi, Sindh, but a Shia facebook page is busy in praising and promoting Bilawal as a champion of human rights, limiting its criticism to Nawaz Sharif and Imran Khan only. This is despite the fact that Bilawal, the most powerful person in Sindh, has done nothing, barring a few rhetorical statements, to stop Shia genocide in Sindh where Shia teachers, lawyers, doctors and ordinary citizens are being killed on a daily basis.
Apparently that FB page and other similar activists are more loyal to Bilawal and PPP than to Imam Hussain (a.s.) and the cause of Shia genocide.
We hold Bilawal Zardari, his elitist advisor Sherry Rehman, and puppet CM Qaim Ali Shah directly responsible for every single Shia and Sunni Barelvi target killed in Karachi and other parts of Sindh. These people are also responsible for inaction against takfiri Khawarij terrorists of ASWJ (urban face of TTP), led by Aurangzeb Farooqi Deobandi.
Of course, we also hold the Saudi-backed PM Nawaz Sharif responsible for Shia genocide due to his political alliance with ASWJ-TTP. However, legally and politically, it is the duty of the PPP-govt in Sindh to protect innocent Shias, Sunni Barelvis, Ahmadis, Hindus etc from faith-based target killings by ASWJ terrorists.
Bilawal, Sherry Rehman and Qaim Ali Shah have failed in this duty just as Bilawal's father, former President Zardari, and CM Raisani silenty presided over Shia genocide in Balochistan.
If you are a Shia and you live in Karachi, you WILL BE killed. It's not a question of if, it's a question of when. Thanks to Bilawal and ASWJ
The more PPP govt in Sindh delays action against ASWJ/Farooqi, the higher the death toll for Shias of Karachi.
Comments
comments
Tags: Balochistan, Bilawal Bhutto Zardari, Criticism of PPP, Karachi, PPP, Religious extremism & fundamentalism & radicalism, Saudi Arabia KSA, Sectarianism, Shia Genocide & Persecution, Sindh, Sipah-e-Sahaba Pakistan (SSP) & Lashkar-e-Jhangvi (LeJ) & Ahle Sunnat Wal Jamaat (ASWJ), Takfiri Deobandis & Wahhabi Salafis & Khawarij, Taliban & TTP, Terrorism