Bilawal kicks out Faisal Raza Abidi, PPP's most vocal anti-Taliban activist, from his party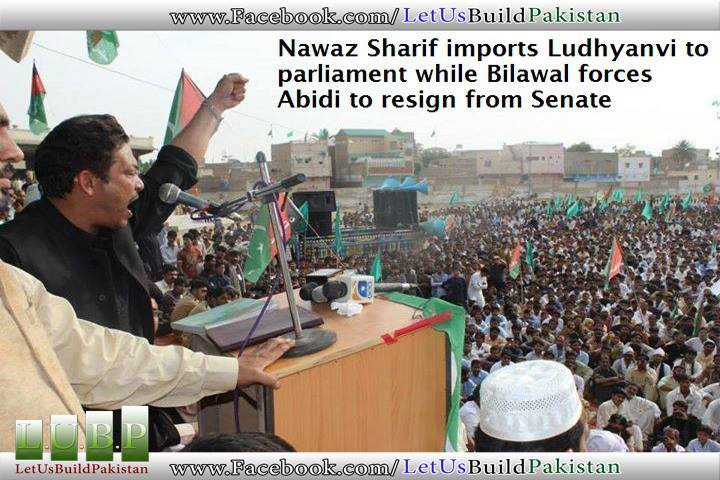 Thanks to PPP and PML-N's appeasement of the banned terrorist outfit Sipah-e-Sahaba (aka ASWJ, the urban face of TTP), Ahmed Ludhyanvi Deobandi has entered the parliament while Faisal Raza Abidi is shown the door.
In December 2013, PPP's chairman Bilawal Bhutto Zardari had issued a show-cause notice to Senator Faisal Raza Abidi. On 16 April 2014, PPP formally asked Faisal Raza Abidi to resign from his seat in Senate.
http://www.dawn.com/news/1060482/faisal-abidi-grilled-over-anti-democracy-comments
http://mediacellppp.wordpress.com/2013/12/04/bilawal-bhutto-zardari-orders-show-cause-notice-to-senator-faisal-raza-abidi/
http://www.dawn.com/news/1100522/faisal-raza-abidi-resigns-from-senate
While we do not agree with the emotional, pro-martial law statement of Faisal Raza Abidi, we also note that his statement has been twisted by his critics and detractors because Abidi has been demanding bold governmental and army action against TTP and its urban face ASWJ. At the same time, we cannot ignore that many within PPP including Sherry Rehman, Qamar Kaira and Khurshid Shah treat TTP-ASWJ as their political allies and strategic assets.
While we disagreed with Faisal Raza Abidi as well as Bilawal's lack of criticism of the army's historical role in fostering the Taliban, we find Bilawl's advisor Sherry Rehman's pro military establishment agenda far more reprehensible. Faisal Raza wants the Army to take on the Taliban and its urban face ASW – a suggestion that makes complete sense as long as the Army does NOT impose Martial Law. The Sherry Rehman-founded Jinnah Institute, as its first order of business, published a report that advocated for re-installing the Taliban in Afghanistan. This controversial report was publicly promoted and defended by Sherry Rehman, and was widely criticised by scholars such as Dr Farhat Taj, Dr Taqi and Dr Ayesha Siddiqa.
While back in 2010, Sherry Rehman backstabbed the PPP for the sake of a corrupt, pro-Taliban judge, Faisal Raza Abidi was the ONLY PPP activist who exposed the corruption and double standards of the Iftikhar Chaudhary Judiciary.
Clearly, in the New PPP led by Bilawal (also known as Elitist Peoples Party, EPP), there is no place for blunt and awaami leaders like Faisal Raza with actual roots in the urban masses. That space is rapidly being taken over by elitist hypocrites and opportunists.
According to media reports, in their recent meeting (16 April 2014), PML-N's chief PM Nawaz Sharif demanded Asif Zardari to take action against Faisal Raza Abidi. In other words, the same party which facilitated Ludhyanvi's entry into parliament also manouvered Abidi's exit. https://www.facebook.com/photo.php?v=720775627944919
In his final speech in Senate, Abidi said that he will cotinue to run a non-political organisation 'Voice of Pakistan Martyrs' as a part of his campaign for the rights of Sunni Barelvis and Shias who are being massacred by ASWJ-TTP terrorists.
In his interview with Dr Shahid Masood (17 April 2014), Senator (retired) Abidi said that takfiri Deobandi elements have infiltrated into the PPP and the party needs to take bold, clear stance against ASWJ. He also suggested that PPP should consider forging a political alliance with Sunni Ittehad Council (SIC) and Majlis-e-Wahdat-e-Muslimeen (MWM).
http://www.awaztoday.tv/News-Talk-Shows/55466/Live-With-Dr-Shahid-Masood-17th-April-2014.aspx
In Karachi, Shia professionals and ordinary citizens are being target killed on a daily basis. At least 500 Shias have been target killed in the last four years in Sindh, while hundreds are injured or disabled for the rest of their life.
As an example, here's a glimpse of what happened in last 48 hours in Karachi:
April 18: Famous rights activist and scout Arshad Naqvi killed by ASWJ in Karachi.
April 17: Shia shopkeeper Sadiq Hussain killed in Karachi http://www.dawn.com/news/1100572
April 17: Muhammad Ali injured in firing in North Nazimabad, Karachi
This is in addition to five professionals (two doctors, two lawyers, one lecturer) target killed by Deobandi ASWJ terrorists in Karachi in last two weeks.
As a matter of fact, it is not Punjab or KP, it is Karachi, ruled by PPP for last seven years, which is the hub of ongoing Shia genocide in Pakistan.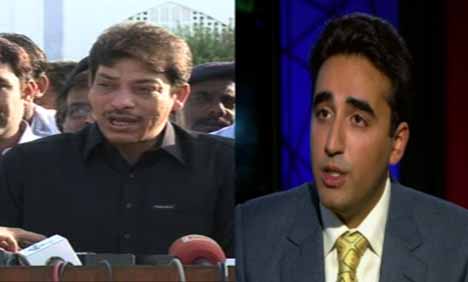 In the meanwhile, notwithstanding some elitist noises, Bilawal Zardari (the pupeteer) and Qaim Ali Shah (the puppet CM) have failed to take action against the banned Deobandi terror outfit Sipah-e-Sahaba (ASWJ-SSP) and the mastermind of Shia genocide in Karachi, Aurangzeb Farooqi Deobandi.
In fact, in Khairpur and other parts of Sindh, PPP leaders are openly supporting ASWJ to suppress and harass Sunni Barelvis and Shias.
It's sheer hypocrisy of Bilawal to criticize Shahbaz Sharif and Nawaz Sharif on their support to ASWJ's Malik Ishaq and Ludhyanvi while in his own province, Sindh, the PPP-led govt gives police protocol to ASWJ's leader Farooqi and the visiting terrorists Ludhyanvi and Malik Ishaq.
It's sheer hypocrisy of Bilawal to speak against Taliban (TTP) while his own party leaders Khurshid Shah (opposition leader in NA) and Raza Rabbani openly and formally support Nawaz Sharif govt's talks with TTP.
It's sheer hypocrisy of Bilawal to take action against Faisal Raza Abidi on Abidi's call for military action against ASWJ-TTP while completely ignoring the fact that Bilawal's own advisor and puppeteer Sherry Rehman is known for direct links with the ISI; her think-tank Jinnah Institute is known for receiving financial support from Pakistani establishment.
It's sheer hypocrisy of Bilawal to take action against Faisal Raza Abidi while he takes no action against Qamar Zaman Kaira and Amin Fahim who openly ally with ASWJ terrorists and treat them as their political allies.
In Islamabad, Taji Khokar's family is the cheif financier of ASWJ-LeJ terrorists. Recently, new Deobandi madrassa 'Amir Mauvia' was inaugurated. There are two PPP ticket holders in this pro-ASWJ family!
It seems that Bilawal Zardari loves to attack those who are attacked ASWJ. A few days ago, Bilawal attacked LUBP on the very day when ASWJ's official account on Twitter was trying to falsely implicate LUBP in the murder of a Sunni Barelvi driver actually killed by ASWJ. Now Bilawal has taken action against Faisal Raza Abidi whose llife is under immediate threat at the hands of takfiri Deobandi terrorists of ASWJ-TTP.
If Bilwal is a man of principles and integrity, will he take action against Aurangzeb Farooqi of Karachi? Will he take action against Qamar Zaman Kaira and Amin Fahim? Will he take action against Sherry Rehman and other agency-friendly moles within PPP? Has Bilawal, ever, clearly and catgorically spoken against Sipah-e-Sahaba or ASWJ and its leaders Ludhyanvi and Farooqi?
When will Bilawal ask Kaira to resign for his public links with ASWJ? Asking for martial law is bad but allying with ASWJ is kosher? Inaction against Aurangzeb Farooqi is fine?
On a related note, it seems that for some blind supporters of Bilawal and PPP, while it is kosher to bash Imran Khan and Nawaz Sharif, Bilawal's inaction on Shia genocide is a tpic out of bounds. For example, for all practical purpose, S K (Shia Killing) web site has become Bilawal Lovers Forum which, hilariously, criticizes Karachi's police and rangers chiefs but remains silent on Bilawal Zardari, the most powerful man in Sindh govt. The Shia Killing SK website is an example of how some people are more loyal to a party (PPP, Bilawal) than a cause (Imam Hussain, #ShiaGenocide).
While Bilawal's father was Pakistan's President (2008-2013), PPP silently presided over Shia genocide in Balochistan. And while Bilawal himself is running all the affairs in Sindh, it is a case of is all talk, no action against ASWJ, looking the other way while Shias, Sunni Barelvis and Hindus continue to be target killed and harassed by the ASWJ, the urban face of TTP.
Appendices:
PPP's hall of shame: Incidents of Shia genocide in Sindh from 28 Dec 2009 to 12 Apr 2014 https://lubpak.com/archives/311563
Community leader blasts Bilawal and PPP-led Sindh govt on utter failure to stop Shia genocide https://lubpak.com/archives/311685
Bilawal Bhutto Zardari's much talk, no action against ASWJ terrorists
https://lubpak.com/archives/310657
PPP's Qamar Zaman Kaira's secret love affair with ASWJ-LeJ https://lubpak.com/archives/246875
PPP's leader Sherry Rehman sanitizes TTP-ASWJ terrorists by describing them as rebels – by Siraj Baloch https://lubpak.com/archives/305697
Malik Ishaq living large in Sherry Rehman's new Pakistan – by Dr. Taqi
https://lubpak.com/archives/222812
اسٹیبلشمنٹ کے ہم بستر صحافی اورعائشہ صدیقہ کی سچ بیانی
https://lubpak.com/archives/273747
پیپلز پارٹی کا آوازِ شہداء فیصل رضا عابدی سے استعفیٰ طلب کرنا شیعہ دشمنی پر مبنی فیصلہ ہے ،اشتر رضا اشتر
http://www.urdu.shiitenews.com/index.php?option=com_content&view=article&id=10447%3A2014-04-17-10-51-56&catid=19&Itemid=119
شیعہ ووٹوں پر مزہ لوٹنےوالی جماعت پیپلز پارٹی کو شیعہ سینیٹر فیصل رضا عابدی نے استعفٰی دیدیا
http://www.urdu.shiitenews.com/index.php?option=com_content&view=article&id=10441%3A2014-04-17-08-58-53&catid=19&Itemid=119
پیپلزپارٹی میں اختلاف رائے کی گنجائش میں کمی اور شخصی آمریت میں اضافہ ہی ہوتا چلا جارہا ہے
https://www.facebook.com/aamir.hussaini/posts/10203694418949359?stream_ref=10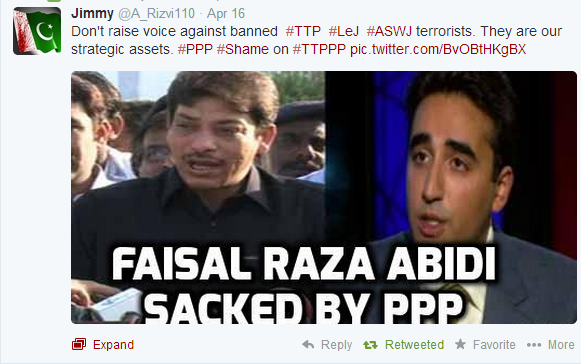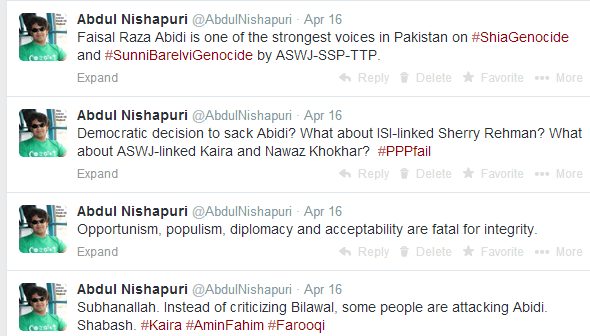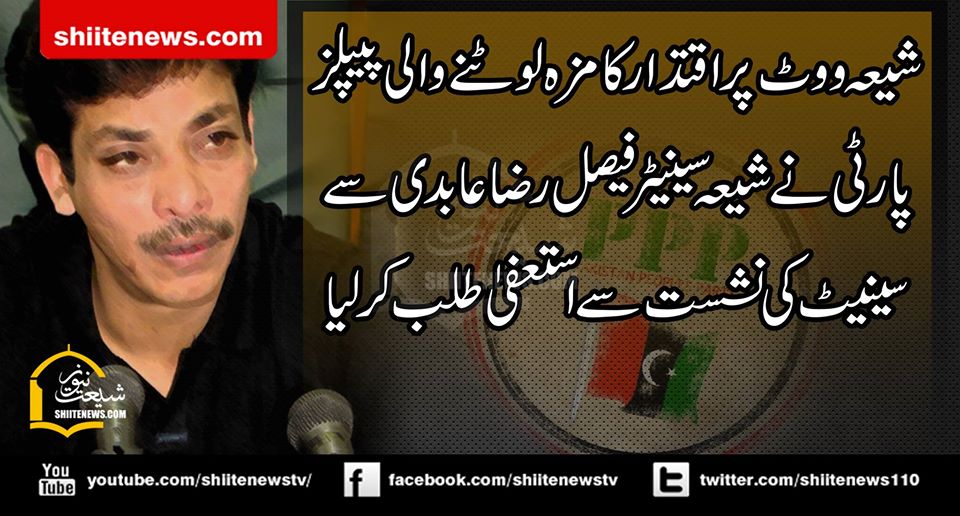 Comments
comments