JSQM leader's murder: When will ISI start killing and dumping leaders of banned terrorist outfits ASWJ-SSP and TTP?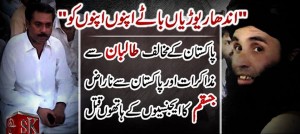 On 20 March 2014, a Sindhi nationalist leader of Jiye Sindh Qaumi Mahaz (JSQM) Maqsood Qureshi was found dead in mysterious circumstances in a car, triggering tension in interior Sindh and Hyderabad. A burnt car was spotted along Bhiria Road, Naushero Feroz, with two bodies in it. Police said one of the bodies was identified as Maqsood Qureshi and while the other one was his companion, Salman."
This often happens with Baloch and a few Sindhi nationalists.
Some Pashtun and Baloch nationalists too are "taken care of" through Deobandi proxies of TTP-ASWJ.
However, we have never seen such "accidents" happening to Malik Ishaq, Aurangzeb Farooqi, Ludhyanvi and Ramzan Mengal. This shows the priorities and the direction of the State (military establishment).
Something is, indeed, rotten in the state of Denmark.
http://www.pakistantoday.com.pk/2014/03/21/national/jsqm-leader-found-dead-in-mysterious-circumstances/
http://www.bbc.co.uk/urdu/pakistan/2014/03/140321_jsqm_leader_killed_fire_tk.shtml
https://lubpak.com/archives/309647
Comments
comments
Tags: Al-Qaeda, ISI, Nawaz Sharif, Religious extremism & fundamentalism & radicalism, Saudi Arabia KSA, Sectarianism, Shia Genocide & Persecution, Sipah-e-Sahaba Pakistan (SSP) & Lashkar-e-Jhangvi (LeJ) & Ahle Sunnat Wal Jamaat (ASWJ), Takfiri Deobandis & Wahhabi Salafis & Khawarij, Taliban & TTP, Terrorism