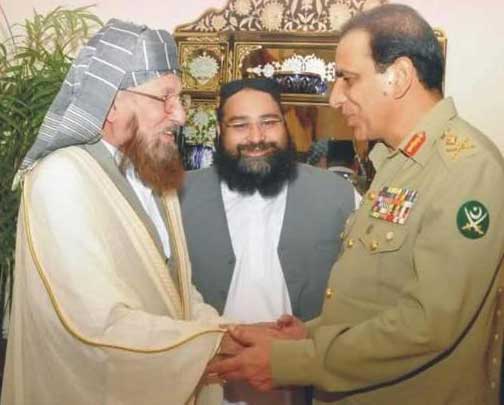 Editor's note: There is no doubt that there are fine upstanding officers in the Pakistan army who stand ready to make the supreme sacrifice for the nation. This fine officer is putting himself on the line for the nation to come out and condemn appalling record of General Kiyani . At the same time General Raheel Sharif should take note of the heavy responsibility and the need for decisive action against the Takfiri Deobandi Terrorists instead of half hearted reactive operations.
*****************
Dear friends and course mates,
In 2008 I happened to be visiting Rawalpindi and was invited for dinner by Gen Ashfaque Kayani for the 45 PMA long course retired officers reunion. During the course of that long evening a surprise took place in the form of the sudden and unexpected appearance of our course mate and friend Capt Tariq Azizuddin who had been released by the Taliban from their captivity the same day. Tariq as you will recall was Pakistan's ambassador to Afghanistan and was kidnapped by the Taliban a few months earlier. I also happened to be seated with Tariq and his lady wife on the same table as Kayani. Now what Tariq told me that night is exactly what has transpired since. The Taliban had released him after negotiations with the army and ISI. They had also sent him with a clear cut message for Kayani and the government. They had threatened an all out bombing campaign, assassinations of high officials, kidnapping for ransom, unleashing of suicide bombers, attacks on the armed forces and the civilian population, sabotage and destruction of infrastructure throughout Pakistan, unless their (outlandish) demands were met and imposition of their version of Sharia was implemented in the country. Now had this threat been understood and taken seriously, the army and the government would have launched an all out war against the Taliban right then in 2008.
However Kayani and Zardari, men of limited vision, lacking a sense of history, cowardly and corrupt to the core of their beings, both conspired against the soul of Pakistan and let mayhem happen. The conspiracy was to ensure the defeat of Pakistan Army from lack of action. Whatever small victories that were achieved in Swat, South Waziristan and FATA were on a Div, Bde and Bn level, just enough to fool the people as well as the armed forces. The Hussain Haqqani episode and Kayani's inaction on it was another proof of his complicity in the deal to let 'them' undo Pakistan. Another deal he entered into was to ensure that the corrupt system would continue unhindered and Nawaz Sharif would form the next government and for that Kayani received an unprecedented three year extension from Zardari.
He now sits tight in his palatial bunker built by Malik Riaz, along with his two brothers, their bank balances swollen to beyond bursting point while the country burns and its people are bewildered and in shell shock . Although it was a collective failure of the massively corrupt Zardari government, the complicit and friendly Nawaz Sharif led opposition, the corrupt judiciary headed by the morally bankrupt chief justice, Iftikhar Chaudhry, I would put most of the blame on Kayani. Had he not been a party to the conspiracy, being the army chief he could have acted as per his sworn duty to defend the country against both internal and external enemies. He could have done what Gen Kakar did and send packing both the PM and President, hold fresh elections and obtain a mandate from the people to launch the army against the Taliban for an all out war.
During the eight year tenure of Gen Musharraf as Army Chief and President, there were around 550 terrorist attacks in Pakistan. Between 2008 and 2013 under Zardari and Kayani there were over 13000 terrorist attacks and targeted killings. What this tells us very loud and clear is that a proud and brave army under an intellectually dishonest, morally and materially corrupt and cowardly Army Chief just failed.
Now I wrote to Kayani a few times and my friends and course mates (all those on my mailing list) were sent copies by email. I warned him to correct his (and his two brothers) ways and do for Pakistan what he swore under oath to do. Some of you thought I was being too harsh on him. Please rethink now. The shameless coward not once had the guts to respond to me personally or meet me in London. He sent me messages through aides and his regards through Pakistan's then army attache in London. In my last letter to him I predicted that he will fade away with a whimper and the army and people of Pakistan will hold him in the lowest dishonor. I also ask you all to verify with Tariq Azizuddin about his conversation with me that evening in 2008 and that what he told me turned out exactly as he said in his message to Kayani and that he had turned a deaf ear on him.
It is perhaps still not too late to win the war against the Taliban. Truth and conviction along with military prowess and gritty leadership will prevail. Let us hope and pray that the new army chief, Gen Raheel Sharif proves to be a true son of the soil and continues what he has started till complete victory is achieved and this Taliban scourge is eliminated from the face of the earth. If any malignant force or entity, internal or external, political or religous, gets in the way of salvation and liberation from the evil of terrorism then I hope that Gen Raheel Sharif and the army will sort them out too.
Regards to all,
Mahin Malik
Major ( R) Mahin Malik is from 45th long course and took early retirement after 7/8 years of service. He is one of the most respected, well read and an outstanding officer to pass out of PMA. He was winner of the Tactics Medal and passed out on 2nd position in a course of 150 officers. General Kiyani is his course mate.