26 unauthorized Deobadi mosques in Islamabad provide sanctuary to TTP-ASWJ terrorists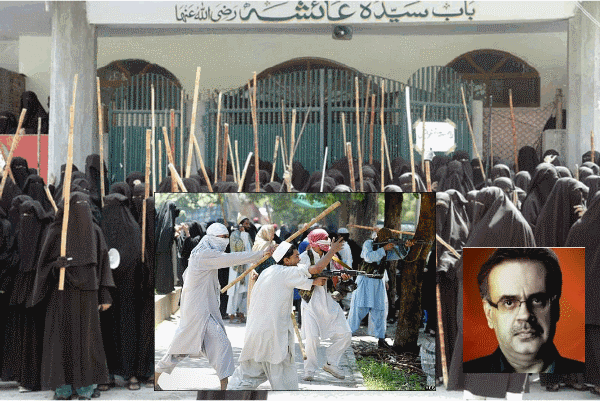 ISLAMABAD: For the last four years Niaz Saleemi, 55, has been offering prayers in a mosque built on a greenbelt near his I-10/2 house.
Sometimes, he pauses for a moment and thinks if it is right to offer prayers in a mosque constructed on state land. The mosque has been raised without the Capital Development Authority's approval.
"I know that a mosque should be built after purchasing land for it but no one paid a penny before the construction of this mosque by Ahle-Hadith sect," Saleemi said.
"Often I think I should talk to the Imam sahib to know about the status of the mosque and whether my prayers would be accepted by Allah. But I don't have the courage to put such a question to him," he added.
Haji Rab Nawaz, 60, a resident of G-9/1, says he goes to a mosque which has been built by the Deobandi sect on government land.
"I also follow the Deobandi sect that's why I offer prayers in this mosque," Nawaz added.
He said it was difficult to believe that the mosque had been built on government land without approval.
However, Nawaz said the imam of the mosque had told him that he can offer prayers in the mosque.
"But now I will consult another religious scholar about offering prayers in a mosque constructed without approval of the authorities concerned."
He said it should be the responsibility of the CDA to inform people about the status of mosques.
Like Nawaz, 35-year-old Rizwan Cheema of I-9/4 offers prayers in a mosque built within a park area near Bismillah Market without approval.
He said he was unaware of the fact that the mosque administration did not get approval before construction. "I was happy that a Barelvi mosque has been built near my home but now I am worried if my prayers would be accepted by Allah," he said.
He said the CDA should stop illegal construction of mosques in the initial stages as later it becomes difficult to remove a worship place.
Sajjad Naqvi, 45, of F-11/1, said he offered prayers in a mosque constructed by a group of Shias on a greenbelt four years back.
He said there was no mosque in the surrounding area for the Shia community so the greenbelt was used for the construction of the mosque. "I agree that we built it without approval of the CDA but it was the responsibility of the authorities to stop its construction," he added.
According to the CDA enforcement, different religious groups have constructed 71 mosques on state land in the city. Out of these, 52 mosques are located in developed sectors and 19 in the katchi abadis.
In the developed sectors, 36 of the 52 mosques were constructed during the last five years.
According to the list, 26 mosques in the developed sectors are in the possession of Deobandi sect, 18 are under the control of Barelvis, five are with Ahle Hadith and one is controlled by the Shia community.
Two mosques are not affiliated with any sect.
When contacted, Maulana Qari Mohammad Hanif Jalandhari, the General Secretary of Wafaqul Madaris, said that Islam did not allow anyone to construct a mosque by occupying land. "Muslims should avoid offering prayers at such mosques," he added.
Source :
http://thepeninsulaqatar.com/news/pakistanafghanistan/272727/unauthorised-mosques-spread-in-islamabad
Comments
comments
Tags: Al-Qaeda, Friends of Taliban, ISI, Jihadi and Jihadi Camps, Media Discourse on Deobandi Terrorism, Military Establishment, Religious extremism & fundamentalism & radicalism, Sectarianism, Shia Genocide & Persecution, Sipah-e-Sahaba Pakistan (SSP) & Lashkar-e-Jhangvi (LeJ) & Ahle Sunnat Wal Jamaat (ASWJ), Takfiri Deobandis & Wahhabi Salafis & Khawarij, Taliban & TTP, Terrorism