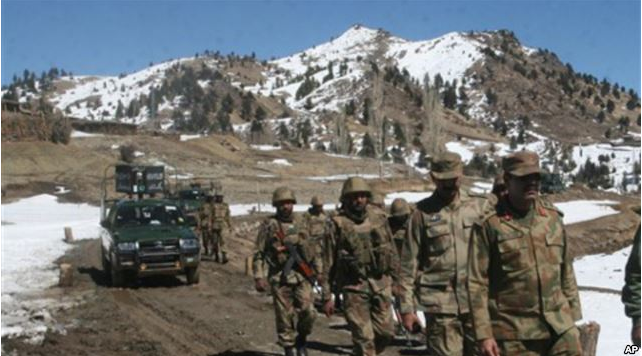 "Chane of success of an army operation in North Waziristan is 40%" A statement that is currently being widely discussed in mainstream news and social media but it being misunderstood and misinterpreted raising severe concerns in general public.
Fingers are being raised on capability of Pakistan armed forces which is nothing but a lack of understanding on the part of interpreters and accusers. This is not a conventional war where your enemy and its territory is in-front of you and you have to capture and clear it rather these creatures i.e. TTP have infiltrated in our settled areas thanks to lack of interest and poor policies by our Ministry of interior, and thanks to political hirings and influences in Police and judiciary. We are in a state of emergency and fighting the most crucial battle since our creation.
Why Imran Khan/General Kiyani have said about 40% success rate is due to infiltration of these takfiris/insane creatures and their well wishers inside settled areas. There is no doubt that our armed forces can clear the territory but question is that is this complete solution of the problem? Of course that is very important part of the track to solution but even more important is "a strong policy" to contain and crush them and their supporters in settled areas like Karachi, Lahore, Islamabad, Rawalpindi, Peshawar or you name it. All this falls under internal defense which is to be maintained by law enforcement agencies, police, judiciary and not military at all. Now we have a failed civil govt. and their failed institutes (police and judiciary) who are solely responsible for containing any threats in settled areas.
Looking at statistics, the strongest hold of TTP is in Karachi and according to a report in The News Friday, September 06, 2013 "6,000 criminals hired, working in Sindh Police. PM told". Can we expect to contain TTP and their sympathizers with this poor condition of law enforcement agencies? Unless a strong policy regarding this most critical issue of state of Pakistan is implemented, it doesn't seem possible to get rid of these creatures. Operation before clearing settled areas will create more sympathizers of these filthy creatures.
Another important issue linked with military operation is failure of Civil/Political government with lack of their ability to highlight this issue with neighboring Afghan authorities and government. Army will clear the land in some week or months but terrorists will move into afghan territory just like before. Even at this time, all mainstream leadership of Taliban is hiding (and I would say under protection) of afghan authorities and NATO.
Clearing of tribal area is not going to define success of Pakistan, but major part of success has to be achieved by dealing with them and their sympathizers in settled areas. If definition of success is just clearing a territory, then we are wrong as army cleared swat long ago but we are more insecure after that because of lack of internal defense mechanism. Things need to be taken care of wisely rather emotionally since supporters of this ideology live right among us.