Shia Hazara artist has made the journey from a home in exile in Pakistan to one of Australia's top galleries. Khadim Ali casts a protective eye over his mother, Amina, in a house in Sydney's western suburbs, where his family has recently moved.
"My mother was really angry at me when I was a little kid putting charcoal in my pocket from the bakeries and drawing on the walls," the artist, who is about to have a solo show at the Art Gallery of New South Wales, told the ABC.
"She was angry when she washed my clothes but now I think she is proud of herself that she didn't stop me."
Amina and husband Ranzan joined their son in Australia two years ago after being injured in a suicide bomb blast in Quetta Pakistan. For more than a decade Shia Muslims of Pakistan including Shia Hazaras of Quetta are experiencing target killing and massacres at the hands of a Deobandi terrorist group namely Sipah-e-Sahaba Pakistan (ASWJ, also known as LeJ).
"It was really difficult to bring my parents here, so they came on a visitor's visa," he said. Later they were granted permanent residency.
Their home was in Quetta, a town in Pakistan on the Afghan border where Khadim, now 36, spent his childhood among a community of Hazaras living in exile. Young Khadim showed early promise as an artist and won a place at the national art school in Lahore. His unique talent, especially with miniature paintings, soon attracted attention.
Video is accessible at this link:
http://mpegmedia.abc.net.au/news/7pmtvnewsnsw/video/201402/PDs_AfghanArtist_1202_256k.mp4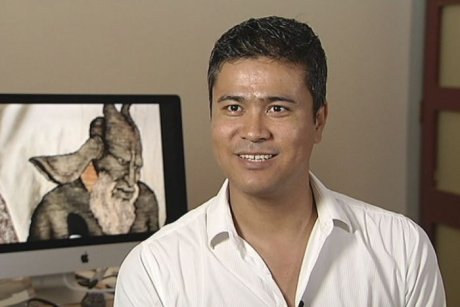 Ali Khadim granted visa after talents recognised
Four years ago, the Australian Government granted him a distinguished talent visa allowing him to live here.
"When I decided not to live in Afghanistan I decided I wanted to live in a better place where the opportunities are there where you can grow as an artist," he said. "It is very difficult to fight with that identity crisis in your own self. You are not an Australian, you are not Pakistani, you are not an Afghan. You are a Hazara."
With growing demand for his artwork both here and overseas and a lucrative fellowship from the Australia Council for the Arts, he has been able to settle his parents here. But he focuses equally on his work with the exhibition The Haunted Lotus due to open next month.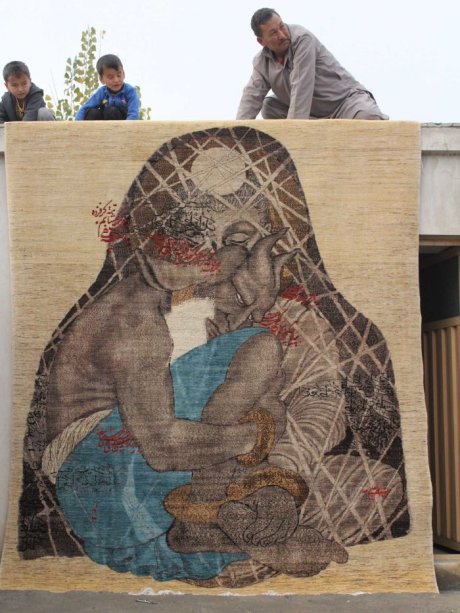 His artwork has its roots in Afghan mythology stretching back a thousand years. His interpretation though is completely modern, from brilliant paintings to rugs. He has a studio in Kabul and, although movement between here and Afghanistan is difficult, he has been able to make rugs in conjunction with traditional carpet weavers who he taught new digital techniques to accommodate his complex designs.
"I think I am going back bridging myself to my own dark history to the history of Hazaras. I am trying to hear all those screams and shouts where they were unheard on those dark nights where the massacres started in Afghanistan I am trying to connect and listen to those voices."
Suhanya Raffel from the Art Gallery of NSW spotted Ali's talent when he was studying in Lahore and she was searching for new artists to exhibit at Queensland's Gallery of Modern Art. Now years later, she is watching him rise through the ranks.
"I think he is really very wonderful talented young artist who will make a major career for himself internationally," she said.
"He addresses the issues of displacement, of migration of meaning and identity, of where you decide to pull that to form who you are, and he has been really been an articulate advocate for this people."
The Haunted Lotus will be on show at the Art Gallery of NSW from March 6 to June 1.
Source: http://mobile.abc.net.au/news/2014-02-12/hazara-artist-khadim-ali-goes-from-pakistan-to-sydney-gallery/5255852
…..