Imran Khan lies about Pakistan army's lack of capability to defeat TTP terrorists
Imran Khan, the official liar, the chief propagandist in Deobandi TTP's psy-war against Pakistan
ISLAMABAD: Leader of the House in Senate, Raja Zafarul Haq Friday said that the prime minister and former army chief were misquoted in a statement by PTI chief Imran Khan, regarding success chances of a possible military operation against Taliban.
The upper house of Parliament witnessed a heated debate on a recent TV interview of Pakistan Tehreek-i-Insaf chief Imran Khan in which he had allegedly questioned the capability of the armed forces to take on militants.
Khan in a TV interview on Tuesday night had stated that during a meeting the prime minister had quoted former army chief Gen (retd) Ashfaq Parvez Kayani as saying that there was a 40 per cent chance of success of a military operation against militants in the country's tribal areas.
"(Pakistan Tehreek-i-Insaf) PTI chairman Imran Khan misquoted Prime Minister Nawaz Sharif and the former army chief while stating that there were 40 per cent chances of success if an operation is started against militants," Raja Zafarul Haq informed the Senate in response to a point of order, raised by Senator Raza Rabbani.
He said: "I have obtained required information which suggests that the statement of Imran Khan has no reality and is totally baseless. The PTI chief could not understand what the former army chief had said."
Raja Zafarul Haq said that on the demand of Imran Khan before the All Parties Conference (APC), his meeting was arranged with PM Sharif, Minister for Interior Chaudhry Nisar Ali Khan and the then COAS.
In the meeting, he said, the former army chief had told the PTI chief that if an operation was launched by the government against militants, then 40 per cent terrorism related activities could be controlled without delay.
Haq recalled, at that time Kayani had also stated that the government should fully utilize the option of dialogue with militant groups.
"We have full confidence in Pakistan Army which is capable to fight extremism and aggression against the country. Their determination cannot be questioned," he added.
The leader of the house acknowledged that besides soldiers, the officers of armed forces have also rendered valuable sacrifices in the war against terrorism.
Leader of the Opposition in the Senate, Chaudhry Aitzaz Ahsan welcomed the statement of the leader of the house, saying the whole nation stands alongside Pakistan Army in the fight against terrorism.
Earlier speaking on a point of order, Senators Raza Rabbani, Afrasiab Khattak, Farhatullah Babar and Rehman Malik had demanded of the government to come out with a clear stance on the statement of Imran Khan.
They mentioned the recent terrorist activities in Karachi and Khyber Pakhtunkhwa and questioned, were the citizens left on Taliban's mercy.
The senators of Pakistan People's Party and Awami National Party also criticized the PTI government in KP for its failure to ensure security of lives and properties of common people.
Source : http://www.dawn.com/news/1086997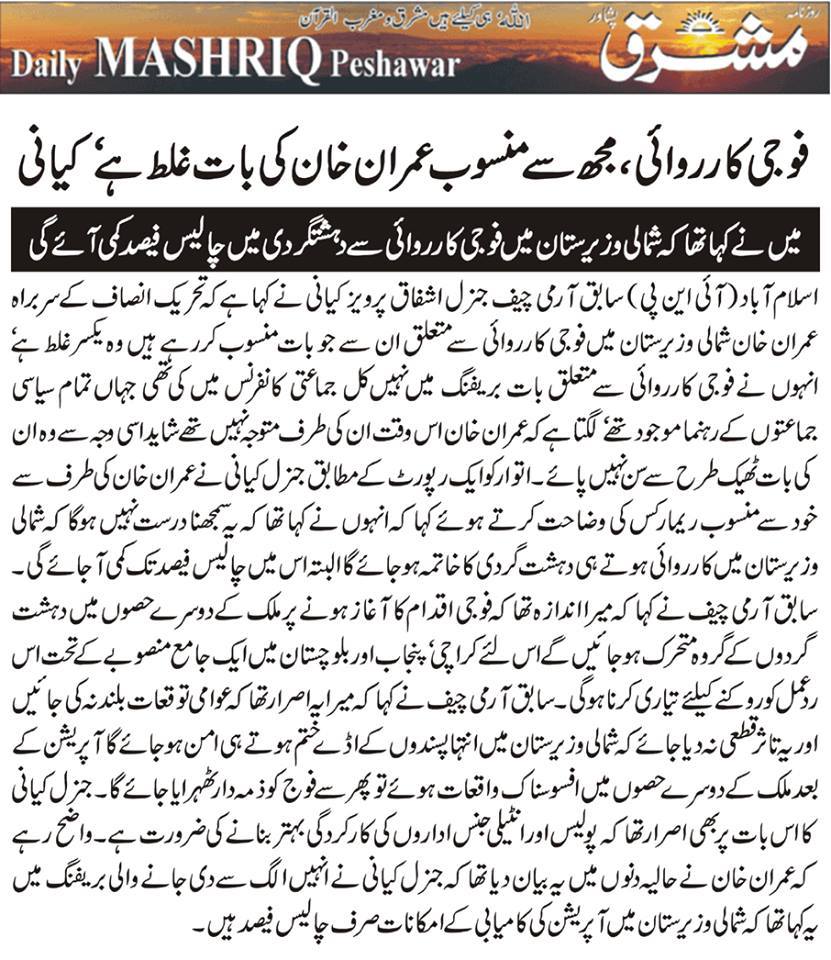 کیا کریں گے اس پس منظر میں ہے کہ بقول ان کے وزیرِ اعظم شریف کی موجودگی میں جنرل کیانی کی بریفنگ کے دوران یہ بھی سنا گیا کہ آپریشن کی کامیابی کے امکانات چالیس فیصد ہیں۔

اگرچہ یہ بریفنگ کانفیڈینشل بتائی گئی تھی پھر بھی خان صاحب نے اس بارے میں پوری دنیا کو اعتماد میں لینا مناسب سمجھا۔حالانکہ وہ یہ بھی کہہ سکتے تھے کہ بری فوج کے سربراہ نے اپنا نام ظاہر نہ کرنے کی شرط پر بتایا کہ صورتحال یہ اور یوں ہے۔
اب تصور کریں کہ سرحدوں پر جنگ کے بادل منڈلا رہے ہوں اور لیفٹننٹ جنرل خان صاحب وار روم میں اپنے کمانڈروں کی بریفنگ کی صدارت کر رہے ہوں۔اور اچانک وہ اس سردار جی میں تبدیل ہوجائیں جس نے ٹیم کا حوصلہ بڑھاتے ہوئے کہا تھا کہ ڈٹ کے مقابلہ کرنا تاکہ ہار بھی جاؤ تو دنیا کہے کہ مقابلہ کرکے ہارے ہیں اور ہارنے کے بعد منہ نہیں بسورنا بلکہ فاتحانہ مسکراہٹ سجائے دشمن سے مضبوط مصافحہ کرکے سر اٹھاتے ہوئےگراؤنڈ سے پویلین میں جانا ہے۔۔ایک کھلاڑی نے ہاتھ بلند کیا ' سردار جی سوچو ! جے جت گئے تے فیر ؟؟؟؟۔۔۔'

لیکن ہنسی مخول سے قطع نظر خان صاحب کی بات میں واقعی وزن ہے کہ اگر آپریشن بھی ناکام ہوگیا تو کیا کرو گے ؟
یہ بات خیبر پختون خوا کے اس پولیس والے کو بھی سوچنی چاہئے جو کسی لق و دق چیک پوسٹ پر عین اس وقت اکڑا ہوا پہرہ دے رہا ہے اور دور کسی گھر میں اس کے تین چھوٹے بچے اپنے بابا کے انتظار میں وقت کاٹتے ہوئے کھیل رہے ہیں۔اور وہ فوجی بھی جس کی شادی بس تین مہینے پہلے ہوئی ہے مگر وہ پھر بھی اس وقت دیر کی کسی پہاڑی پر دوربین لگائے نقل و حرکت نوٹ کررہا ہے۔اور ان گیارہ ایف سی والوں کو بھی خان صاحب کے خدشے پر دھیان دینا چاہئے جو عین اس وقت کہیں ٹرک میں سوار ہورہے ہیں اور جانتے ہیں کہ ساٹھ فی صد امکان یہی ہے کہ اکیس منٹ بعد یہ ٹرک کوئی موڑ کاٹتے ہوئے اڑ جائے گا۔

بلکہ میں تو کہتا ہوں کہ مصطفیٰ کمال کو کوئی عمران خان کیوں نہیں ملا جو خبردار کرتا کہ اتا ترک کہلانے کے چکر میں گیلی پولی پر حملہ مت کرنا برطانوی و فرانسیسی تمہارے چھیتھڑے اڑا دیں گے۔
اور کتنا اچھا ہوتا کہ رودبارِِ انگلستان کے راستے نارمنڈی میں اتحادی فوجیں کشتیوں کے ذریعے جرمن توپوں کے سامنے اتارنے سے پہلے کوئی خان صاحب جنرل آئزن ہاور کے کان میں کہہ دیتے' جا تو رہے ہو لیکن جرمنوں نے پوری فوج کا بار بی کئو بنا دیا تو کیا کرو گے۔' اور پھر آئزن ہاور خان صاحب کا ماتھا چوم لیتا اور دور کہیں برلن کے کسی فولادی بنکر سے کوئی ہٹلر خان صاحب کی سمت ایک ہوائی بوسہ اچھال دیتا مواہ مواہ مواہ۔۔۔۔۔
طالبان سیانے بھی ہیں اور خان صاحب کی طبیعت سے بھی واقف۔تب ہی تو انہوں نے خان صاحب کو محض اعزازی سفیر کا درجہ دینے پر اکتفا کیا۔
کیا انیس سو بانوے کے میلبرن کے ڈریسنگ روم میں کسی میاں داد یا وسیم اکرم نے خان صاحب کے کندھے پر ہاتھ رکھتے ہوئےکہا تھا کہ' کپتان زیادہ امید مت رکھنا۔انگلینڈ پچھلے میچ میں ہمیں چوہتر رنز سے صاف کرچکا ہے۔سٹے کا ریٹ بھی انگلینڈ کے حق میں ساٹھ چالیس چل رہا ہے۔ورلڈ کپ اٹھانے کا خواب مت دیکھو۔بس یہ سوچو کہ ہار گئے تو کیا کرو گے۔۔
Source :
http://www.bbc.co.uk/urdu/pakistan/2014/02/140216_baat_se_baat_rk.shtml
Haroon-ur-Rasheed counters Imran Khan's statement:
http://www.mezantv.com/2014/02/haroon-rasheed-criticizes-imran-khan-on-opposing-military-operation.html
Comments
comments