On behalf of all pro-Taliban Deobandis and pro-establishment good liberals, I protest the unfair US sanctions on Malik Ishaq Deobandi and the LeJ.
But our Deobandi Mujahideen are already five steps ahead of the US Terrorist Banning Committee.
First, the Sipah-e-Sahaba Pakistan (SSP) created an articial wall between itself and the banned militant outfit Lashkar-e-Jhangvi (LeJ). Then, after being banned by the government of Pakistan, SSP renamed itself as Ahle Suannat Wal Jamaat (ASWJ).
For your information, Malik Ishaq Deobandi, the current CEO of LeJ is also the current Vice President of ASWJ. The ASWJ-LeJ-TTP is a multi-purpose enterprise manufactured by Aabpara Inudstries aka ISI. Actually LeJ is just a shell company. Its assets have been stripped and added to ASWJ. ASWJ is a favourite of the Pakistani media and has been respectfully entertained by both Good Ghairatmand Islamists (Mubasher Lucman, Javed Chaudhary) and Good Liberals (Najam Sethi, Shahzad Raza) as well as the Bridge, Hamid Mir, who straddles both worlds.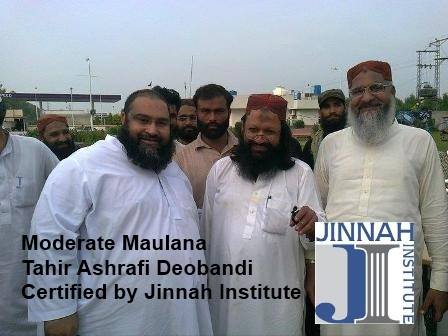 The handsome stud beside Malik Ishaq is well appreciated by the Good Liberals. Take a guess what his name his. I will give you a hint: When he comes on screen, they need 4 cameras to capture all of him -so vast is his expanse – of knowledge.
Guess who said this about Malik Ishaq's cleric buddy:
"More importantly, it is time to engage with thinking clerics like Ashrafi and get them to join the struggle for a moderate and progressive Pakistan" https://lubpak.com/archives/260933
In the meanwhile Dawn newspaper shows immense courage in describing "Shia militants" in its report on militancy which of course doesn't make a single reference to Deobandi militancy. (http://www.dawn.com/in-depth/militants-landscape) However, the very next day, the same newspaper describes Taliban's Jihad against Shias as against "a particular sect". (http://www.dawn.com/news/1085226)
This is a commendable show of great solidarity between Urdu-right-wing daily Ummat and English-liberal daily Dawn of Pakistan.
In conclusion, I request all Good Liberals to keep the heat on LeJ but stay mute on ASWJ. Also keep bashing Sunni militants, religious extremists, fanatics etc but never say the "D" word or point finger towards the common Deobandi identity of all Mujahideen of ASWJ-LeJ, TTP etc from the Neel Ka Saahil to the Khaak of Kashgar.
I request all good "Jinnah" Liberals to never, ever point out the common Takfiri Deobandi identifier ideology of ASWJ-SSP and TTP.
It is better to use sweeping generalizations such as "Sunni" even when Sunni Barelvi leaders are publically condemning TTP/ASWJ.
It is also better to other general and non-specific terms like "Islamist" so that both victims (Sunni Barelvis/Sufis, Shias, Ahmadis etc) are included in the same category as the perpetrators (Deobandis).
My one question to the US is about Harvard University. Will Harvard University rescind its award to Abu Arsalan aka PCO Iftikhar Chaudhary for freeing Malik Ishaq? Hafiz Saeed? Qari Saifullah Akhtar? Mullah Aziz, Lal Masjid walla etc etc?
Appendix: ASWJ Deobandi condemns US sanctions on Malik Ishaq and LeJ.