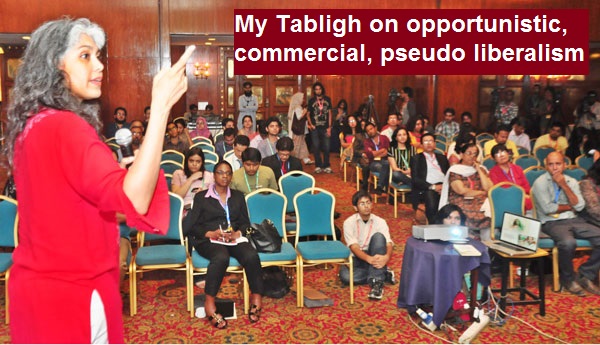 As soon as a senior government or political leader or a media celebrity tweets about Shia Genocide or Deobandi terrorism, some flatterers whole-heartedly retweet his or her status. A case in point is how some people fall over one another to recycle tweets by Bilawal or Husain Haqqani.
However, the same wannabe middle-class flatterers of urban elites, otherwise, remain completely or mostly silent on daily Shia Genocide by Deobandi ASWJ terrorists. We know them all. Don't we?
For urban elite liberals and rights activists, there is only one attraction in Shia genocide, i.e., how a vague, diluted discourse could be captured to pose as a benevolent champion of human rights while promoting personal career.
Their limited attention to, or opportunistic spurs of attention to, Shia genocide betray their lack of sincerity to the cause.
For example, Jang Group's beneficiary Beena Sarwar and another urban elite woman used to be champions of Shia Genocide once upon a time. No more. These urban elites wanted to use the Shia Genocide card to repair their dented credibility and earn a few more dollars. Were rebuffed by Shia and other rights activists.
Were Beena Sarwar and other urban elites really sincere to the cause of Shia Genocide, they would have sustained their campaign. No? In fact, at times, Beena has shamelessly defended Ejaz Haider and other pro-ISI thugs in their obfuscation and rationalization of Shia genocide.
Latest addition to those who do not accurately represent Shia Genocide in Pakistan is Jibran Nasir of Karachi. His recent blog post in Express Tribune did not have a single mention of Shia identity of Ibtihaj and other Hazara victims of the Mastung massacre nor did he mention the Deobandi ASWJ identity of the terrorists who are killing Shias in Balochistan and other parts of Pakistan. Of course, he did not acknowledge that a number of Shias killed in the Mastung massacre originated from D.I.Khan (Khyber Pakhtunkwa).
Any champion of human rights who removes the Shia identity of Hazaras and Deobandi identity of ASWJ terrorists should reconsider their stance.
Ditto for Malik Siraj Akbar who uses the plight of Balochs to promote his career, and Sharmeen Obaid-Chinoy who uses women's miseries to earn a few dollars. The case of Sherry Rehman and Najam Sethi is not much different as are almost all of their employees, cronies and wanna-be flatterers. Malik Siraj Akbar is the same guy who wrote uncritical, flattering posts on Najam Sethi and Husain Haqqani while Nasim Zehra and Sharmeen Chinoy publicly deny the existence of Shia genocide in Pakistan. Also Tahir Imran Mian of BBC Urdu, the uncle Tom of Ahmadiyya community, (just like Ejaz Haider, the Uncle Tom of Shias), the flatterer of the very urban liberal thugs who promote Tahir Ashrafi types as a symbol of peace and harmony.
We are equally sick and tired of nascent and populist activists who lecture us on discourse of and approach to the cause of Shia Genocide by Deobandis. Appearing in pictures with the celebrities, geting mentioned, praised, Facebook likes are a good distraction from the cause. As we have always said, populism and activism cannot co-exist.
In sum, this reminds all of us that Karbala belongs to only 72, while tens of thousands of indifferent thugs inhabit Kufa, Medina and Damascus.