PEHRC releases full list of terrorist incidents in Khyber Pakhtunkhwa since PTI came to power in June 2013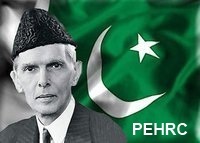 Source: Pakistan Equality and Human Rights Commission (PEHRC)
Since 1 June 2013 to 4 February 2014, in more than 93 terrorist attacks, at least 441 innocent people have been killed while 635 have been injured by radical Deobandi terrorists in Pakistan's Khyber Pakhtunkhwa province. The province is currently ruled by Imran Khan's PTI in coalition with Munawar Hasan's Jamaat-e-Islami.
In this period, at least 208 Shia Muslims have been killed while 365 injured in terrorist attacks in KP and Parachinar.
In Peshawar's entire history, most deadly attacks on Christians took place during this government, killing 100 Christians and injuring a much higher number.
A number of Sunni Barelvi mosques and shrines have been detonated while dozens of Sunni Barelvis/Sufis have been killed in the same period.
Almost all of the terrorist attack in the KP province have been carried out by radical Deobandi militant outfits operating in various names, such as, Taliban (TTP), Sipah-e-Sahaba Pakistan (SSP-ASWJ) and Lashkar-e-Jhangvi (LeJ). All of these Deobandi groups are, on paper, banned in Pakistan due to their role in sectarian and anti-state terrorism.
Shias, Sunni Barelvis and Christians are major affectees of  terrorism in KP province. A few moderate Deobandi and Salafis too have been killed by radical Deobandi terrorists of the TTP-ASWJ-LeJ killing machine. Leaders of secular parties, ANP in particular, have been target killed too by the same terrorists.
Shia Muslims constitute a numerical minority in Pakistan's population but represent a huge proportion, i.e., 47% (almost half) of total people killed in KP since PTI came to power in June 2013.
In addition to at least 208 Shias killed, 100 Christians and up to 100 Sunni Barelvis have been killed in KP province by Deobandi terrorists in the same period. Attacks on minority Sikh and Hindu population have also been reported. Leaders of liberal and nationalist parties, such as ANP, continue to be target killed by the same group of terrorists.
The TTP's attack on D.I.Khan Jail in Julay 2013 was single major terrorist attack in KP's history, no high-level judicial inquiry was conducted, no senior official from army, police or provincial administration was held to account.
Despites its tall claims of good governance, KP government lacks a specific anti-terrorism force to deal with Deobandi sectarian terrorism against Shias, Sunni Barelvis, Christians and other persecuted groups.
In most cases, no compensation was offered to the Shia, Sunni Barelvi and Christian victims of  terrorism. Nor was any help provided to reconstruct Sunni shrines, Shia imambarghas and Christian chruches.
The Deobandi TTP-ASWJ terrorists continue to detonate primary and high schools sometimes also killing school kids.
Anti-Polio medical workers have been frequently targetted. Swabi, Peshawar, Charsadda and Hangu are major areas where Deobandi terrorists freely operate. Same terrorists continue to attack Shia Pashtun of Parachinar in Peshawar and also on their way to Kurram agency.
The TTP-ASWJ terrorists continue to attack army and police across the KP province. Because of KP government's unclear stance towards TTP-ASWJ terrorists, police and provincial officials lack direction and motivation.
The KP government has failed to provide good governance to ordinary citizens and has failed to provide security to Shia, Sunni Barelvi, Christian and other ordinary people of the province.
Media and government officials continue to hide or obfuscate the exact identity of victims (Sunni Barelvis, Shias, Christians etc) and the terrorists (Takfiri Deobandi militants working under various aliases such as TTP, ASWJ, LeJ, Jundullah).
Pakistan Equality and Human Rights Commission (PEHRC) calls upon the government of KP province to take all possible measures to protect innocent Shias, Sunni Barelvis, Christians and moderate Deobandis from the ongoing terrorism by the TTP-ASWJ and affiliates. TTP continues to freely operate in Peshawar, Kohat, Hangu, D.I.Khan and other areas of KP in the shape of ASWJ in full public sight. This shows the lack of will on the part of the KP administration to arrest the culprits and put an effective stop to terrorism in the province.
Note: Download the full list of terrorist incidents from here: Terrorism in KP since 1 June 2014

List of terrorist attacks in Khyber Pakhtunkhwa since Imran Khan's PTI came to power on 1 June 2013 to 5 Feb 2014
Date
Province
Place
Incident
Killed
Injured
01-Jun-13
Khyber Pakhtunkhwa
Peshawar
School principal killed in Peshawar
1
05-Jun-13
Khyber Pakhtunkhwa
Mattani
School destroyed by militants in Mattani
05-Jun-13
Khyber Pakhtunkhwa
Peshawar
A school bombed in Peshawar
08-Jun-13
Khyber Pakhtunkhwa
Charsadda
Girls school damaged in Charsadda
11-Jun-13
Khyber Pakhtunkhwa
Peshawar
Shia Muslim Kamal Hussain killed by Deobandi ASWJ while Dr Zakir Hussain and Dr Shakir Hussain Injured
1
2
16-Jun-13
Khyber Pakhtunkhwa
Swabi
Two polio workers killed in Swabi
2
18-Jun-13
Khyber Pakhtunkhwa
Mardan
Deobandi ASWJ suicide bombing in Shergarh, Mardan killed 28 people.
18
19-Jun-13
Khyber Pakhtunkhwa
Peshawar
Lt Col Syed Imran Haider killed by Deobandi ASWJ
1
21-Jun-13
Khyber Pakhtunkhwa
Peshawar
Deobandi Suicide Attack on Shi amosque Al Hussaini
20
25
24-Jun-13
Khyber Pakhtunkhwa
Peshawar
Policeman killed in a Deobandi attack on polio vaccination team
1
25-Jun-13
Khyber Pakhtunkhwa
Garngi
A Sunni Barelvi mosque attacked Garngi Payan village
1
25-Jun-13
Khyber Pakhtunkhwa
Peshawar
DSP and guard killed in Peshawar by Deobandi TTP
2
30-Jun-13
Khyber Pakhtunkhwa
Peshawar
20 killed 40 injured in Deobandi TTP's attack on Badhaber police station
20
40
01-Jul-13
FATA
Parachinar
Attack on Shia Village by Deobandi Taliban
1
3
03-Jul-13
Khyber Pakhtunkhwa
Nowshera
 Polio team attacked by Deobandi Taliban in Nowshera
03-Jul-13
Khyber Pakhtunkhwa
Peshawar
6 soldiers killed in terroist attack in Peshawar FC barracks at Shamshato in outskirts of Peshawar
6
03-Jul-13
Khyber Pakhtunkhwa
Swabi
Polio worker killed by Takfiri Deobandis in Swabi
1
06-Jul-13
Khyber Pakhtunkhwa
Bannu
Blast at Girls' school in Bannu
08-Jul-13
Khyber Pakhtunkhwa
Peshawar
9 people, incl 2 bomb disposal officers were killed in two separate blasts
9
11
11-Jul-13
Khyber Pakhtunkhwa
Kohat
Bomb Attack in Shia Area
2
5
16-Jul-13
Khyber Pakhtunkhwa
Swabi
July 16: Two Polio workers killed in Swabi District
2
5
21-Jul-13
Khyber Pakhtunkhwa
Peshawar
Blast near the house of a makeup seller in Peshawar
26-Jul-13
FATA
Parachinar
2 Bomb Blasts Targeting Shia Neighbourhood and Bus
58
150
28-Jul-13
FATA
Parachinar
A roadside blast near a vehicle in Upper Kurram's Pewar Tangi area
1
2
30-Jul-13
Khyber Pakhtunkhwa
D.I.Khan
Major Deobandi TTP-ASWJ's attack on D.I.Khan prison in which 300 dangerous Deobandi terrorits were released.5 Shia inmates Beheaded by Taliban in Dera Ismail Khan Jail, 300 Deobandi terrorists escape.
5
30-Jul-13
Khyber Pakhtunkhwa
Khanpur
Master Ijaz Khan Killed ( Convert Shia )
1
01-Aug-13
Khyber Pakhtunkhwa
Peshawar
Syed Manzar Hussain Shah IB Sub Inspector Killed in Attack by Deobandi ASWJ
1
09-Aug-13
FATA
Parachinar
Javed Ali , Mardan Ali and a 12 Year Old Girl Killed in Attack by Deobandi ASWJ
3
1
15-Sep-13
Khyber Pakhtunkhwa
Swat
September 15 — Major General Sanaullah Niazi, in charge of military operations in Swat, was killed along with two subordinates in a bomb attack in Upper Dir district near the Afghan border.[85]
3
19-Sep-13
Khyber Pakhtunkhwa
Peshawar
September 19: Sunni Barelvi Mosque damaged in Peshawar blast; 3 killed, 15 injured
3
22-Sep-13
Khyber Pakhtunkhwa
Peshawar
98 Christians killed by ASWJ Deobandis in Peshawar church attack
98
130
27-Sep-13
Khyber Pakhtunkhwa
Peshawar
September 27 — A bomb blast on a bus in Peshawar killed at least 19 people.
19
21
29-Sep-13
Khyber Pakhtunkhwa
Peshawar
September 29 — A car bomb in the Qissa Khawani Bazaar of Peshawar killed at least 41 people.[86]
41
45
01-Oct-13
Khyber Pakhtunkhwa
Chillas
Shia Driver Mohamad Ali Tortured to Death by Deobandi ASWJ
1
01-Oct-13
Khyber Pakhtunkhwa
Swabi
October 1: School, library destroyed in Swabi bomb blasts
02-Oct-13
FATA
Parachinar
MET Director Ali Gul House Attacked , Father killed , 2 Ladies Injured
1
2
07-Oct-13
Khyber Pakhtunkhwa
Peshawar
October 7: Two anti-polio team members killed in Peshawar
2
15-Oct-13
Khyber Pakhtunkhwa
Bannu
October 15: School bombed in Bannu district
27-Oct-13
Khyber Pakhtunkhwa
Bannu
October 27: Girls' school bombed in Bannu
28-Oct-13
Khyber Pakhtunkhwa
Hangu
2 Brothers Tahir Hussain And Aleem Hussain Killed by Deobandi ASWJ After Torture
2
04-Nov-13
Khyber Pakhtunkhwa
Hangu
Four killed in grenade attack on Lower Orakzai jirga
4
2
15-Nov-13
Khyber Pakhtunkhwa
Mardan
School attacked , 2 police officials were injured in the Katlang tehsil
2
18-Nov-13
Khyber Pakhtunkhwa
Kohat
1 Shia Killed 3 Injured in An Attack on imam bargah by Deobandi ASWJ
1
3
24-Nov-13
FATA
Parachinar
3 Shias Killed in a Bomb Attack (taqi, yasin, sarfaraz) while 3 injured
3
3
06-Dec-13
Khyber Pakhtunkhwa
Charsadda
Girls school attacked in Charsadda
06-Dec-13
Khyber Pakhtunkhwa
D.I.Khan
Sagheer Hussain Killed
1
13-Dec-13
Khyber Pakhtunkhwa
Swabi
December 13: Polio worker killed in Swabi
1
17-Dec-13
FATA
Parachinar
Twin blasts in Parachinar kill two
2
4
19-Dec-13
Khyber Pakhtunkhwa
Peshawar
Deobandi militants hurled a hand grenade at a mosque in Peshawar. The mosque known as Peerano Mosque was supervised by Sunni Barelvi sect.
20-Dec-13
Khyber Pakhtunkhwa
Peshawar
Director Altaf Hussain Beheaded by Deobandi ASWJ in Peshawar
1
21-Dec-13
Khyber Pakhtunkhwa
Khyber
December 21: Polio vaccinator killed in Khyber Agency
1
28-Dec-13
Khyber Pakhtunkhwa
Peshawar
December 28: Polio campaign supervisor killed in Peshawar
1
29-Dec-13
Khyber Pakhtunkhwa
Tank
Mehran Ali Killed by Deobandi ASWJ.
1
30-Dec-13
Khyber Pakhtunkhwa
D.I.Khan
Qais Raza And Mulazim Hussain Killed by Deobandi ASWJ
2
31-Dec-13
Khyber Pakhtunkhwa
Charsadda
Blast damages Sunni Barelvi shrine
02-Jan-14
Khyber Pakhtunkhwa
Charsadda
Bomb blast damages school in Charsadda
02-Jan-14
Khyber Pakhtunkhwa
Tank
Tank town / Tank District. IED attack on police
1
3
02-Jan-14
Khyber Pakhtunkhwa
Peshawar
Dr Ahmad Zia, was abducted by unidentified militants in the Peshawar.
06-Jan-14
Khyber Pakhtunkhwa
Bannu
School blown in Bannu
06-Jan-14
Khyber Pakhtunkhwa
Hangu
Shia Student Killed Aitzaz Hassan Killed in a Suicide Attack on His School in Ibrahim Zai
1
06-Jan-14
Khyber Pakhtunkhwa
Hangu
Suicide attack at a Shia school in Hangu district
2
1
06-Jan-14
Khyber Pakhtunkhwa
Peshawar
2 people, incl a woman, were killed while Police constable Farzand Ali and FC official Gula Khan were injured  in Matani area of Peshawar.
2
2
06-Jan-14
Khyber Pakhtunkhwa
Peshawar
FC official, Wahid Mir, was killed and 3 others injured in a roadside bomb explosion in Regi Lalma Housing Scheme area in Peshawar.
1
3
06-Jan-14
Khyber Pakhtunkhwa
Peshawar
A Police constable, identified as Manfarullah, was shot dead outside City Hospital on Kohat Road in Peshawar.
1
0
07-Jan-14
Khyber Pakhtunkhwa
Peshawar
Bank Manager Waqar Ul Hassan Gunned Down by Deobandi ASWJ
1
08-Jan-14
Khyber Pakhtunkhwa
Peshawar
A Policeman was killed and another  injured when in firing at a checkpost on Canal Road in University Town Peshawar.
1
1
08-Jan-14
Khyber Pakhtunkhwa
Peshawar
SHO of Bhana Mari Police Station,Hameed Khan, and 2  bodyguards were injured within the limit of Paharipura Police Station in Peshawar.
0
3
10-Jan-14
Khyber Pakhtunkhwa
Mardan
2 Sunni Barelvis killed in Sufi shrine attack. The bodies were found at the shrine of Ghazi Shah Baba.
2
12-Jan-14
Khyber Pakhtunkhwa
Peshawar
 ANP leader Mian Mushtaq's vehicle in Badhpir area of Peshawar, killing three people including him.
3
0
12-Jan-14
Khyber Pakhtunkhwa
Swat
Shangla District
5
0
13-Jan-14
Khyber Pakhtunkhwa
Peshawar
Bomb in Sulemankhel area of Badbher area in Peshawar where the funeral prayer of slain ANP leader Mian Mushtaq Ahmed, hurtin one Policeman.
0
1
14-Jan-14
Khyber Pakhtunkhwa
D.I.Khan
Rohri road / Kolachi / DI Khan District
0
7
14-Jan-14
Khyber Pakhtunkhwa
Peshawar
One Policeman was killed whereas another sustained injury when an explosion took place in Regi Model Town area of Peshawar.
1
1
16-Jan-14
Khyber Pakhtunkhwa
Peshawar
a bomb exploded at a Tablighi Markaz (religious centre) on Pajaggi Road in Peshawar. Deobandi were making bomb.
10
60
16-Jan-14
Khyber Pakhtunkhwa
Shangla
Daowat / Chakisar / Shangla District
0
8
18-Jan-14
Khyber Pakhtunkhwa
Swabi
A vaccination centre in the hospital in Swabi was blown up in an explosion, which also damaged the facility's dental block as well as several offices.
19-Jan-14
Khyber Pakhtunkhwa
Bannu
Bannu Town / Bannu District
26
24
19-Jan-14
Khyber Pakhtunkhwa
Tank
Syed Masrur Shah Killed by Taliban
1
20-Jan-14
Khyber Pakhtunkhwa
Charsadda
Kala Dher / Charsadda District
0
2
20-Jan-14
Khyber Pakhtunkhwa
D.I.Khan
Loni / Kolachi / Dera Ismail Khan District
2
0
20-Jan-14
Khyber Pakhtunkhwa
Peshawar
Shia Leader Allama Alam Moosavi Killed by Sipah Sahaba Taliban in peshawar
1
20-Jan-14
Khyber Pakhtunkhwa
Peshawar
A Shia Muslim scholar Allama Alim Al-Musvi who was walking to the mosque in Kissa Khwani market of Peshawar.
1
0
20-Jan-14
Khyber Pakhtunkhwa
Peshawar
A house was partially damaged when a rocket was fired in its direction in Masho Khel village of Peshawar in the night.
0
0
21-Jan-14
Khyber Pakhtunkhwa
Charsadda
Sardheri Bazaar / Charsadda District, police guards of polio vaccination team
7
9
22-Jan-14
Khyber Pakhtunkhwa
Charsadda
A Sikh man killed in Charsadda
1
23-Jan-14
Khyber Pakhtunkhwa
Kohat
Muhamad Ali Son of Tahir Ali Killed by Deobandi ASWJ
1
23-Jan-14
Khyber Pakhtunkhwa
Peshawar
At least six persons were killed and eight injured when a bomb exploded in a vehicle at a car workshop near Scheme Chowk area of Peshawar.
6
8
26-Jan-14
Khyber Pakhtunkhwa
Hangu
Babar Mela / Hangu town / Hangu District: toy bomb attack on 6 school kids
6
1
26-Jan-14
Khyber Pakhtunkhwa
Peshawar
Two Deobandi militants shot dead a Policeman standing guard outside a Hindu temple in Jhanda Bazar area of Peshawar.
1
0
03-Feb-14
Khyber Pakhtunkhwa
D.I.Khan
Azhar Abbas Shah killed by Deobandis in Basti Diwala
1
04-Feb-14
Khyber Pakhtunkhwa
Peshawar
Sardar Ali Asghar, Shia leader, killed by Deobandis
1
04-Feb-14
Khyber Pakhtunkhwa
Peshawar
Bomb attack by Deobandis at Imambargah Alamdar, Qisa Khwani Bazar
10
45
05-Feb-14
Khyber Pakhtunkhwa
Bannu
School blown up
05-Feb-14
Khyber Pakhtunkhwa
Charsadda
School blown up
441
635
Note: The above list also includes terrorist activities carried out on Peshawar-Parachinar road by KP-based Deobandi terrorists
Shia genocide in Khyber Pakhtunkhwa since Imran Khan's PTI came to power on 1 June 2013 to 5 Feb 2014
Date
Province
Place
Incident
Killed
Injured
11-Jun-13
Khyber Pakhtunkhwa
Peshawar
Kamal Hussain Martyred , Dr Zakir Hussain and Dr Shakir Hussain Injured
1
2
19-Jun-13
Khyber Pakhtunkhwa
Peshawar
Lieutenant Colonel Syed Imran Haider
1
21-Jun-13
Khyber Pakhtunkhwa
Peshawar
Suicide Attack on Madrisa Al Hussaini
20
25
11-Jul-13
Khyber Pakhtunkhwa
Kohat
Bomb Attack in Shia Area
2
5
30-Jul-13
Khyber Pakhtunkhwa
D.I.Khan
5 Shia inmates Beheaded by Taliban in Dera Ismail Khan Jail, 300 Deobandi terrorists escape.
5
30-Jul-13
Khyber Pakhtunkhwa
Khanpur
Master Ijaz Khan Killed ( Convert Shia )
1
01-Aug-13
Khyber Pakhtunkhwa
Peshawar
Syed Manzar Hussain Shah IB Sub Inspector Killed in Attack by Deobandi ASWJ
1
01-Oct-13
Khyber Pakhtunkhwa
Chillas
Shia Driver Mohamad Ali Tortured to Death by Deobandi ASWJ
1
28-Oct-13
Khyber Pakhtunkhwa
Hangu
2 Brothers Tahir Hussain And Aleem Hussain Killed by Deobandi ASWJ After Torture
2
04-Nov-13
Khyber Pakhtunkhwa
Hangu
Four killed in grenade attack on Lower Orakzai jirga
4
2
18-Nov-13
Khyber Pakhtunkhwa
Kohat
1 Shia Killed 3 Injured in An Attack on imam bargah by Deobandi ASWJ
1
3
06-Dec-13
Khyber Pakhtunkhwa
D.I.Khan
Sagheer Hussain Killed by Deobandi ASWJ
1
20-Dec-13
Khyber Pakhtunkhwa
Peshawar
Director Altaf Hussain Beheaded by Deobandi ASWJ in Peshawar
1
29-Dec-13
Khyber Pakhtunkhwa
Tank
Mehran Ali Killed by Deobandi ASWJ.
1
30-Dec-13
Khyber Pakhtunkhwa
D.I.Khan
Qais Raza And Mulazim Hussain Killed by Deobandi ASWJ
2
06-Jan-14
Khyber Pakhtunkhwa
Hangu
Shia Student Killed Aitzaz Hassan Killed in a Suicide Attack on His School in Ibrahim Zai
1
07-Jan-14
Khyber Pakhtunkhwa
Peshawar
Bank Manager Waqar Ul Hassan Gunned Down by Deobandi ASWJ
1
19-Jan-14
Khyber Pakhtunkhwa
Tank
Syed Masrur Shah Killed by Taliban
1
20-Jan-14
Khyber Pakhtunkhwa
Peshawar
Shia Leader Allama Alam Moosavi Killed by Sipah Sahaba Taliban
1
23-Jan-14
Khyber Pakhtunkhwa
Kohat
Muhamad Ali Son of Tahir Ali Killed by Deobandi ASWJ
1
03-Feb-14
Khyber Pakhtunkhwa
D.I.Khan
Azhar Abbas Shah killed in Basti Diwala
1
04-Feb-14
Khyber Pakhtunkhwa
Peshawar
Sardar Ali Asghar, Shia leader, killed
1
04-Feb-14
Khyber Pakhtunkhwa
Peshawar
Bomb attack at Imambargah Alamdar, Qisa Khwani Bazar
10
45
61
82
Shia genocide in Parachinar by KP-based Deobandi terrorists since 1 June 2013 to 5 Feb 2014
01-Jul-13
FATA
Parachinar
Attack on Shia Village by Taliban
1
3
26-Jul-13
FATA
Parachinar
2 Bomb Blasts Targeting Shia Neighbourhood and Bus
58
150
28-Jul-13
FATA
Parachinar
A roadside blast near a vehicle in Upper Kurram's Pewar Tangi area
1
2
09-Aug-13
FATA
Parachinar
Javed Ali , Mardan Ali and a 12 Year Old Girl Killed in Attack by Deobandi ASWJ
3
1
02-Oct-13
FATA
Parachinar
MET Director Ali Gul House Attacked , Father killed , 2 Ladies Injured
1
2
24-Nov-13
FATA
Parachinar
3 Shias Killed in a Bomb Attack (taqi, yasin, sarfaraz) while 3 injured
3
3
17-Dec-13
FATA
Parachinar
Twin blasts in Parachinar kill two
2
4
69
165
Total Shias directly target killed and injured in KP & Parachinar from 1 June 2013 to 5 Feb 2014:
130
247
Total Shias indirectly killed in TTP-ASWJ's attacks on ordinary civilians (25% of population) from 1 June 2013 to 5 Feb 2014
78
118
Grand Total of Shias killed and injured in KP from 1 June 2013 to 5 Feb 2014
208 killed
365 injured
————–
Reaction by Shia activists in Pakistan
عمران خان کی 7 مہینے کی حکومت میں خیبرپختوان خواہمیں93 دہشتگردی کی واقعات میں 441شہری جابحق ہوئے،جن میں208 شیعہ مسلمان تھے۔ حملوں کی نتیجےمیں 365 شیعہ زخمی بھی ہوئے۔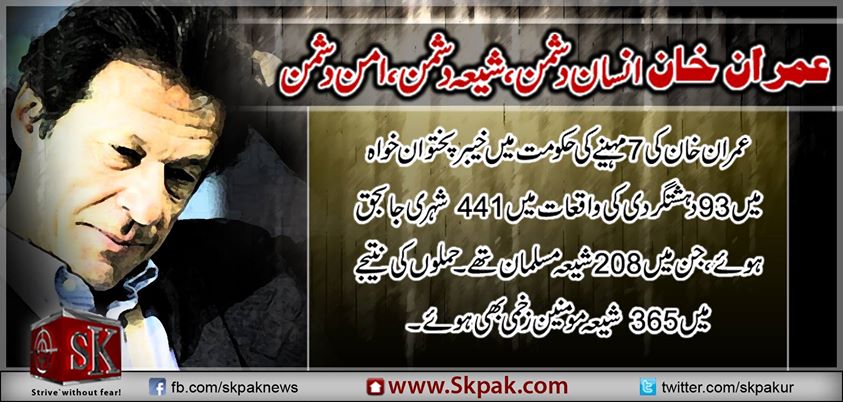 https://www.facebook.com/photo.php?fbid=634824846554157
Comments
comments