Peshawar blast and target killing: welcome to criminal negotiation of Imran Khan and Nawaz Sharif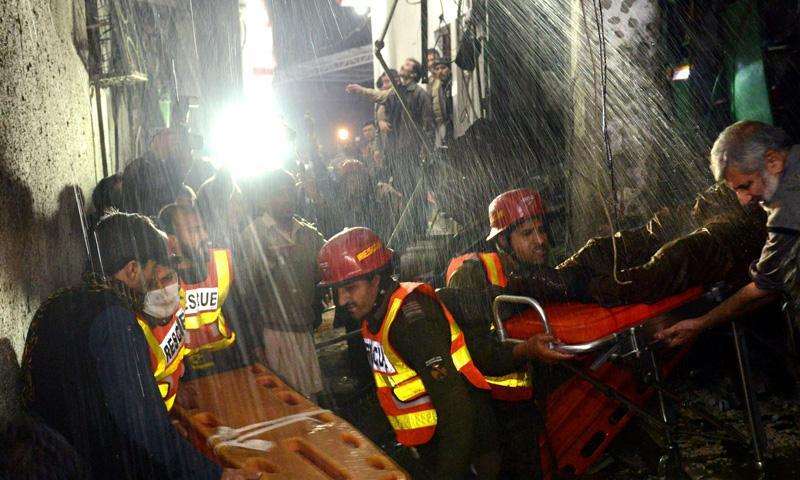 A blast killing nine Shias and injuring many as well as the target killing of Haji Sardar Ali in Peshawar today has raised serious questions about the peace initiatives so fervently underway. This serves as a timely reminder that Shia killings are not one of the bargaining chips for either the Government or the Taliban and are set to go on unabated. 

In a yet another suicide attack a powerful bomb blast ripped through Pak Hotel near Imambargah Alamdar in Kucha Risaldar, a Shia dominated neighbourhood of Peshawar. Even if the TTP's denial of its involvement in the attack is believed it still throws up the pitfalls of suing for partial peace with the terrorists in the country. There is no point in wooing one band of terrorists while others remain free to sow grief, panic, and chaos and trigger religious mayhem. The terrorism in the country can only be stalled through a wholesale approach and not through piecemeal efforts. 

It is time for the Shias of the country to ask the government that while it sues for peace with the TTP, why the TTP's sectarian franchises remain totally free to inflict death on the country's hapless Shias. 

Any answers? 

Making a spirited attempt to appraise the social and political conditions Pakistani Shias in the country find themselves enmeshed in today, the extreme threats to the security of lives and property and the attendant constant fear in which Shias and and many others in the country live almost by compulsion, it is easy to conclude that in this enormously endowed country, now struggling to contain its security challenges, sanity has staged a coup. Sanity has staged a coup against Pakistanis and has flown through the window to the winds.

Such madness!
PESHAWAR: Nine people were killed and 50 others injured when a powerful bomb blast ripped through a local hotel frequented mostly by Shias in the capital of Khyber Pakhtunkhwa province on Tuesday night, said officials.

The incident took place at Pak Hotel near Imambargah Alamdar in Kucha Risaldar, a Shia dominated neighbourhood of Peshawar.

Police officer Rizwan Khan said that the hotel is frequented mostly by Shias who visit Imambargah Alamdar next door. Most of the dead and wounded were Shias, he added.

The blast came as talks between government negotiators and representatives from the Pakistani Taliban designed to end years of fighting in the northwest were delayed.

Confirming the death toll, Superintendent Police (SP) City Muhammad Faisal Mukhtar said it was a suicide attack.

http://www.dawn.com/news/1084915

PESHAWAR: A prominent Shia leader was shot dead in Pakistan's northwestern city of Peshawar on Tuesday, officials said, sparking a protest outside a hospital where his body was taken.

The killing comes just weeks after a Shia scholar was gunned down in the same city.

"Haji Sardar Ali was shot dead in the morning in Kissa Khwani bazaar," senior police official Faisal Mukhtar told AFP.

Ali headed the local branch of the Tehrik Nafaz-i-Fiqah-i-Jafaria, a Shia rights movement proscribed by the government for its alleged involvement in sectarian violence.

Zaheerul Islam, the deputy commissioner of Peshawar, confirmed the incident.

"Haji Sardar Ali owned a general store in (the) bazaar. He was going to his shop when unknown gunmen shot him dead," he said.

http://www.dawn.com/news/1084912
Comments
comments