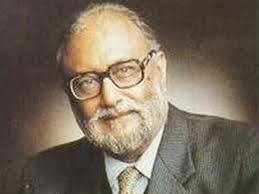 Maybe Pakistan did not deserve him at all. ""It is funny how we keep on talking about the potential of Pakistan. How we imagine Pakistan to become a developing country and spearhead the world in terms of research and development. How we discuss the fast growing IT industry in Pakistan and how we are pleasantly surprised when we see a Pakistani getting his app on the Apple Store or having his app bought by Google or being hired to do CGI in big Hollywood Productions.
But what if there was a Pakistani who was much greater and above all these apps and softwares. What if there was a Pakistani who changed the very manner in which mankind conceptualized universe. A man who was so brilliant that he outdid Einstein. Someone who refused mediocrity and always kept on pushing the boundaries.
Someone who was not just change but a catalyst of change. Someone who was not just a king but a king maker. Someone who single handedly was responsible for getting around 500 PHDs students from Pakistan scholarships abroad. Someone so selfless that he used his name, influence and goodwill to establish an internationally reputed institute to facilitate and develop other scientists from all over the world with their research and in doing so indebted the world.
Someone so celebrated that European countries wanted him to be nominated by Pakistan for DG UNESCO just so that they can vote in his favour. Someone so extraordinary that 36 universities in 23 different countries bestowed an honorary doctorate on him. A cursory research on Google would tell you Pakistan did have a man like that. His name was Dr. Abdus Salam. He was and is Pakistan's only Nobel Laureate.
Born in a poor farming district of Sahiwal and having nothing but education as his tool, Dr. Salam is the inspiration which every school kid needs to have. However, you will not study about him in our school books because Pakistan shamelessly condemns Dr. Salam and ignores his contribution to the human race for the very personal manner in which Dr. Salam chose to speak to his God which only affected him and his spiritual beliefs. Dr. Salam lived as a Muslim for the first 48 years of his life during which our forefathers in Pakistan loved him and decorated him.
He was declared a Non-Muslim for the remaining 22 years during which he was shunned by liberals and conservatives alike. His faith did not change for the entire duration of 70 years nor did his services to the Nation stop. What changed was the power dynamics in Pakistani politics; what changed was the ideology of Pakistan and what changed was Jinnah's vision that religion was not the business of the state.
It is Dr. Salam's birthday today. In a humble, modest, civilized and grateful society, today would have been marked by Tv Channels running special broadcast to honour this great man's memory and services and the Government announcing fresh scholarships under his name. Instead being the biased and bigoted society we are we stand in silence as his grave remains in desecrated form. Happy Birthday Dr. Salam. Thank you and may you rest in peace."