Zulfi Bhutto : A man who was born to live forever in the people's hearts. Jeay Bhutto! -by Hina Mehr Nadeem
History is proud of such people who did not bow down to pressure even when they were hanged. This bright light of Pakistan, who helped his nation in trying times, was born 5th January, 1928 . If Pakistan has had any leader after Quaid-e-Azam, who enjoyed reverence and popularity, he is Zulfikar Ali Bhutto. He made the poor and downtrodden people politically aware. He wanted them to be treated and respected like any human being should be.
Since his youth, Quaid-e-Awam was politically enthusiastic and was an adherent of Quaid-e-Azam. On April 26, 1945, he wrote a letter to his Quaid-e-Azam. He wrote:
"You have inspired us and we are proud of you. Being still in school, I am unable to help the establishment of our sacred land. But the time will come when I will even sacrifice my life for Pakistan."
Zulfikar Ali Bhutto had a charismatic image, which cast a spell on the masses right from Peshawar to Karachi.He worked unabated for the cause of the masses for giving them a better Pakistan, a progressive Pakistan.
On 30th November he founded Pakistan Peoples Party (PPP) with a manifesto Islam is our religion, democracy our politics, socialism our economy and people are the source of power Under this manifesto he chartered a programme for providing roti, kapra aur makan. He brought politics out of the drawing rooms of palaces to the threshold of the dwellers of mud houses and declared the political paradise is under the feet of the masses. He brought the helpless peasants on a par with the feudal lords. Many people still remember those days when people of low social status like factory workers, blacksmiths, carpenters and cobblers were made office- bearers of the Pakistan Peoples' Party.
After the tragedy of East Pakistan, in a historic speech in the year 1971, Shaheed Bhutto summed up his vision about the future of Pakistan by saying: "My dear countrymen, my dear friends, my dear students, labourers, peasants, those who fought for Pakistan. We are facing the worst crisis in our country's life, a deadly crisis. We have to pick up the pieces, very small pieces, but we will make a new Pakistan, a prosperous and progressive Pakistan, a Pakistan free of exploitation, a Pakistan envisaged by the Quaid-i-Azam.". He introduced a wide range of reforms in political, economic, social, industrial, educational and administrative arenas, aiming to change the fate of common man in Pakistan.
April 4, 1979 would always be remembered as a black day as it was the day when the judicial murder of our great leader was committed on the behest of a dictator. His judicial murder was for sure a conspiracy to get rid of a rising muslim leader who could have ultimately given diginity and honour to the muslim nations by uniting them together. "I am innocent" were the last words of Shaheed Zulfikar Ali Bhutto who defied death and embraced martyrdom. He showed the world how a leader of the people lives and dies.
Toota hai kahan uska jadu,
Ek nara bana hai uska lahu,
sabit hua hai darkhan darkhan per jo shaks hukumat karta ta,
Larta ta woh apne jaiso se aur hum se mohabat karta ta
A legacy never dies……… Zinda hai Bhutto Zinda hai! Jeay Jeay Jeay Bhutto!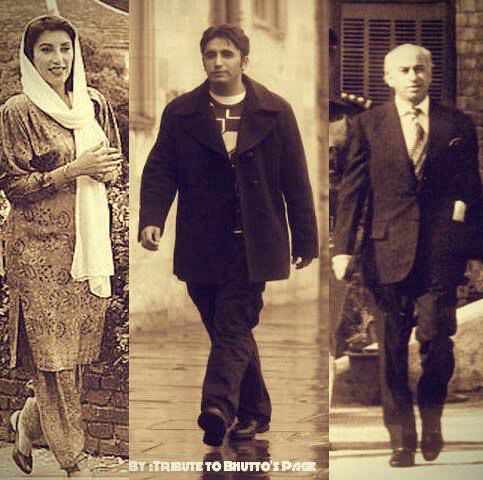 Comments
comments