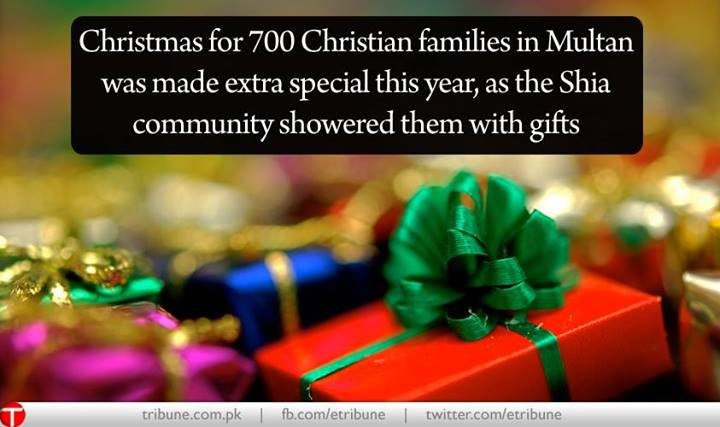 Editors Note: Merry Christmas and Happy New Year to our Christian readers. If we are not brothers in faith there is no reason we cannot be bothers in humanity and respect each other's beliefs even if we disagree with them. Anyone who preaches the contrary is an enemy of humanity and on the path of mutually assured destruction.
MULTAN: Christmas for 700 Christian families in Multan was made extra special this year, as the Shia community showered them with gifts the day before the Chehlum of Imam Hussain.
The goodwill step was taken by Chairman Markazi Azdari Imam Hussain Council (MAIHC) Hasan Mashadi in collaboration with religious leaders from other religious sects. The gifts were sponsored by Multan's civil society.
Hundreds of Christian families from Gulshanabad Colony, Raza Abad Colony, Grass Mandi Colony, Chungi No One Colony and Double Phaatak Colony received the Christmas gifts with open arms and much excitement.
MAIHC was assisted in gift distribution by over 200 male and female volunteers of the Shia community in Multan, who went door-to-door in the form of small delegations.
http://tribune.com.pk/story/649581/is-that-santa-at-the-door-no-its-the-shia-community-of-multan/