Sectarian target killings in Karachi in 2013: 56 Shias, 14 Sunni Barelvis, 4 Ahmadis, 1 Hindu, 16 moderate Deobandis killed by Sipah-e-Sahaba ASWJ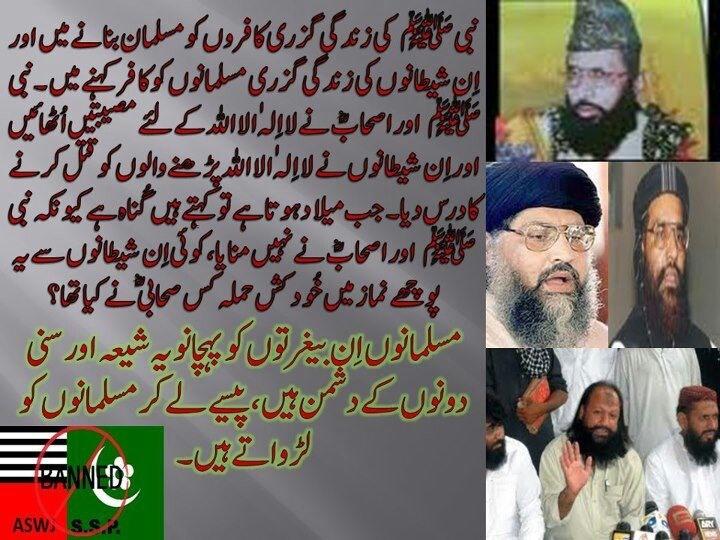 The following statiscs published by Pakistan Today (newspaper) confirm that terrorists of banned Deobandi outfit Sipah-e-Sahaba Pakistan (SSP, currently operating as ASWJ) have killed not only Shias and Sunni Barelvis, but also Ahmadis and Hindus in Karachi in 2013.
The statistics available with Pakistan Today disclose that at least 109 people fell victim to sectarian target killing till December 5 (2013) in the ongoing year in the metropolis (Karachi). It may be noted that this is only an account of individual target killings; it does not include the collective massacres of Shias and Sunni Barelvis by Takfiri ASWJ-SSP terrorists, eg Abbas Town, Ahsura attacks etc in which hundreds of innocent Sunni and Shia were killed by Takfiri Khawarij.
Out of these 109, 56 are Shia community members, 9 belong to Deoband school of thought (moderate Deobandis), seven belongs to Tableegi Jamaat (moderate Deobandis), four members of Ahmadi community, four Bohra community, 14 Sunni Barelvis (including two of Sunni Tehreek), two Ismailis (Shia Islamili) and one belongs to Hindu community. Twelve activists of banned terroist outfit Sipah-e-Sahaba, currently operating as Ahle Sunnat Wal Jamaat (ASWJ) were killed, some of them in defensive firing by Sunni Barelvis, Shias or moderate Deobandis.
In othre words, Takfiri terrorists of ASWJ-SSP killed 59 (Shias including Ismailis and Bohras), 16 moderate Deobandis, 4 Ahmadis, 14 Sunni Barelvis and one Hindu. In total, at least 71 people of diverse faith and sect backgrounds were target killed by Takfiir Deobandi terrorists of ASWJ-SSP.
Most of the sectarian target killings in Karachi took place in the month of November in which 26 people were gunned down on basis of their sects while July proved as the most peaceful month on account of sectarian killings in which no one was targeted on sectarian accounts.
If we look into month-wise situation of sectarian killings, 11 people including five Shia, three Sunni Barelvi and three Deobandis were killed in month of January.
17 people including seven Shia, 10 Sunni, five Deobandis and one member of Barohi community were killed on basis of sect in February.
In March four people including three Shia and one Hindu have become victims of sectarian attacks.
In April four Shia , in May one Shia , in June three including two Shia and one Ahmadi, in August 10 people including three Shia, two each Ismaili and Ahmadi, one Sunni and two moderate Deobandi activists of Tableegi Jamaat, in September 11 people including nine Shia and two members of Bohra community, in October four people including two Shia, one each Sunni Barelvi and Ahmadi and in November 24 people including 16 Shia, eight Sunni Barelvi, one each Deobandi and Ahmadi were targeted and killed on basis sect in the metropolis.
In first five days of December 2013, 11 people including five moderate Deobandi activists of Tableegi Jamaat, four Shia and two Sunni Barelvis were killed by armed men in the city so far.
Most of the killings which were carried out on basis of sect were reported from west zone while east zone stood comparatively peaceful regarding sectarian killings.
http://www.pakistantoday.com.pk/2013/12/09/news/national/sectarian-murders-eclipse-targeted-operation/
Comments
comments