When it comes down to Pakistan, people outside may consider it a nation of tears drenched in blood and caught between the international geopolitical turmoil. But the only way to ensure it to stay the way not break from inside is to make sure that the people people don't do anything about it, which achieved by keeping them away from facts and to try to keep them in a Neverland paradise where they make ends meet and wish for a days when there's no halts in electric or gas supplies.
One of my teachers once said, the world makes a total of 7 Billion and a total of 90% of this population makes men & women who can be classified as Sheep, Sheep in a heard waiting for a command in line to follow one after the other, even if it may land them down through a cliff. While the other 10% is the leading class more carefully explained as the Shepherd that feeds, tends & bars the Heard, which when it suits him the best chooses and picks out the Juiciest meat up for slumber.
There's no doubt that Pakistan's most Governments have tried to control media outlets for their own, which of Corse is easier than mending their own ways by ensuring protection & Justice to the People. At first Media Giants were banned in Pakistan, at which huge protests started out in the country & the Government had to lay down its arms infront of the TV media Outlets. But then when Media Giants & personnel became biased in Sharing News regarding the minorities of Pakistan, Social media showed the world its importance by laying down hard earned facts.
After which a Patriotic & a social rights Group, LUBP (Let us Build Pakistan) was also made a subject to Filtering by PTA which than became a hot Topic in many Talk shows for being clearly outspoken for Human & Civil Rights regardless of Caste, Creed or Religion.



But things soon went South for the Govt. which now had to be careful in further affairs. Social Media & Rights Groups Protested & its safe to say that the Rights groups won the first war. But Pakistan has had a Long history of unquenched number of Wars. ShiaKilling was banned once before in Pakistan, which after Protests was set back to it's former Glory, LUBP, Roshni were also amongst the banned Wesbites/Fb Pages. Roshni survived the Attack by making another Page after the first time it was Banned in the former Govt.
Now that the Nawaz League has kicked in & the orcastrated Rawalpindi Incident has given the Takfiri Dewbandi/ Wahabi's a Chance to come up with full force against the minority Groups, Social Media is the only thing standing in it's way in educating the masses for sectarian harmony & from stopping the already Pakistan Made Afghanistan the New Syria.
Late November 2013 brought banns to the second Roshni Page, Shia Killing & Now a social Rights pages from Quetta namely "Quetta Revolution".


Pakistan's security establishment has turned this country into a graveyard of Shia, Ahmadi, Christians, Barelvis,… http://t.co/hPAcGUiDXN

— Ale Natiq (@alexpressed) November 30, 2013
PTA's anti-minority censorship continues. Hazara Shia activist's page 'Quetta Revolution' blocked as well after Shia Killing and Roshni.

— Ale Natiq (@alexpressed) November 30, 2013

As everyone is already aware of the ethnically & sectarian Minority #ShiaHazara Community of Quetta, who've gone through a systematic cleanse in the Largest Province of Pakistan. Pages like Karbala e Quetta & Quetta Revolution are amongst the most authentic sources when it comes down to facts & figurers about incidents & Political affiliations in Quetta. Facebook Page, Quetta Revolution yesterday 29th of November also became a subject to PTA ban in the Country. Analysts suggest more Pages from Quetta might be next in line.
Hum @shiakilling & @qtashiarev FB pages ki PTA ki janib sy bandish ki shadid alfaz me muzammat kartey hy.

— karbala-e-quetta (@karbalaequetta) November 30, 2013
@Quetta Revolution Blocked The Video Blocked By PTA after @ShiaKilling &Roshni The Video http://t.co/GepxSaeRTX @alexpressed @

— Quetta Revolution (@qtashiarev) November 30, 2013

Twitter @qtashiarev (Quetta Revolution's) Facebook page has had a crucial role in the society and is highly respected in Pakistan & abroad Pakistanis for special inseight & Reports about Quetta. QR has not just been a cyber-org but has helped spread voice among many platforms. QR has always provided with original Contents on the Web and has successfully produced & Launched a Movie about Shia persecution in Quetta, which was released free for the public & was translated in English in Australia for distribution. The Movie also received a Pro-Active Script award in Pakistan for it's work.
#HopeTheMovie a Film Based on #Hazara & #ShiaGenocide with a Theme Line of Education to be Released Tomorrow on Quetta Revolution Fb Page.RT

— Quetta Revolution (@qtashiarev) August 11, 2013
The page and it's workers played a crucial role in spreading voice for the 10 Jan & 16 Feb Blasts in Quetta in densely Shia populated areas at a time when TV Media wasn't giving any cover, QR was an inside source many used.
Today's picture from #AlamdarRoad #ShiaGenocide pic.twitter.com/3teHQJRd

— Syeda Afrin Abbas (@Afrin_Abbas) January 14, 2013

After the Ban, the community recorded it's protest on different platforms.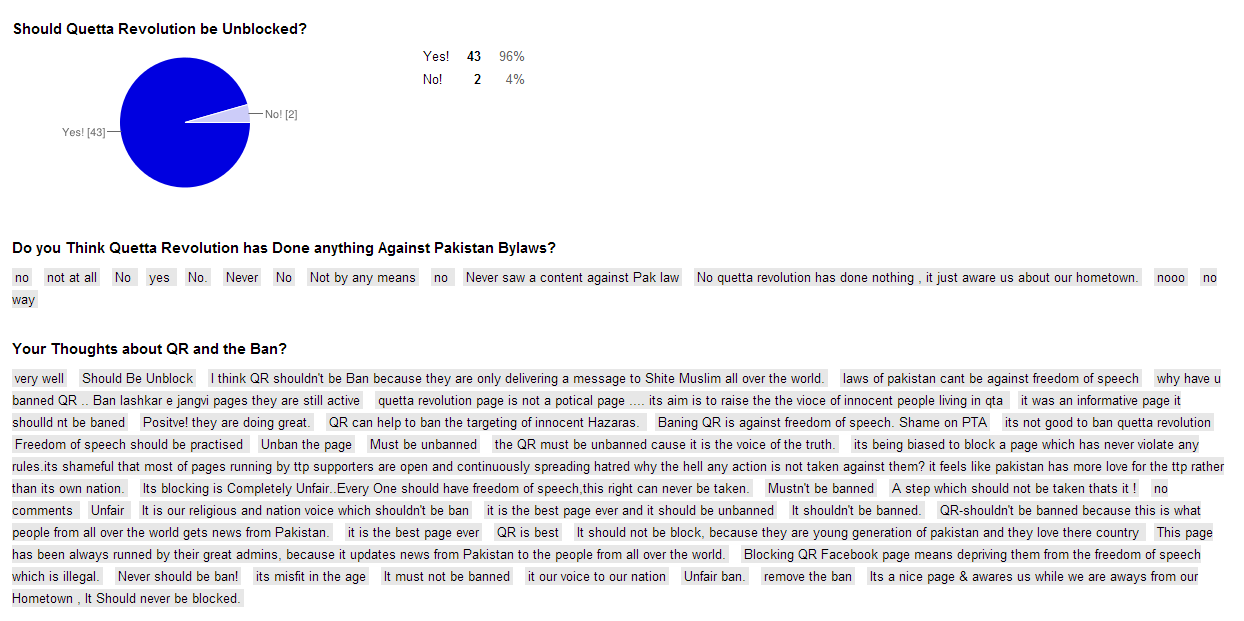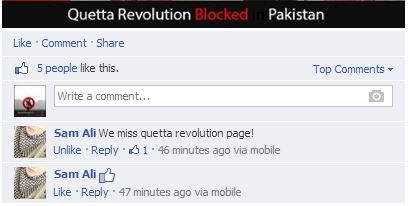 But Pages, Social Movements will always be tried to be stopped. But even more movements will spring.
Today's picture from #AlamdarRoad #ShiaGenocide pic.twitter.com/3teHQJRd

— Syeda Afrin Abbas (@Afrin_Abbas) January 14, 2013