Congratulations to the Iranian & American politicians: lessons for Pakistan – by Shehrbano Walji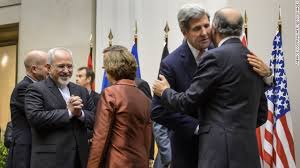 An unnecessary crises was avoid. There is great need of engagement with USA. Definitely this negotiation process has full approval of the supreme leader of Iran. He deserves full appreciation for his foresightedness. This is a historic point of time. It will have considerable impact of the politics of Middle east.
This should go for a permanent agreement despite resentment from saudi Arabia because it is in the greater interest of USA & Iran. US middle east policies were perceived by the world as great failure & supportive of the extremism. now USA & Iran have a common enemy – the religious extremists supported by the Arabs. They should go after it for a peaceful world. This is also a moment of relief for Russia. Israel's apprehensions also needed to be addressed. Supporters of religious extremism should be isolated.
Same is needed for Pakistan…Pakistani establishment should avoid hypocrisy & engage in meaningful dialogue with USA. 2014 is approaching and USA will be preparing for exit from Afghanistan. Fall out of this exit on Pakistan???? will things go in the hands of religious militants???? The pragmatism should take charge of the situation before it goes out of hand. NO to interference by Arabs through Al-Qaida & Talibans.
The yesterday's drama staged by the right wing parties against NATO supplies is a hypocritical show. However, the speeches made by the leaders are eye opener where they declared American assets in Afghanistan as their war booty!!!!
Comments
comments