RIP Professor Shabbir Shah: The silent target killing of Shia professionals in Pakistan
Author: Khadim Hussain
A prominent Shia Professor Syed Shabbir Hussain Shah, of University of Gujrat, and his driver were shot dead by Deobandi terrorists of banned terrorist outfit Sipah-e-Sahaba (currently operating as Ahle Sunnat Wal Jamaat ASWJ) on Tuesday, 19 November 2013.
The police found a note at the scene of Professor Shabbir Hussain's death which declared it a retaliatory killing in response to the recent Rawalpindi incident, a sectarian drama staged on Ashura (15 Nov 2013) by Deobandi terrorists from Sipah-e-Sahaba/ASWJ to blame and then kill Shias on the pretext of retaliation. The Deobandi Takfiri terrorists of Sipah-e-Sahaba/ASWJ had attacked a Shia procession with stones and gunfire and torched a nearby market on the day of Ashura, and with the help of Deobandi members of intelligence agencies, Punjab government, Taliban sympathizers in media and mullahs, framed Shia boys from the procession for the violence.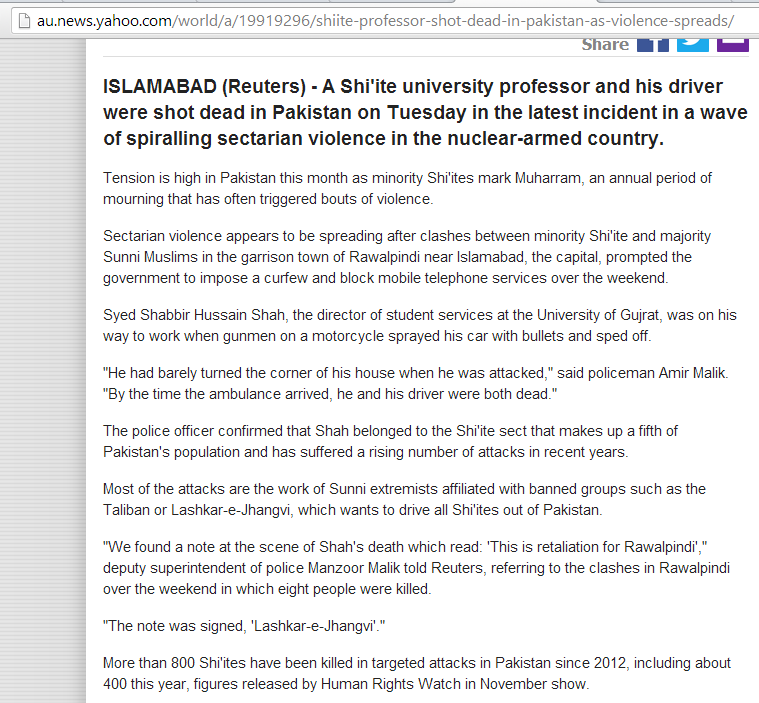 The lastest incident of target killing of Shia Muslims including Shia professionals has been proudly claimed by Deobandi supporters of ASWJ-LeJ on social media. In contrast, many right wingers as well as liberal elites decided to simply ignore the incident.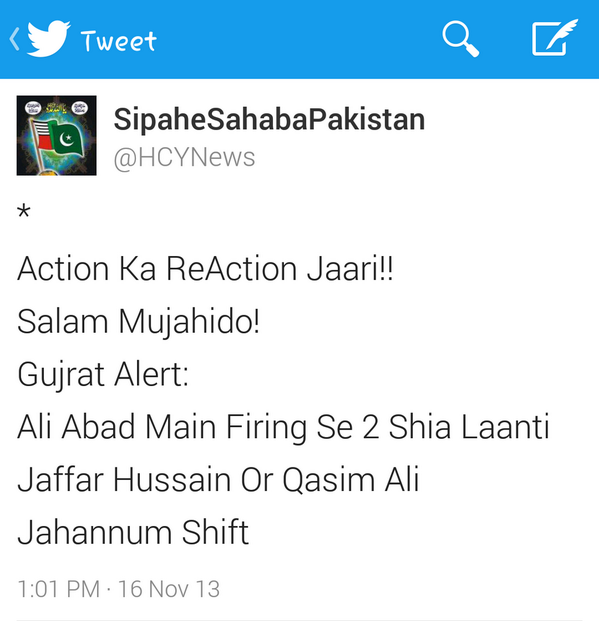 It has been evident that apart from large scale massacres of Shias which have in certain instances, such as in Quetta, left even over 100 dead in a single attack, the Saudi Arabia and the ISI backed Deobandi militant groups have been on a treacherous crusade of purging the country of Shia professionals institutionally, as well as physically.
In addition to Shia Muslims, Deobandi terrorist have also attacked and killed thousands of Sunni Barelvis and hundres of Ahmadis, Christians other minority communities of Pakistan.
Thousands of Shia professionals have been killed by Deobandi terrorists in Pakistan over the last three decades.
Here is an incomplete list of Shia professionals killed in 2013 alone:
In January 2013, Dr Riaz Hussain Shah and Dr Shahnawar were killed in Peshawar.
In February 2013, Dr Ali Haider along with his son was target killed in Lahore.
In June 2013, Professor Azfar Rizvi, along with his driver, was gunned down by unknown assailants in Karachi.
In March this year, poet and former principal of Liaquatabad College Professor Sibte Jafar was shot dead in Karachi. He too was gunned down by unidentified men riding a motorcycle.
In July 2013, a Shia businessman Raza Hussain was killed in Quetta.
In August 2013, Dr Ghazanfar was killed in Karachi.
In October 2013, polie officer Irfan Haider was killed.
Another two Shia doctors were killed in November 2013 in Karachi. They were identified by police as Dr Sher Ali and Dr Naseem Zaidi respectively.
These killings have been aimed at reducing the professional representation of Shias in the country by either eliminating them or forcing them to leave the country. By trying to deprive the Shias of Pakistan of their professional crop, the terrorists have been wanted to both terrorize and incapacitate them as a group.
While the Deobandi-filled state public institutions or at least their higher tiers, including that of the army and bureaucracy, have been systematically purged of Shias, prominent Shias both in the public and private sectors have been killed to provide impetus to this project.
The third partner in this evil triangle has been the dishonest Pakistani media which has always tried to hide the religious identity of the victims. The media makes best efforts to either present the killings as routine killings without highlighting the Shia identity of the victims, the religious motive behind the killings, and the deobandi takfiri identity of the killers.
This systemic genocide has included killings of prominent Shias from all fields of life; those killed have included doctors, lawyers, civil servants, military officers, engineers, corporate personalities, poets, writers, educationists, television artists and musicians, among others.
Most disappointing in this regard is the attitude of so called liberal media personalities, columnists and civil society representatives, who are otherwise on the look for finding sellable issues for their economic or social benefits. These people ignore the fact that Shia professionals are being targeted in scores by deobandi takfiri terrorists, but many of them showed their Shia hatred when they joined the deobandi terrorists in blaming the Shias for violence in Rawalpindi on Ashura that was actually planned and staged by the terrorists of Sipah-e-Sahaba/ASWJ.
The international human rights organizations should take a notice of the plight of Pakistani Shias and declare Pakistan on the genocide watch list and force the state and its institutions to curb on the activities of the deobandi terrorists.
Comments
comments