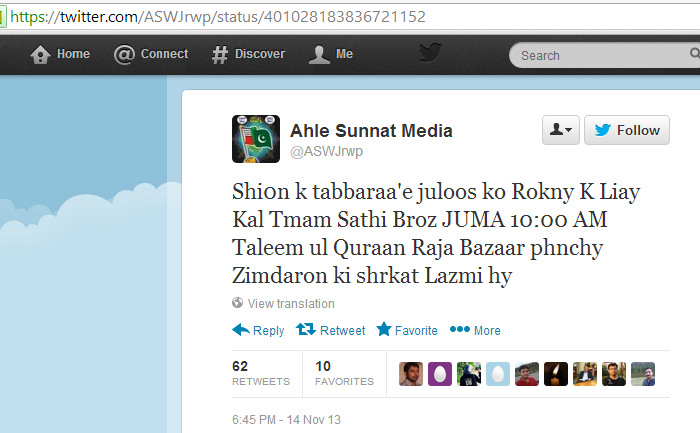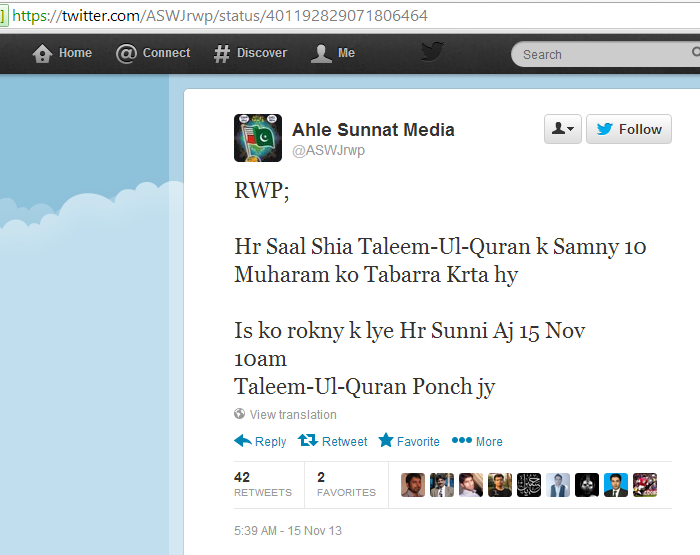 Related post: Rawalpindi Ashura violence: ASWJ militants are threatening Jang's investigative journalist Ahmad Noorani https://lubpak.com/archives/291451
I think these tweets by ASWJ (Sipah Sahaba Rawalpindi) are complete evidence as to who did all this (violence on Ashura day in Rawalpindi)
1- https://twitter.com/ASWJrwp/status/401192829071806464
2- https://twitter.com/ASWJrwp/status/401028183836721152
Contrary to propaganda by some people, in fact no one was slaughtered. It is confirmed now. Procession people killed (Deobandi) Madrassah boys during clashes after the procession was attacked (by Deobandis).
It is a fact that the (Shia) procession was attacked first (by Deobandi mosque). It was planned in advance by the (Deobandi) Madrassah people (i.e Sipah Sahaba ASWJ)
Please note that I am not a Shia Muslim.
There was police on roof of (Deobandi) Madrassah so one-sided propaganda may not work.
جعلی اکاؤنٹس کی بنیاد پر صحافیوں نے تجزیہ پیش کرنا ہے تو ایک بچہ بھی ایسے بیسیوں بنا سکتا ہے
(Sipah Sahaba official account on Twitter (ASWJPak) claimed that some journalists are basing their analysis on fake Twitter accounts of ASWJ Rawalpindi)
Ooh @ASWJPak time cannot be changed on Twitter. If, according to you, this account is fake, ISI should investigate who attacked procession yesterday.
Had ISI not been busy in running hashtags against Geo etc, it could hav easily foundout this tweet and conspiracy to attack procession.
Yes, it is true that the attack on (Shia) procession leads to killings, but if ISI has busted this tweet announcement made on Muharram 9, (Deobandi ASWJ) conspiracy could be unhatched and many lives could be saved. Planning to attack Ashura procession was basis of yesterday incident (ie Ashura day violence in Rawalpindi).
This account has more than 7000 following. See date and timing of tweet:
https://twitter.com/KKSKNEWS/status/401167454660866048 …
Get back to me if you have any doubt as to who planned it!
Those who say this is fake account https://twitter.com/KKSKNEWS/status/401167454660866048
contact me. They properly invited (Sunni Deobandi) people to attack procession. ISI- you were sleeping?
Dear Ahmad Ludhyanvi Sb, (you said your party ASWJ will mourn the Pindi killings for 3 days) iss ki kia wajah? Jab doosray muslmaan martey hain tab bhi tu Aap ko soG manaNa chaheiay?
I m not Shia Muslim. I don't even believe in these things. But I am concerned regarding some very crucial points like
You (Sipah Sahaba ASWJ-LeJ) killed 1000s comfortably during last two decades but now when your 7 people killed- you are getting ready to change this country into a hell 🙁
@ASWJPak walay bhai, please note two different twitter accounts were used to invite people on 9 Moharram to gather in (Deobandi) Madrassah on 10 Moharram to attack Aashura procession. If thats not yours, let ISI tell nation whose accounts were these caused killing of pakistanis and incite violence. Bhai @ASWJPak (Sipah Sahaba) if those accounts announced attack on procession are not of you people,why are you so much worried and tagging me repeatedly. Please don't harass.
People (Deobandis of ASWJ-SSP) were invited not only through Twitter but using all means.
Emotions wil have to be kept aside to ascertain facts. It was planned and it is 100% proved. Riots started after (Deobandi) Maulvi delivered provocative speech.
Those saying my finding are one-sided are wrong. I will appreciate ASWJ, if it wil sought unconditional apology for inciting violence by circulating fake pics, planning attack on procession & Maulvi's hate speech & will join demand to arrest those who killed ppl in Madrassah.
After false propaganda and fake pics of Pindi-incident exposed, now ASWJ attacking ppl & setting mosques of other (Shia) sect on fire (7 in Pindi yesterday – 18 Nov 2013)

"It was uncovered that connection to CCTV cameras in the specific area where the clash took place had been cut just prior to the chaos. Express News correspondent Adnan Mukhtar reported that authorities expressed their suspicion of a planned attack based on various other factors involved."