Sunni Ittehad Council condemns Deobandi ASWJ's attack on peaceful Sunni and Shia in Rawalpindi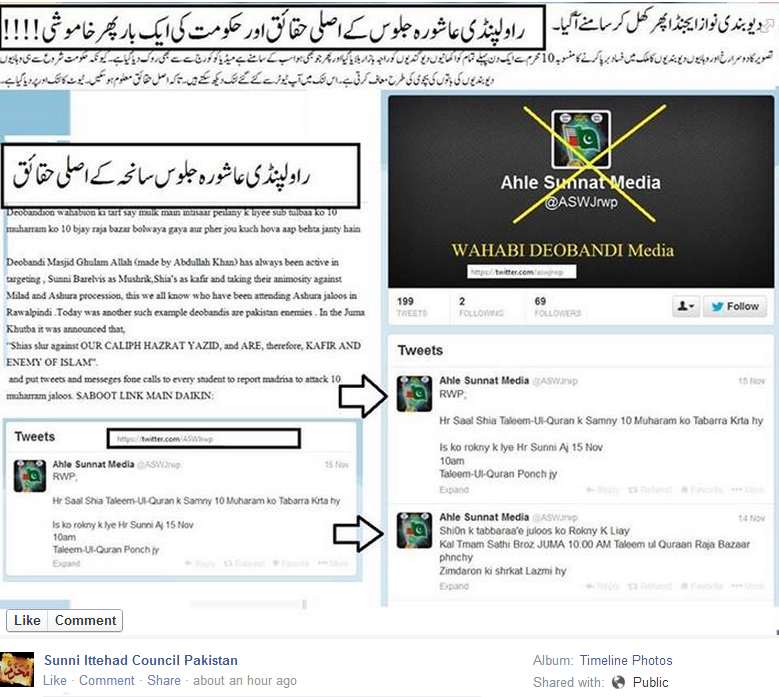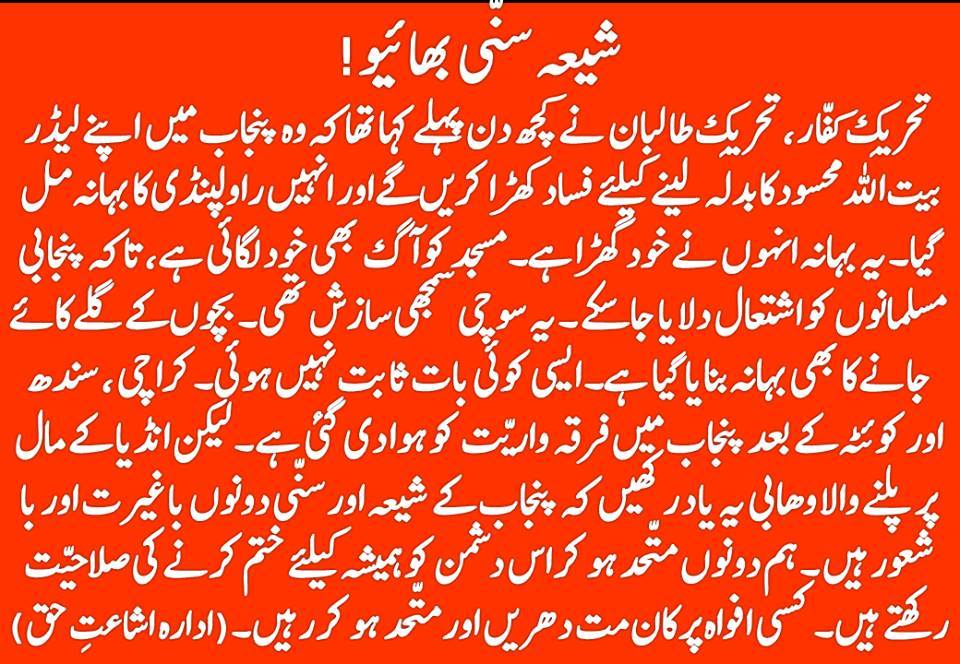 Source: https://www.facebook.com/photo.php?fbid=458536137592271
Related post: تحریک اسلام کے صدر اور پاکستان عوامی تحریک کے رہنما، معروف سنی عالم دین مولانا حیدر علوی کی جانب سے راولپنڈی عاشورہ جلوس پر تکفیری دیوبندیوں کے حملے کی مذمت

Pakistan's leading Sunni clerics have condemned attack by banned Deobandi terrorist outfit Sipah-e-Sahaba Lashkar-e-Jhangvi (currently operating as Ahle Sunnat Wal Jamaat ASWJ) on peaceful Shi and Sunni participants of Ashura procession in Rawalpindi.
In a statement, top Sunni Barelvi (Sufi) clerics condemnted malicious propaganda against Sunni Barelvi and Shia Muslims by pro-Taliban Deobandi militant groups. Sunni clerics also demanded that insead of Milad and Ashura, government must strictly enforce its ban on Taliban (TTP), SSP-LeJ (ASWJ) and arrest all Deobandi terrorists who are not only attacking peaceful Sunni and Shia Muslims but also Ahmadis, Christians and Hindus.
سنی شیعہ بھائی بھائی: سنی اتحاد کونسل کی طرف سے راولپنڈی میں سپاہ صحابہ کی دہشت گردی کی مذمت
پاکستان کے سنی مسلمانوں کی سب سے بڑی نمائندہ جماعت سنی اتحاد کونسل نے راولپنڈی میں عاشورہ جلوس میں شامل سنی بریلوی اور شیعہ مسلمانوں پر سپاہ صحابہ طالبان کے تکفیری خارجی دہشت گردوں کے حملے کی شدید مذمت کی ہے
سنی اتحاد کونسل کے ترجمان نے کہا کہ پاکستان میں سنی شیعہ فرقہ واریت کا کوئی مسئلہ ووجود نہیں رکھتا اور طالبان و سپاہ صحابہ سے تعلق رکھنے والے دیوبندی دہشت گردوں کا سنی مسلمانوں سے کو تعلق نہیں
سنی اتحاد کونسل نے پنجاب حکومت پر زور دیا ہے کا طالبان اور سپاہ صحابہ کے تکفیری خوارج دہشت گردوں کے ساتھ اپنے تعلقات ختم کر کے ان کے خلاف سخت کاروائی کی جائے
https://www.facebook.com/photo.php?fbid=458402387605646&set=a.124291224350099.23384.124268511019037&type=1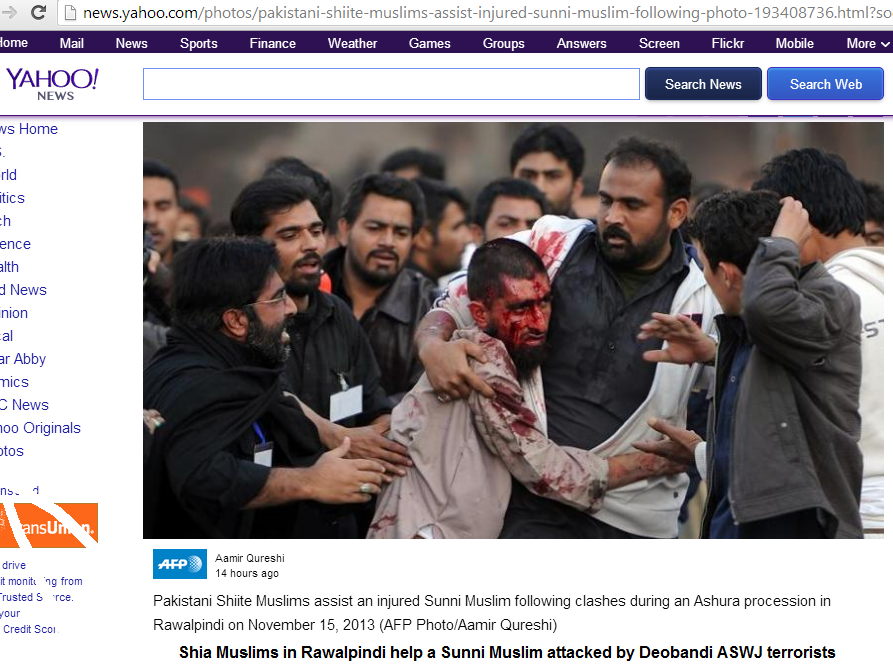 Picture source: http://news.yahoo.com/photos/pakistani-shiite-muslims-assist-injured-sunni-muslim-following-photo-193408736.html?soc_src=mediacontentphoto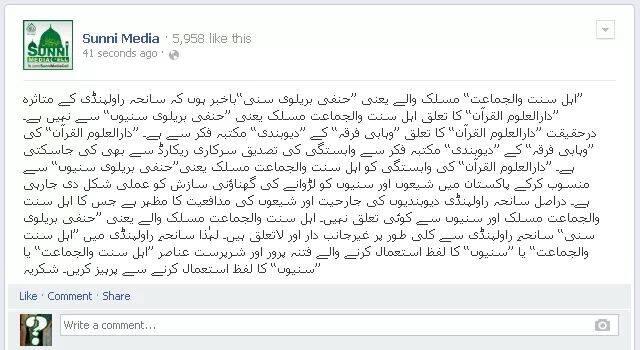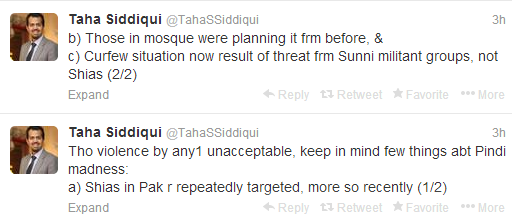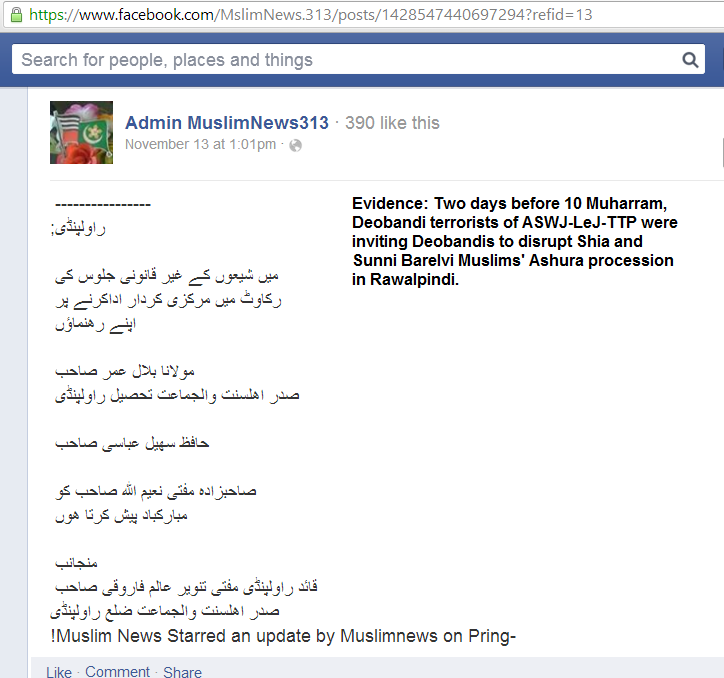 Comments
comments