Editorial: Pakistan PM Nawaz Sharif is the political face of Deobandi terrorists: New York Times vindicates LUBP's claim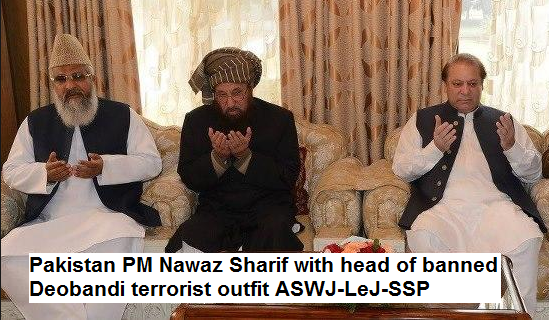 On the eve of Pakistan PM Nawaz Sharif's visit to the White House last month, the New York Times published an op-ed piece, "An incomplete democracy", by Michael Kugelman, a senior program associate for South Asia at the Woodrow Wilson International Centre for Scholars. The entire Pakistani media blacked it out because the writer—-and through him the New York Times itself—-acknowledged what we at LUBP have been claiming for the past 5 years: That Nawaz Sharif's PML-N (and now the PML-N government) is the political face of Takfiri Deobandis led by the banned terrorist outfit Lashkar-e-Jhangvi (LeJ, currently operating as Ahle Sunnat Wal Jamaat Deobandi ASWJ-D). Pakistanis must read the article as it also points out the sinister role played by the ISI-Army in the misery in which the people of Pakistan have been hurled. About the connections of the Nawaz League with the LeJ, the New York Times Michael Kugelman:
"Mr. Sharif's government, for instance, has called for dialogue with the fundamentally antidemocratic Pakistani Taliban. It also does little about the horrific plight of Pakistan's religious minorities. In fact, Mr. Sharif's political party has been associated with militant organizations like the Sunni extremist group Lashkar-e-Jhangvi."
(Read the compete article: http://www.nytimes.com/2013/10/23/opinion/international/an-incomplete-democracy.html?smid=fb-share&_r=0)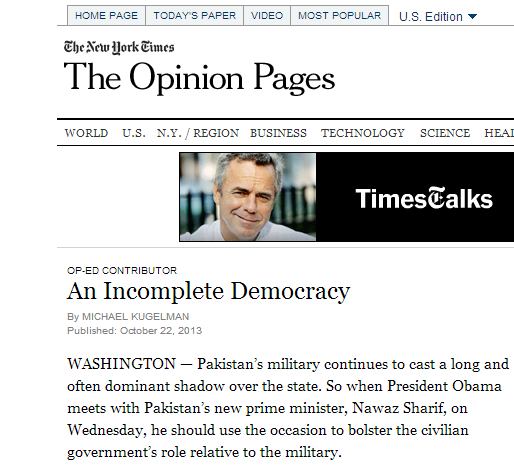 Before we proceed any further, we need to take a closer look at the above quote:
1. Although Nawaz Sharif's is a democratically-elected government, he has been calling for a dialogue with outfits which do not believe in democracy and want to destroy Pakistan's constitution and political-democratic. This is not only ironic, it also shows that the Sharif government itself has little regard for democracy. This is true historically because in the past Sharif's PML-N has always undermined democracy whether in power or in opposition.
2. The Sharif government has done little to end "horrific" miseries of the minorities in Pakistan. Records show that anti-minority carnages and acts of vandalism were planned and executed by the operators PML-N and LeJ (Read: https://lubpak.com/wp-content/uploads/2013/02/2013-02-04_SISA2_The_New_Frontiers_-_Ayesha_Siddiqa.pdf).
3. The last sentence is very significant. It does not say that the PML-N and the LeJ are "allegedly" partners-in-crime. It clearly says that the PML-N and the LeJ ARE terror allies.
There are a couple of questions to ask at this point. First, why didn't Pakistani media raise hell over the New York Times claim that the PML-N and the LeJ are partners-in-crime? Second, why didn't the Sharif government sue the New York Times for making this claim? After all, a successful lawsuit against the New York Times would have brought enormous moral and political benefits to the Sharif government. The answer to the two questions is the same: What the New York Times claimed about the PMLN-LeJ is hundred percent true. Thus, total silence all over.
That the PML-N and the LeJ are two faces of the same outfit has been a leitmotif of the LUBP coverage of the Takfiris and their terrorism unleashed on the Shias, Ahmadis, Hindus, Christians, and moderate Brelvis of Pakistan. We have always argued that the Islamofascist outfits like the Sipa-e-Sihaba (now known as Ahle Sunnat Wal Jamat Deobandi ASWJ), the Taliban, and the LeJ and their politician brethren known as Pakistan Muslim League (Nawaz Group/N) are the creations of General Zia ul Haq (1977-88) who radicalized the Pakistan society to please his Saudi mentors. Since the General's death, PML-N and ASWJ-LeJ have been working fast to convert Pakistan into a Deobandi-Salafi society where there is no place for dissent and religious-political diversity.

Maulana Ahmad Ludhianvi speaks himself SSP/ASWJ are same. from Progressive Shia Activists on Vimeo.
The Nawaz government, whether in the province of Punjab or in Islamabad, has been protecting and promoting Takfiri ideology. For instance, the Nawaz government has been protecting a notorious Shia killer Malik Ishaq. Even when he was in jail, he was provided with a hefty monthly stipend, which was absolutely illegal. When asked why his government provided Ishaq with the stipend, the Punjab Law Minister Rana replied that it was a court decision to grant the stipend to Ishaq. This was a blatant lie. And yet no court or media anchor took him or any of the PML-N leader to task for providing illegal privileges to Ishaq (not forgetting that he was given a VVIP treatment in jail). On this, a news report said,
"Punjab Law Minister Rana Sanaullah confirmed the disbursement but clarified that it was given to Ishaq's family, not him, as per orders of the court. However, upon further investigation, it was revealed that nor was there any such disbursements during former president Musharraf's tenure, nor was there any court order pertaining to the matter." (Read: http://tribune.com.pk/story/210827/lejs-malik-received-monthly-stipend-from-punjab-govt/)
During his imprisonment, Shahbaz Sharif's Punjab Police Elite Force used to escort Ishaq to various firing ranges where he practiced his Shia-killing shooting skills:

Malik Ishaq of Lashkar-e-Jhangvi practising firing skills with Punjab Elite Force from Stepan on Vimeo.
Recently, emboldened by a highly partisan Supreme Court, financial backing from the Saudis, and a nod from the Army/ISI, the Nawaz League has been making formal political alliances with ASWJ-LeJ. Above is a photograph in which Nawaz Sharif is praying for electoral success along with ASWJ-LeJ leaders. These very leaders have been baying for Shia blood in the name of Islam: What does it prove about Nawaz Sharif who claims to be the leader of all Pakistanis?
During the last elections (May 2013), the Nawaz League went one step ahead when it actually awarded tickets to Shia killers who were (and are) formally associated with ASWJ-LeJ. Some of these murderers and promoters of Shia genocide included people like Abid Raza Gujjar (Read: http://www.thenews.com.pk/Todays-News-13-22694-LeJ-terror-suspect-contesting-on-PML-N-ticket), Sardar Ebad Dogar (Read: http://www.dailytimes.com.pk/default.asp?page=2013%5C04%5C22%5Cstory_22-4-2013_pg1_7), and Anjum Aqeel Khan (Read: https://lubpak.com/archives/262189).
After winning the May elections, the Sharif government has been actively promoting the Takfiri agenda. It has been trying to ban Shia mourning processions. Lately Nawaz Sharif has gone on the offense to serve the Takfiri cause. He has called the Taliban "our brothers and children" who are basically a harmless lot who have "merely gone a little astray" (Read: http://www.bbc.co.uk/urdu/pakistan/2013/11/131108_nawaz_sharif_extremists_offer_rwa.shtml).
In one go, Nawaz Sharif has given legitimacy to the Takfiris who have killed thousands of innocent Pakistanis. One can imagine what is in store for non-Deobandis of Pakistanis who make up more than 85 percent of the population. The people of Pakistan must come together and force Nawaz Sharif to work for Pakistan, and not for the Takfiri agenda of Saudi Arabia. The LUBP readers are recommended the following part of our archives for understanding the nexus between the PML-N and the ASWJ-LeJ: https://lubpak.com/archives/tag/pmln-support-to-aswj-lej-taliban-alqaeda-let.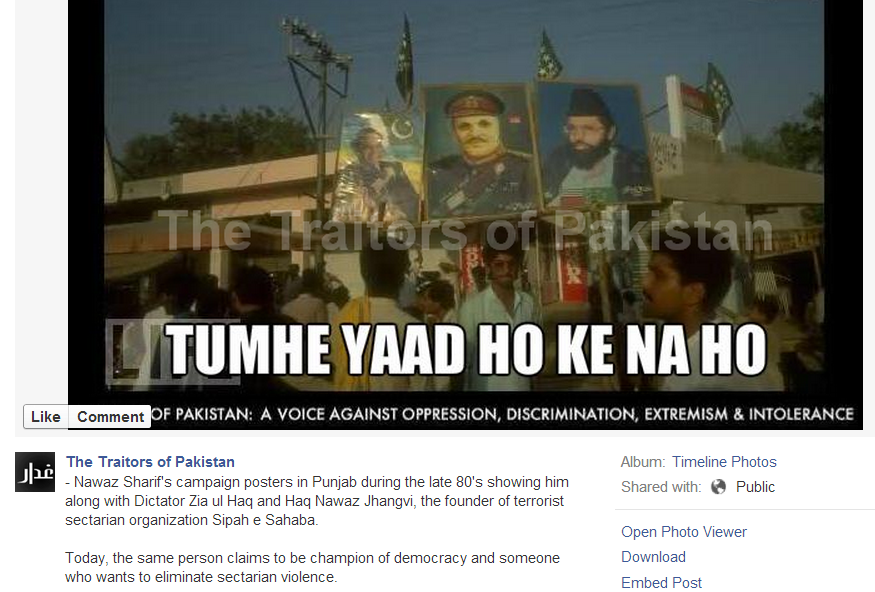 Comments
comments