Hakeemullah Mehsud's death and Pakistan's reaction: a State that harbors terrorism?
One couldn't believe his eyes and ears upon seeing the reaction of PML-N government functionaries and PTI leadership all the way down to the trolls condemn the US Drone attack that killed Hakimullah Mehsud on Friday, November 1, 2013. The condemnation was further compounded by the right wing media personalities like Hamid Mir, Ansar Abbasi, Orya Maqbool Jan and various others who considered this as murder of peace.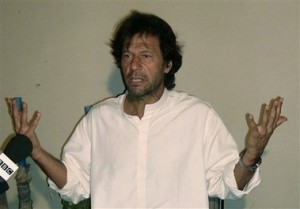 Imran Khan, the leader of PTI, has gone on to say that the KP provincial government will block NATO supply route through their province while also bringing in resolutions in National, Punjab and Sindh Assemblies where they have representation. Like a roaring lion he has even said that it doesn't matter if they lose the provincial government in KP.
Chaudhry Nisar, the bigoted Minister of Interior whose family members are US Citizens, has demanded a review of relations with US after this drone attack.
All those in favor of the stance of sovereignty, ghairat and various other delusions of supremacy have taken to twitter, facebook and flooded comments on articles that condemn the US action.
While Imran Khan has stuck to his stance, however wrong it may be, the PML-N led government is in deep trouble. It just doesn't know how to plant a foot right. They are in government. Whatever they say is considered "State Policy". Doesn't Chaudhry Nisar realize that Hakimullah Mehsud was a wanted terrorist in the red book of his own ministry? However many number of people he killed or ordered to be killed, the fact remained that he was the number one enemy of Pakistan on Pakistani soil. The US had a USD 5 million bounty on his head and the Pakistan government had a Rs. 50 million head money for him. Question is that why this contradiction? If Chaudhry Nisar considers this a murder of peace, why didn't his government remove the head money on Hakimullah Mehsud after the APC which would have paved way for the so called peace with terrorists. Even more so, dropped all charges against him as a way of bringing him to the table?
Coming to the topic, it is an unfortunate reality now that after 21 years, Nawaz Sharif and his government have a possibility of being again labeled as a State that harbors terrorism. It was in 1992, Nawaz Sharif's government was warned by George Bush government that unless Pakistan discontinues its support for terrorism in Kashmir, the US will declare Pakistan a "state sponsor of terrorism". At that time, the countries that could have been named terrorists included North Korea, Sudan, Libya and Syria. The way two leading parties of the state, that is PML-N and PTI are condemning the killing of a terrorist, it is quite possible that talk may again begin to declare Pakistan a "state sponsor of terrorism".
In 1992, Nawaz Sharif had Shaheed Benazir Bhutto who worked with him to lobby against such an act. Nawaz Sharif was even willing to send her to the UN to plead Pakistan's case. Thankfully, the situation never arose and Pakistan was not declared a state sponsor.
Imagine if such a thing is to happen today. Imagine the repercussions on Pakistanis the world over and businesses. What will happen to our economy? What will have to our liquidity issues? What will happen to the way Pakistanis will be treated for visas and airports the world over.
PML-N and PTI should think this over. If they really want to tow this line, then we suggest that Imran Khan, Nawaz Sharif, Chaudhry Nisar etc all surrender their US , UK and various other western countries visas and then take the US head on. Pakistanis are already suffering at the hands of enemies from within, we don't want further labeling as a terrorist nation.
Comments
comments