Will Jang Group's Mir Shakil-ur-Rahman turn against the Nawaz govt now – JS Bank fails to acquire regulatory approval for HSBC Pakistan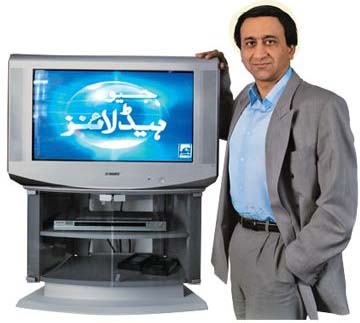 Related post: The illegal activities of Jang Group and Jahangir Siddiqui
In an unexpected turn of events, a financial group closely linked to Jang Group head honcho, Mir Shakil ur Rahman, has not been permitted by regulators to acquire the operations of HSBC Bank in Pakistan. Jahangir Siddiqui Group's JS Bank has not been given regulatory approvals to complete the acquisition of HSBC Pakistan and now HSBC would have to look at another buyer to complete their exit from Pakistan. It is worth noting that Mir Shakil ur Rahman's daughter is married to Jahangir Siddiqui's son Ali. Off late, MSR has been seen exerting his media (read: blackmail) power to support JS Group's various fights with regulators in Pakistan like SBP and SECP and other business groups.
It is important to note that SBP is the regulator of banking sector and any licenses, mergers and acquisitions, divestment etc are to be expressly approved by it to proceed. HSBC has been selling its operations as part of a global retreat from countries where it lacked scale or struggled to make a profit. While the exit by HSBC was part of its strategy, the acquisition of HSBC in Pakistan would have given a lot of clout of Jang Group linked JS Bank, firming the growing prowess of the media baron.
While reasons have not been given for the rejection of sale to JS Bank, it is quite clear that recent actions by SECP against the JS Group like the criminal case against the group in the Azgard Nine Scandal, inquiries against the group in the illegal transfer of shares of PICT to Switzerland causing a loss to mutual fund holders of the group and a huge bonus to Ali Jahangir Siddiqui are considered as frontline reasons which did not allow for the deal to go through. JS Bank has had a role to play in each of the above transactions. There are also indications that the group is being investigated for money laundering.
MSR, known for his excessive blackmail tactics through its Jang and the News and Geo News Channel had been exerting pressure for the sale to go through, not because of the merits of the transaction but more because of the ego attached to it, can now be expected to launch an attack on the Nawaz government. Afterall, he and his family is holy cow of Pakistan and how dare the SBP reject a deal related to them. And that too in a government which has been facilitated in its ascent by MSR.
While The News is giving it a spin that the deal's not going through may be advantageous to JS Bank (October 24, 2013), the fact remains that rejection of such a deal can lead to major ramifications for the JS Group and indeed MSR who looks to exert his influence through every major financial transaction.
Will MSR lead an all out campaign against Nawaz Sharif, only time will tell, but one can appreciate the good work of SBP in stopping a bank going into wrong hands.
Comments
comments