Ahmadiyya Muslim Persecution Continues in Nawaz Sharif's Pakistan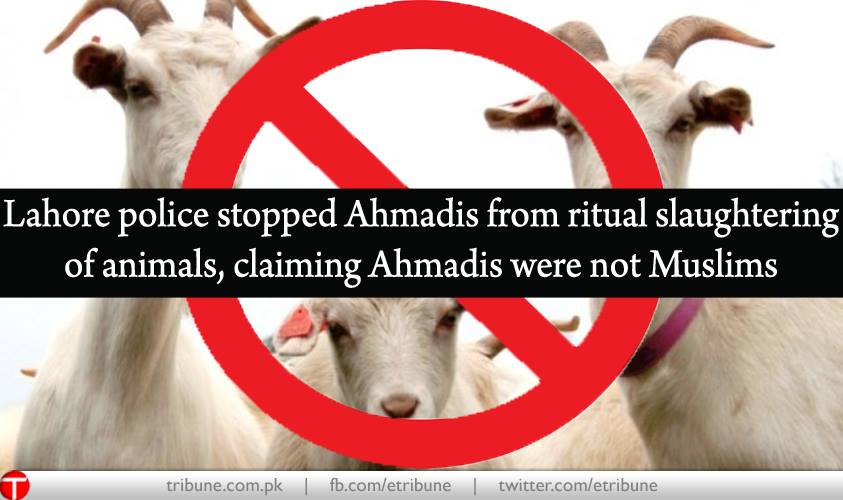 While banned Jihadi organizations continue to make a roaring business collecting hides, the Ahmadiyya Muslim communities of Pakistan continue to suffer State sponsored persecution. Media reports have emerged that the Ahmaddiya muslims were forcibly prevented from performing the sacrificial rituals associated with Eid ul Azha. Whether the sacrifice of cattle is a mandatory practice is a separate issue that merits its own free and unhindered debate. However, while the rest of Pakistan slaughtered and gorged on millions of cows and goats, the Ahmadiyya muslims were forcibly prevented from even this ritual.
While Jammat Islami, LeT/JuD and MQM made a roaring business of collecting animal hides to fund their activities, the Ahmadiyya muslims were prevented from even offering sacrifice. The persecution and bigotry against the Ahmadiyya muslims in Pakistan represents the slippery slope when the State makes Religion its business and then proceeds to infringe upon the fundamental rights of its citizens to practice their religious beliefs freely.
The State of Pakistan capitulated to the pressure of extremist fascists when it passed the Objectives Resolution in 1949 and when it took upon itself to play God and passed the atrocious legislation known as the 2nd Amendment. We in Pakistan need to take an honest look at our history and origins and come rapidly to the realization that religion cannot be used as a State building exercise.
Before the last elections in May this year, it was a disappointing sight to see certain self proclaimed liberals fawning over Nawaz Sharif. People like Najam Sethi and his group had been actively promoting Nawaz Sharif as an "anti-establishment" icon who would "take on the army" and "make peace with India".
How is that possible given the Sharif's close links with the Saudi ruling elite as well as the various Jihadis who are funded by them?
While Ahmadis are being denied their rights to practice their religion freely, these same anti-Ahmadi Jihadi groups are working freely in Punjab, the bastion of Sharif's political power base.
Lahore: Police on Thursday stopped members of Pakistan's minority Ahmadi community from slaughtering animals here on Eid-u-Azha after Muslim clerics complained that the ritual of animal sacrifice "is an Islamic injunction whereas Ahmadis are non-Muslims".

Jamaat-e-Ahmadiyya Pakistan Punjab spokesman Amer Mahmood told PTI that the Ahmadi community could not "sacrifice the animals" on Eid days in Krishan Nagar (old Lahore) and Sabzazar areas after local Muslim clerics made an announcement in mosques that the Ahmadis were following Muslim rituals.

As the tension between Muslims and Ahmadis gripped the areas, the police were also called.

The police reached there and instead of stopping the locals from intervening in the affairs of the minority community took Ahmadis into their custody.

However, on the intervention of the elders of the Ahmadis the police set them free, Mahmood said.

"We gave a written undertaking that the Ahmadis would not sacrifice any animal," he added.

This was the fourth such incident in Punjab, Pakistan's most populous province.

Pakistan's Ahmadis consider themselves Muslim but were declared non-Muslims through a constitutional amendment in 1974.

A decade later, they were barred from proselytising or identifying themselves as Muslims.

Some 1.5 million Ahmadis live across the country.

Earlier too, Ahmadis have faced police action in Lahore.

On September 22, Punjab Police demolished the domes of two mosques of the minority sect in central Punjab province.

They also whitewashed Quranic verses painted on the mosques in Sialkot district, Ahmadi leaders alleged.

Earlier, police had demolished domes and removed plaques from graves of Ahmadis in Lahore, Kharian and Hafizabad districts at the "request" of Muslim clerics.+

http://ahmadiyyatimes.blogspot.com/2013/10/pakistan-ahmadis-prevented-from.html
Comments
comments