"Deen e Mullah fesabeelialh fasad" – by Ahsan Abbas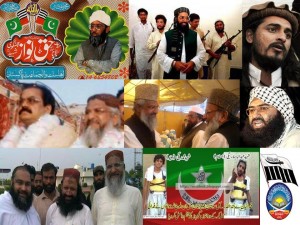 I am a Secular person, mean to say that I stay strong on my own beliefs, do not attack any one's belief nor like vice versa.
So any sort of religious discussion is out of my scope of writing.
Something extremely annoying  me is a propaganda on Media regarding the recent "Dialogue Drama" staged by the Government and the Saudi sponsored establishment:
 "Ulama has supported dialogue with Taliban"
Hang on man, hang on
Which "Ulama" you are talking of?
Are they Brailvi Ulama?
Jamia Naemia has blatantly refused to support any such dialogue with those who killed dozens of Ulama including Molana Sarfraz Naemi, Molana Hassan Jan any many others, attacked 100s of Mosques and dozens of Shrines. They want these terrorists to be hanged openly as per the orders of Shariah.
Dr Tahirul Qadri has issued a 1000 pages long verdict against these terrorists
Same is the stance of Sunni Tehreek, Sunni Ittehad Council and other Sunni Ulama
Are they Shia Ulama?
Both Shia Ulama Council and Majlis Wahdat e Muslimeen oppose the dialogue and declare it against Quran and Hadith
Which "Ulama" they are then?
Neither Sunni nor Shia but Takfiris who deadly opposed the creation of Pakistan. Their "Fatwa" (Verdict) of Kufar against both Quaid and Allama Iqbal are on the record
During the Zardari led government, they always turned down requests made by the govt to issue a verdict against attacking the Mosques and killing the innocent civilians. And now they are favoring Nawaz govt to support dialogue with terrorists.
Some Qs repeatedly asked by Takfiri Ulama:
Celebrating Milad ul Nabi (PBUH): Show where it's in Quran?
Going to Shrines:  Show where it's in Quran?
Doing Qul, 10th, 40th "Khatam Niaz" for the dead ones:  Show where it's in Quran?
Listening to Qawali:  Show where it's in Quran?
Muharram Processions:  Show where it's in Quran?
My Qs to Takfiri Ulama:
Attacking innocent civilians:  Show where it's in Quran?
Blowing up Mosques:  Show where it's in Quran?
Demolishing Schools, Colleges, Hospitals:  Show where it's in Quran?
Attacking funeral processions:  Show where it's in Quran?
Butchering human beings:  Show where it's in Quran?
And finally,
Doing "Dialogue" with those who performed all these Barbaric,  Un-
Islamic
, In humane acts: 
 Show where it's in Quran??????
What Quran says about Taliban Beasts?
 مَنْ قَتَلَ نَفْساً بِغَيْرِ نَفْسٍ أَوْ فَسادٍ فِي الْأَرْضِ فَكَأَنَّما قَتَلَ النَّاسَ جَميعاً۔ مائدہ32
He who killed (even) 1 innocent person, it is as if he killed the whole humanity"
 لَكُمْ فِي الْقِصاصِ حَياةٌ يا أُولِي الْأَلْبابِ لَعَلَّكُمْ تَتَّقُونَ :بقر179
"Oh people! There is life for your society if you implement Qasas (Kill those who killed innocent ones)
I forgot to ask you some VERY important Qs:
Where is written in Quran to fight against an Islamic State (Syria) paid and weaponised by America and Israel and blast even its non combatant citizens?
Where is "Jehad ul Nikah" in Quran?????? where a lady sleeps with upto 10 "Mujahideen" which is reported by your OWN sponsoring media as BBC, CNN and the Tunisian newspapers who cry to stop it as a number of "Mujahidas" returned to Tunisia with Aids infections………..
Iqbal was right about these Takfiris
"Deen e Mullah fesabeelialh fasad"
Ahsan Shah is a freelance columnist based in Birmingham
He can be contacted at 
Comments
comments