From Deobandi ASWJ to urban liberal elite, anti-Shia views are everywhere in Pakistan – by Saba Imtiaz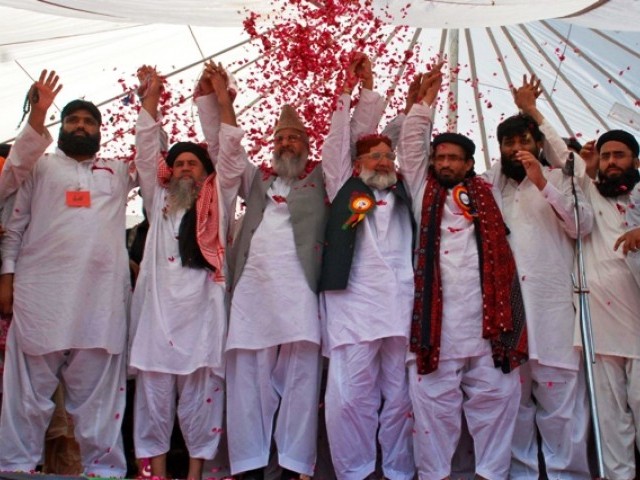 It has been a slow, gradual process, but it has finally happened: the Ahle Sunnat Wal Jamaat — the Deobandi party formerly known as the Anjuman Sipah-e-Sahaba (ASS), Sipah-e-Sahaba Pakistan (SSP) (militant wing Lashkar-e-Jhangvi LeJ) and Millat-e-Islamiya Pakistan (MIP) — is apparently now being treated as a credible political force in Karachi.
Here's an example: on Sunday, Geo TV aired a special broadcast on Karachi – presumably to save it, since cities have always been 'saved' by special broadcasts – and alongside the ticker, was a box with images of political figures. Among them was Orangzaib Farooqi Deobandi, the head of the ASWJ in Karachi. Or here's another example: Farooqi has a police escort, in a city run by political parties whose leaders are publicly opposed to attacks on Shias.
Of course, none of this would be legally possible if the ASWJ was banned. Which it was, according to the last list of banned organizations in Pakistan that was made public. The party says it has no knowledge of the ban, and has also petitioned the Lahore High Court to have the earlier ban on the Sipah-e-Sahaba reversed. (As Ahsan points out, the ASWJ still uses the SSP name). Of course, this ban hasn't deterred anyone from either participating in the ASWJ legitimacy spin or from contextualizing any reportage of the party. It also doesn't appear to have been implemented in any way or form, given that the ASWJ's candidates were able to participate in the parliamentary elections this May as part of the Muttahida Deeni Mahaz coalition.
The ASWJ spin of legitimacy has been a long time in the making. For the past couple of years, there have been a number of reports that the ASWJ – which was formed with a goal of having Shias declared apostates and has been associated with attacks on Shias since its inception – has "reformed". The party states publicly that it has nothing to do with the attacks, or the Lashkar-e-Jhangvi, its offshoot, militant group that now specializes in murdering you if your name is Ali, Haider, Hasan, Hussain, Zainab or Rizvi. But the media machine in Jhang aside, take a look at what's happening in Karachi. The party continues to propagate hatred against Shias and blames Shias for attacks on its own members. It is also defensive of the Lashkar-e-Jhangvi, and continues to provide an enabling framework for anti-Shia hate to be spread through society. It is widely believed to be responsible for the attacks on Shias in Karachi. Or, take a look at what's happening through rural Sindh, where the ASWJ's network is spreading rapidly. It is associated with seminaries that are involved in the mass conversions of Hindus to Islam, and continues to stir up violence in districts such as Khairpur in Moharram.
The narrative of 'reform' has been pitched by people such as former ISI head Hamid Gul, who works with the ASWJ as part of the Difa-e-Pakistan Council, and the ASWJ itself. The Ishaq split in itself was also used to show that the ASWJ had no links to LeJ and anti-Shia incitement. This spin was also extended by Tahir Ashrafi (whose own role in attempting to influence religious debate needs to be studied for its duplicity) to Malik Ishaq.
The ASWJ public spin is also largely driven by a split in the party's own ranks. The release of Malik Ishaq, the Lashkar-e-Jhangvi leader who went on an extensive incitement-against-Shias speaking tour countrywide after being released from jail, sparked a fight for the leadership of the party. A fairly public dispute later, Ludhianvi gave Ishaq a post in the party's leadership structure. This didn't help to stem the dissent, though the ASWJ's backers have used the split to attempt to bolster the narrative that the party has nothing to do with LeJ. However, Ishaq remains widely influential, an official part of the ASWJ and has his own followers. Increasingly, the ASWJ's rank and file may be – or is being drawn – to Ishaq and other hardliners like Orangzaib Farooqui. The center of power for the ASWJ isn't Jhang anymore, but Rahim Yar Khan and Karachi.
Why does the ASWJ want to spin this narrative? My own assumption is that the ASWJ's association with large-scale massacres of Shias countrywide has now become far too potent to ignore, and overshadowed the Difa-e-Pakistan Council. The other is that Ludhianvi & Co actually want to become a political party.
In April, I trailed ASWJ chief Ahmed Ludhianvi during his election campaign in Jhang for a day. At a series of door-to-door stops, and in brief interviews with me during the course of the day, Ludhianvi did not mention Shias at all. (Of course, in an election season, the spin machines are in overdrive everywhere.) Instead, Ludhianvi appealed to voters on the outskirts of Jhang city that "they had been voting in rich landlords (who are Shia) and businessmen (like Shaikh Waqas Akram, who is strongly anti-ASWJ) who have done nothing for them." By default then, it seemed to be a 'don't vote in the Shia/Shia supporters – vote for us instead' message. Ludhianvi lost the election.
Ludhianvi losing the election – or possibly the leadership of the party – doesn't mean that the ASWJ is on its way out. If anything, the views the ASWJ holds are so widely acceptable in Pakistani society that it is often hard to ascertain whether someone raging against Shias is actually a card-holding member of the party or has adopted these views independently. And anti-Shia views are everywhere: from the elite of Karachi society "complaining" about how the roads to Imambargahs being closed during Moharram are "such a nuisance" or how "Shias shouldn't really have a jaloos in Muharram, it's a security threat for everyone" to cops who complain about Shia advocacy groups protesting. This is where the real 'spin' is, ladies and gentlemen, that hating on a religious group is now a 'legitimate' view that garners none of the judgment that it deserves.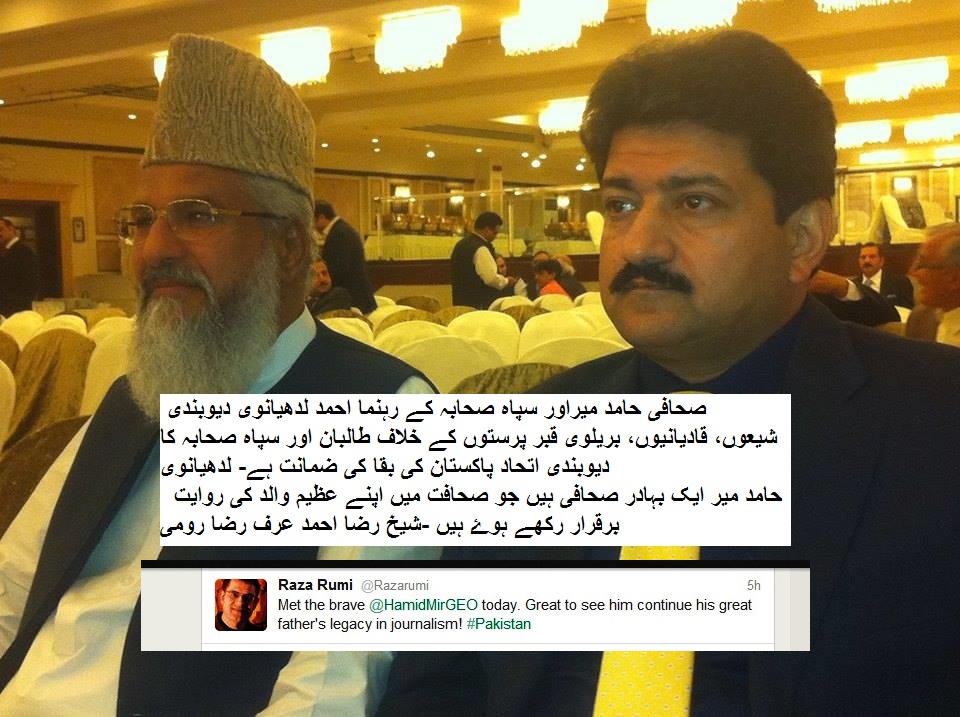 From the horse's mouth ASWJ is just a front for the banned SSP (now LEJ)

Maulana Ahmad Ludhianvi speaks himself SSP/ASWJ are same. from Progressive Shia Activists on Vimeo.
Comments
comments