Imran Khan's Appeasement of Taliban – by A Z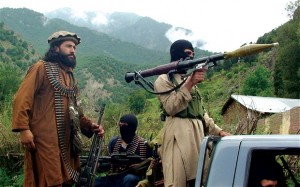 Imran has long pleaded that the only way to combat terrorism  is by partnering with and empowering Taliban. Here comes his "revolutionary" new idea, of inviting TTP to open an office, that has merited wide coverage. And if the strategy had to be summed up in one word, it would be, "Collaborate!" Yes, collaborate with Taliban. Let me phrase it this way, "Empowering TTP to Prevent Violent Terrorism in the Islamic Republic of Pakistan". Sounds catchy, doesn't it? Almost as catchy as "Man-Caused Disasters", "Scourge of Democracy", "Bane of Free Markets" and comes from the same school of thought. Imran is the Chancellor of The University of Denial, whose motto is that the best way to fight terrorism in Pakistan is not to talk about it. And "Not talking about it" is a big part of PTI's strategy. Here's what Imran had to say and Asma Jahangir's riposte to it.

For Urdu commentary click here
Imran warns repeatedly that drone attacks lead to terrorism. The LEJ has "Loose Lips, Kill Shias", and "Loose Stereotypes" blow up ordinary Pakistani women and children to avenge drone attacks.  This strategy treats terrorism as a persistent side issue, rather than a violent existential threat to the state and its subjects. And its only answer is to keep appeasing the extremist groups to entreat them to not to blow us up. Empowering Taliban is a transparent defense of Taliban and other organizations engaged in violent radical activities within our national territory.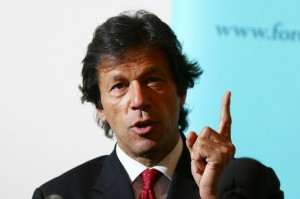 Rather than countering the violence perpetrated against the citizens of Pakistan, it pretends those attacks have never been made, and urges the state to continue partnering with the extremists. A course that leads national law enforcement to unwittingly work with the terrorist organizations. Fighting terrorism with more Islamism is Imran's approach and it derives from his long-held fondness for Taliban. This is the fulcrum of appeasement. On the one hand Imran and those like him argue that terrorists are a tiny minority of a tiny minority. On the other, if the Republic of Pakistan fails to mend its ways and appease them, they warn that the bloodshed will continue and will spread. Imran now stands blatantly exposed as the apologist for a radical movement which has wrought mayhem all across Pakistan. Imran's new strategy could have been written by Munawar Hassan. And, probably, it was. Even if it was not, what Imran has in common with the loose ideologues is that neither of them wants to allow a serious discussion about terrorism in Pakistan. Instead they want the conversation to be about how overblown and how dangerous the talk of fighting terrorism is. But if the idea of fighting Taliban is overblown, then why is it dangerous? And if it is dangerous, then why is it overblown?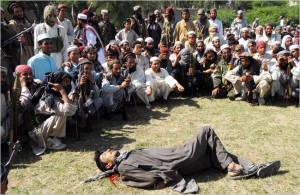 Imran replaces terrorism with vague euphemism. With words so generic that they mean nothing at all. And the content is equally generic. Swap out a few words and it could be about any social problem in Sweden or Norway.
But that's the essence of this strategy. Inaction and ignorance. Ten years of inaction. Months of silence followed by hours of noise. It is not a rhetoric that sets out real goals and objectives. Its only objective is to sideline serious efforts to combat Taliban and replace it with blank buzzwords. Because he has no idea what's out there anymore. To know the enemy is the first step toward defending against an attack. But how do you defend against a threat, when you can't even spell its name? The terrorists of the TTP. The Orwellian blankness of Imran's strategy is a space of ignorance to mask the truth of terrorism. The enemy is reduced to a social problem, terrorism to justifiable violent extremism, and the war on terror to nonsense.  
Postscript: It's about time the likes of sensible people like Asad Umar start questioning their presence among the likes of Imran, Pervez Khattak, Arif Alvi etc.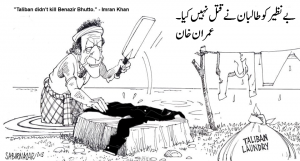 Comments
comments