Taliban: How dare you brandish human flesh with demonic beliefs and call it religion?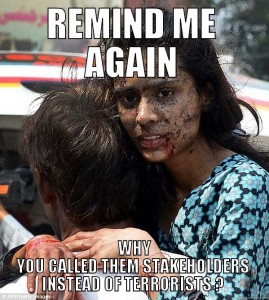 I  initially wrote these few lines for the christian man 
Boota Masih that was slaughtered
  in the name of "blasphemy" and people watched but did nothing. Spectators like the time of the gladiators; they waited with bated breath and then cheered at the kill.We do the same.They will surely pay their due, for silence that has saved their "life" will make their body heavy as lead.
On the day I was to post it there have been twin blasts in a church in Peshawar. 78 Dead and 160 injured; with the  death toll only rising. And yet I find this gruesome lack of courage by our countrymen and 'leaders' to name the killers, or even call them killers. Taliban TTP, LEJ, ASWJ with  their chests puffed and all their pride out claim responsibility for their gruesome killing sprees and arson, and some of us still mock the law by saying it's not 'beyond all reasonable doubt'.Perhaps if the suicide bombers got leave from their Hoors they'd spell it out: do not discredit the work we have done-we gave our lives after all!
Dedicated to all innocent Christians & Muslims killed unjustly.
 Tell me how you will give accountability for taking a child's sleep
and a mother's peace of mind?
How will you stand before the Holy Prophet when you have killed innocent people in his name?
How dare you brandish human flesh with your demonic beliefs & call it religion?
Your glorious throne upon of weapons of mass destruction, yet you fear a few tears rolling down a face in grief of Hussain?
I will not say in the name of Islam.Because I know what Islam is.
Comments
comments