Father of Taliban Maulana Sami-ul-Haq Deobandi (Mullah Sandwich) says: "Mullah Umar is like an angel, give all power to Taliban"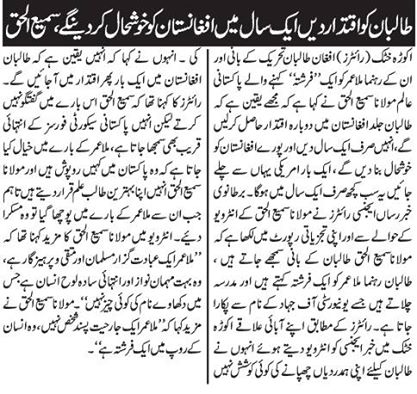 Molana Sami ul Haq Deobandi AKA Mullah Sandwich has spoken to support his favorite and most notable student the one eyed Mullah Umar,  leader of the Afghan Taliban. Speaking from the founding University of Global Terrorism "Dar ul Uloom Haqqania Deobandi" , Molana made  a forceful case that to hand over Pakistan and Afghanistan to his brilliant student and this would be the solution to all the problems related to law and order. Previously Molana had made a similar case for the Taliban government in Swat.
Unfortunately for the Godfather of the Taliban, Government of Pakistan at the time was lead by Pakistan Peoples Party which overcame great political, logistical and operational hurdles to clean Swat form the Taliban. Nearly 2 million Swat residents were moved form their homes places in temporary housing and then relocated back to their homes. In the interim the State proceeded to provide food and temporary shelter to civilian population of Swat. The biased Pro Taliban media of Pakistan has always framed the Swat operation to discredit the Pakistan Peoples Party, as long as Swat operation was not going well initially, it was PPP govt.'s fault. When it was successful, it was Pakistan Army's success.
The new Pakistan Government seems to have all but surrendered sovereignty to the Taliban. Iftikhar Murshed, Amir Hussaini and others have been extremely critical of this spineless policy by the Shareef (Saudi Arabia) lead Pakistan Government. Additionally the global policy has shifted with the recent truce between Taliban and the United States. High level diplomatic contacts have been established between two former enemies.  The civil war in Syria needs Al Qaeda and Taliban fighters, this has considerably strengthened the position of Global Terrorists. Suadi Arabia and the Gulf States are pouring millions to buy more fighters from the Madrassas or production factories of Global Terrorist Mercenaries in Pakistan.

With old friendships of the Soviet era revived, Sami ul Haq is making a case for the Taliban take over of Pakistan and Afghanistan:
Speaking to Reuters at the sprawling campus near his native town of Akora Khattak, Haq did little to hide his sympathies for the Taliban, a word meaning "students" in Pashto. He said he was sure the Taliban would soon sweep back to power in Afghanistan.

"Give them just one year and they will make the whole of Afghanistan happy," Haq said. "The whole of Afghanistan will be with them … Once the Americans leave, all of this will happen within a year."

Despite Haq's openly pro-Taliban views and connections, his seminary is recognised officially in Pakistan – a symptom of Islamabad's long-running duality over the Taliban issue.

Haq would not talk about this publicly but he is believed to be close to the security forces – a legacy of an era when Pakistan sponsored movements and supported fighters, including Osama bin Laden, against Soviet troops in Afghanistan.

Kabul's government has long accused Pakistan of playing a double game while publicly condemning extremism – a charge Islamabad fiercely denies.

Back in the 1980s, many young Darul Uloom Haqqania graduates swapped books for guns and drove west along the highway running just outside its iron gates towards Afghanistan, where they joined groups to fight against the Russians.

One of them, Mullah Mohammed Omar, later took advantage of the chaos that followed the Soviet withdrawal in 1989 to found the Taliban movement – a period often recalled with nervousness ahead of next year's drawdown of US forces from Afghanistan.

Omar is now believed to be hiding somewhere in Pakistan's tribal regions on the Afghan border.http://tribune.com.pk/story/604602/mullah-omar-is-an-angel-like-human-samiul-haq/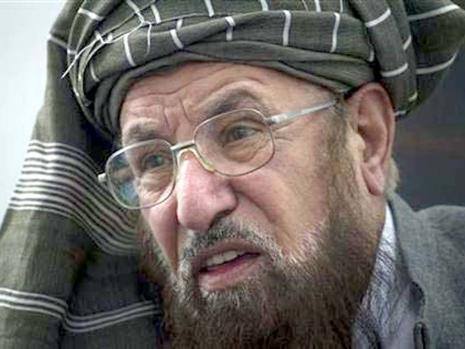 Comments
comments