Welcome Zardari: Lahore Jalsa – by Naveed Javed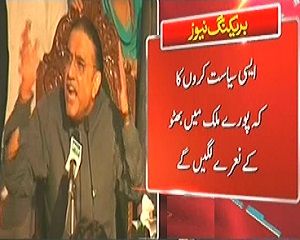 Like it or not but President Zardari has done what no other politician in the history of Pakistan could do. He remained the only 'Ghazi' of PPP who stayed in the ranks of opponents and came out victoriously with nobility and probity.  After Benazir's death, I have noticed a complete transition in the personality Asif Ali Zardari, he remained serene and composed even in the toughest days of his life and always welcomed every hate monger with his 'super' smile, but if you notice him closely you can see his eyes tells the story of his sore past and great sacrifices, he and his family has given for Democracy and Pakistan.  The accomplishments of Asif Ali Zardari are immense; I must say the history will remember Asif Ali Zardari as the 'Father of Democracy' and the nation is indebted to him for his great endeavors and sacrifices for Democracy in Pakistan.
8 Sep 2013 was the day when Asif Ali Zardari received guard of honor and stepped down as president of Pakistan with all poise and decency. He headed to Bilawal House Lahore where he was to meet and make a speech to the party workers from Punjab, Sindh, Baluchistan, KPK, Gilgit Baltistan and Azad Jummu and Kashmir. I had the honor of attending that Jalsa; I reached there about one hour before Asif Ali Zardari appeared at Bilawal House. I was noticing PPP workers; they were all waiting for their beloved leader Asif Ali Zardari. And when Asif Zardari appeared at the stage with his 'super' smile, the response from the party workers was overwhelming. Almost everyone was chanting slogans of Welcome Welcome Zardari Welcome, he was responding to the workers with his signature smile and was waving hands towards them. The crowd was overjoyed in excitement, and it took about 5-10 minutes to make people sit on their seats.
One thing, I must cite here that workers of Pakistan Peoples Party manifested their full support to Asif Ali Zardari, and they want Zardari to lead and resuscitate the party himself. I could observe the gloss in the eyes of workers when they saw their dear leader Asif Ali Zardari at the stage. When Asif Ali Zardari started his speech with the slogan of Jiyyyyyyyyeeeeeeee Bhutto, the whole conclave was ecstatic with emotions. Aisf Ali Zardari kept on saying that today when I address to the people in Lahore; I am not alone, Shaheed Zulifqar Ali Bhutto, Shaheed Mohtarma Benazir Bhutto and martyrs of Pakistan Peoples Party are with me, and they are watching me. He further said today we have attained all for what our leaders and workers have sacrificed their lives, today we have fulfilled the dreams of SZAB and SMBB, we have achieved DEMOCRACY. It was a concise speech but a very staunch speech in which President summed up his achievements to bring democracy in Pakistan. Also, he pledged to the PPP workers that he is no more bound to any obligation, and now he will stay in touch with Jiyalas of SZAB and SMBB. "No power on earth can bare me from meeting with my Jiyalas now." I remember his words: "Main ab Lahore me rahoon ga aur Bibi kay Jiyalon sy miloon ga; Apny bachon sy miloon ga". He vowed to the Jiyalas that he will keep alive the Bhuttoism and the time is near when every Pakistani will chant "Main Bhutto Hoon, Main Bhutto Hoon". President Zardari concluded his speech in the slogans of Jiyye Bhutto, Zinda Hy Bibi Zinda hy; Jab tak sooraj chaand rhy ga, Bhutto tera naam rhy ga; Asif Zardari, Zindabad, Pakistan Peoples Party Zindabad.
The president's visit to Lahore was imperative in many ways. He was meeting with his workers after almost 15 years and that on a historic day when he leaves the presidency after fulfilling the dreams of SZAB and SMBB. Also, He gave a clear message to the establishment and nondemocratic forces in Pakistan that PPP will support Nawaz Sharif and PMLN government for the sake of Democracy. He gave clear guidelines to those PPP office bearers who had ignored PPP workers during last five years that now he himself will be monitoring the performance of everyone. This Jalsa also shows the commitment and earnestness of Asif Ali Zardari for the renaissance of Pakistan Peoples Party in all provinces especially in Punjab. It was indeed a big day for PPP-Punjab and followers of Bhuttoism. I thoroughly enjoyed all the proceedings at Bilawal House, Lahore. My best wishes for Asif Ali Zardari, and Bilwal Bhutto Zardari and their team; may they lead PPP to the new heights of magnificence and may they fulfill the promises of Shaheed Zulifqar Ali Bhutto and Shaheed Benazir Bhutto… Jiyyye Bhutto, Jiyyeee Awaam.
Twitter: @snjay_
Comments
comments