Mr. Kleen Klasra! Here you go again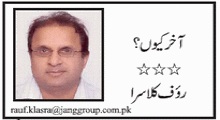 Few days ago, Klasra SiaN wrote how Prez is taking away the gifts. Then there was something about Kleen Klasra I wrote and tagged him (please see the note). In his latest column (Sept 5) Klasra SiaN laments that despite the fact he has given so many 'clarifications' he is still being maligned.  He does not say that he did not go to court or that he never got the plot. He laments that it is taking to long for the sector to develop.
Then he tells something about his morals. He tells how our gifted Saraiki Bhira was gifted with a watch by Kingdom of Saudi Arabia. He was sent a letter and was told to pay the legal percentage and then keep the watch. He being so moral decided that it would be depraved of him to keep the watch worth 120,000 Rs. Wow.
But SiaN suing the nation for plot worth Millions is moral. May be it was too unworthy for SonhrraN SaiN to accept such a cheap thing or to paraphrase someone who was burnt in sky on Aug 17th it was 'just peanuts'.
Wait a minute! So you received a letter on October 1st, 2011 telling you to deposit 16,500 Rs. Unless I am hallucinating or there is some gross typo, letter No. was    "Cab.Div.U.O.NO 9/7/2008-tk".  Correct me if I am wrong. If Cab.Div stands for Cabinet Division and tk for Tosha Khana then 2008 maybe means some kind of calendar.
So is it ok if I assume you got the gift at least no later than 2008. Sorry, sorry, sorry I was wrong. I forgot that watch was from Madni SaiN's country. How can a Muslim ever imagine parting away with that? I am sure first thing in the morning you must have done was to do ziarat of watch. Close your eyes touch the watch to you eyelids. I can see the tears flowing on your cheeks. Not because it was worth 120000 but just because it was from Hejaz. It must have been such an experience that those three years went by and you never thought that it was national treasure.
How stupid of me SiaN. Muaafi SonhrraN.
http://e.dunya.com.pk/colum.php?date=2013-09-05&edition=LHR&id=15645_56313100
http://pkpolitics.com/2009/07/20/journalist-corruption-scandal-rauf-klasra/
Comments
comments