ISI-backed Deobandi terrorists slaughter 34 police officers in Quetta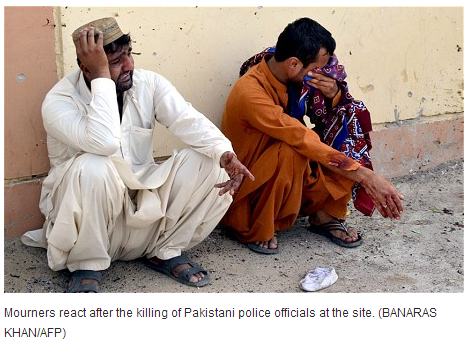 At least 38 mourners were killed and 60 injured today (8 Augu 2013) when a Deobandi suicide bomber attacked the funeral of a police officer murdered in Quetta, Pakistan earlier this week. Several of the city's most senior officers are among the dead. Police in the city said the toll was expected to rise higher because many of those injured were in a critical condition. The Deobandi suicide bomber detonated his explosives as he was being questioned by police officers as he approached the funeral being held in a field by a mosque in Quetta, the state capital of Baluchistan.
Deputy Inspector General Fayaz Sumbal, the province's police operations chief, was one of three senior officers killed in the attack. More than 30 of the victims were police officers attending the funeral of another officer who was shot dead earlier in the day while he was in a car with his two children. They were also injured in the attack on their father's funeral. DIG Sumbal had sent some of his officers to question the suicide bomber as he approached the funeral, minutes before he detonated his explosives.
Fellow officers who survived the attack said the bomber had left scenes of carnage in his wake and called for those who planned the attack to be "hunted down". They believe the bomber had targeted Quetta's city police chief who was at the funeral but unhurt in the explosion. Sajjad Tareen, Superintendent of Police in charge of the city's crime department, said he had survived because he had been out of range at the time of the explosion but several of his close colleagues had been killed. (Source)
The bomber struck as officers gathered to pay their respects to a colleague who had been shot dead only hours before in Quetta, capital of the troubled province of Baluchistan. A son of the imam of the mosque at the police headquarters was among the dead, Doctor Syed Sarwar Shah told AFP at one hospital.
Mushtaq Sukhera, police chief of Baluchistan, said at least 30 people had been killed and 21 of them identified as policemen. "The death toll may rise because the condition of most of the injured is critical," he told a news conference. When asked whether the attacker may have been helped by an insider within the police force, he said: "Yes we will also investigate the involvement of any insider." "Our brave officers embraced martyrdom but we will continue sacrificing our lives for the security of our motherland," he said.
Police said the attack was carried out by a suicide bomber. Witnesses described the horror after the explosion. "I was inside the mosque and we were lining up for the funeral prayers when a big blast took place. I came out and saw injured and dead bodies," policeman Mohammad Hafiz told reporters. "I have no words to explain what I've seen. It was horrible." Another witness told reporters he saw bodies scattered everywhere. "Most of the bodies were beyond recognition. We collected body parts and flesh," he said in the interview broadcast by TV channel ARY. "Those who are killing people, even inside mosques, are not human beings, they are beasts. They are not Muslims, they have nothing to do with Islam. Allah will never pardon them," he added. The blast capped a bloody Ramadan in Pakistan, where at least 11 attacks have killed more than 120 people during the fasting month which is one of the holiest times in the Islamic calendar. (Source)
Eyewitnesses said fear and chaos spread among the people attending the funeral following the blast. TV channels broadcast live footage from inside the mosque of frightened mourners scrambling for cover as they heard the loud explosion. "All my colleagues are gone. The DSP, SP, DIG… they're all gone," said one emotional eyewitness reduced to tears. (Source)
Some described the horror after the explosion. "I was inside the mosque and we were lining up for the funeral prayers when a big blast took place. I came out and saw injured and dead bodies," policeman Mohammad Hafiz told reporters. "I have no words to explain what I've seen. It was horrible."
Deobandi Taliban militants claim responsibility: In a telephone call from an undisclosed location, Pakistani Taliban spokesman Shahidullah Shahid Deobandi claimed responsibility for the attack. He said the Taliban carried out the bombing to punish police officers in Quetta as they were "working against Islam." He did not elaborate. (Source)
دریں اثناء کالعدم شدت پسند تنظیم تحریک طالبان پاکستان نے حملے کے ذمہ داری قبول کر لی ہے۔ (Source)
Balochistan Police in recent months has taken action against Deobandi terrorists of Sipah Sahaba (Lashkar-e-Jhangvi) who also operate as Taliban and Ahle Sunnat Wal Jamaat Deobandi. Deobandi militants are used by Pakistan army, ISI in particular, for Jihadist operations in Afghanistan and Kashmir. It is believed that ISI doesn't like police action against Deobandi terrorists, hence honest and upright police officers in Pakistan are routinely attacked by the LeJ-ASWJ terrorists.
Here's specimen reaction of residents of Quetta and other parts of Pakistan to the Quetta massacre today:
Tweets by Mr. Shahid Qazi, political leader:
May Allah Bless all my friends I lost in today's suicide attack in Quetta Police Lines. I am thankful to Allah for saving my brother Malick-
My brother Abdul Malick finished his Wudhu (ablution) & was putting on his chapli when the blast took place…
My brother Abdul Malick just told me that 3 policemen tried to stopped the suicide bomber & shouted oye oye & then he blew himself –
Lost good friends like Mohibullah Davi & Shams in today's atatck…May their souls rest in peace and may Allah grant them Jannah, Ameen!
Inspector Mohibullah Davi's three children & one guard are in hospital, may Allah Subhan Wa Ta'ala save them and give them health, Ameen!
DIG Operations among 25 killed in Quetta suicide blast | PAKISTAN – geo.tv http://shar.es/yh9Tj 
Martyred Police Officer Mohib Davi at Dubai Airport – pic.twitter.com/stQ5iNoNVR
DSP Shams was a very loving person, originally from Khayber Pashtunkhwa…
It was Lashkar e Jhangavi…
I just spoke to couple of Police Officers and they said that EVERYBODY knows WHO are supporting LeJ but ???
My brother is fine, he was sad about Mohibullah's death so, he rushed to the Janaza…
Police Officers told me that "LeJ openly told us that they will kill each & everyone of us", how come they still exist?
I will not bite my tongue & say it loudly that da bomber just had ONE ENTRANCE & that was from Quetta Cantt (boundry wall of PL is in Cantt). One small exit door opens towards Garrison School in Quetta Cantt, all other gates were secured….
ALL the officers talk openly about Army's support to Lej…once you sit with them you will know WHO controls these BARBARIANS
SSP Wazir Khan Nasar once told Army Officers OPENLY in a meeting that Police can take care of them if you (Army) stop supporting them
AND they send a suicide PICK UP to his house and then he had to go in hiding till he succeeded getting himself transferred to Punjab!
SSP Wazir Khan Nasar is a Nephew of PMLN Leader Sardar Yaqoob Nasar that's why he got transferred to Punjab..others just die in Balochistan-
THIS WHAT THEY DID TO WAZIR KHAN WHEN HE TOLD THEM IN A MEETING THAT YOU (ARMY) SUPPORT THEM (LEJ): http://pakobserver.net/detailnews.asp?id=85257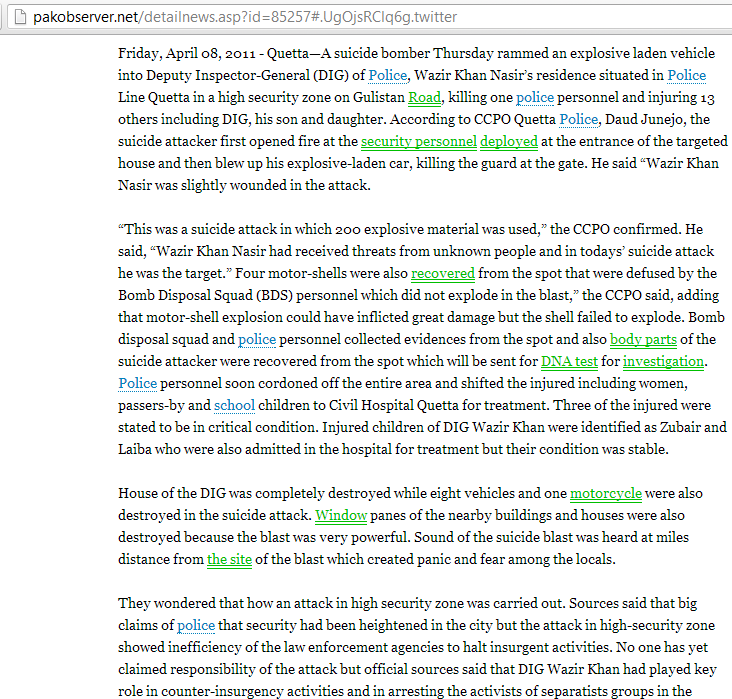 Govt is weak and State is responsible, Govt is Bloody Civilian and the State belongs to the Mighty Army –
I can't name the Officers, they told me that LeJ has told them they will kill each & every Officer of Quetta Police!
Hamid Mir confirms that Pakistan army supports banned Deobandi terrorist outfit ASWJ in Balochistan http://shar.es/y4bFu
Video: People of Quetta Balochistan chant slogan: Qatil Qatil, ISI Qatil (ISI is murderer): https://lubpak.com/archives/247965
I don't know HOW the people of Pakistan will celebrate 'Eid after watching all the killings around them!
My heart goes out with the families of the martyrs and I share their grief & sorrow & I stand with them & say NO to ALL Killings whatsoever!
Yes we all are ignorant & traitors when we expose the Army. Please remain Wise & Patriot and leave us alone!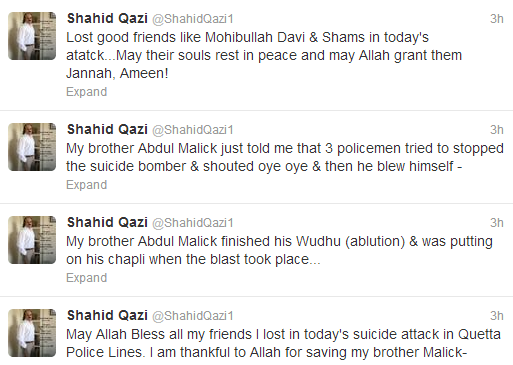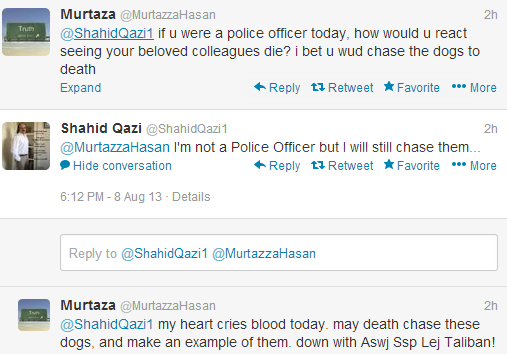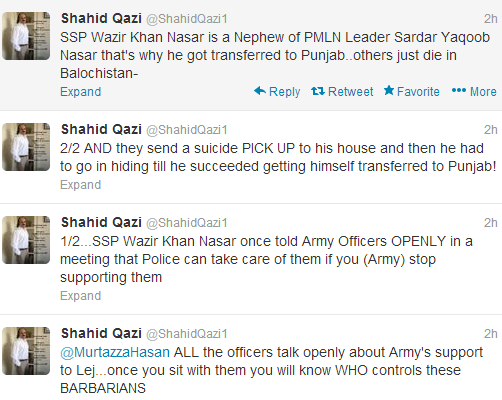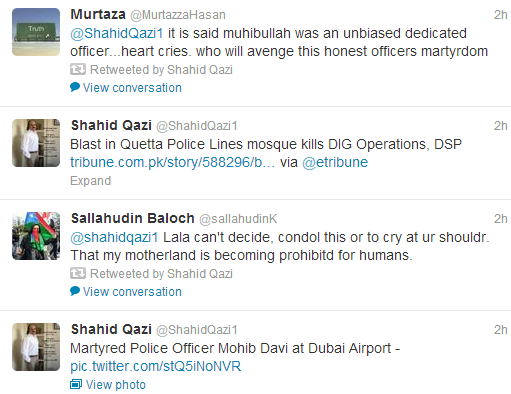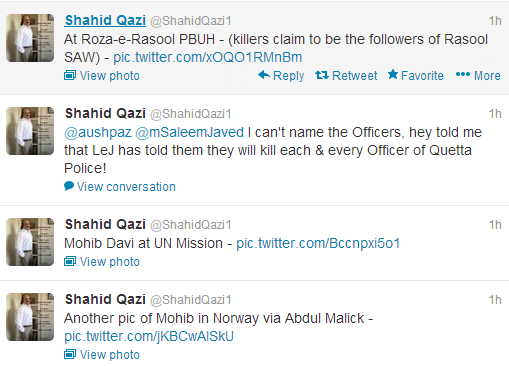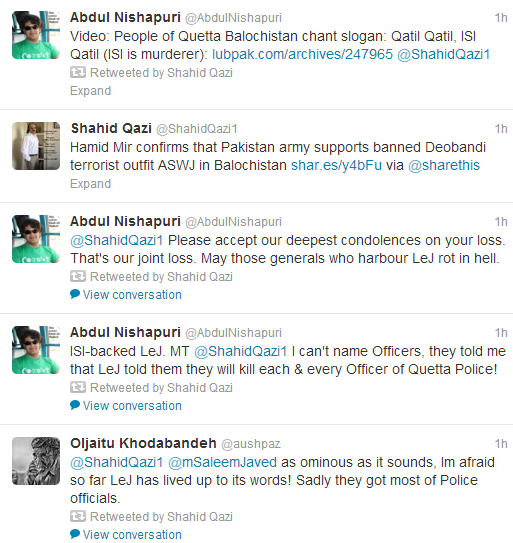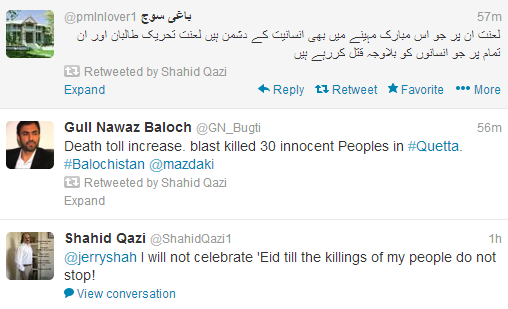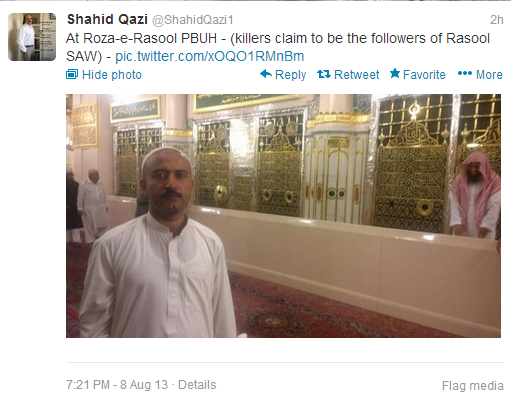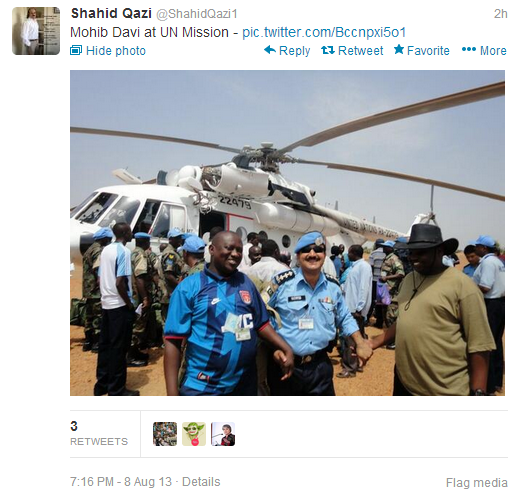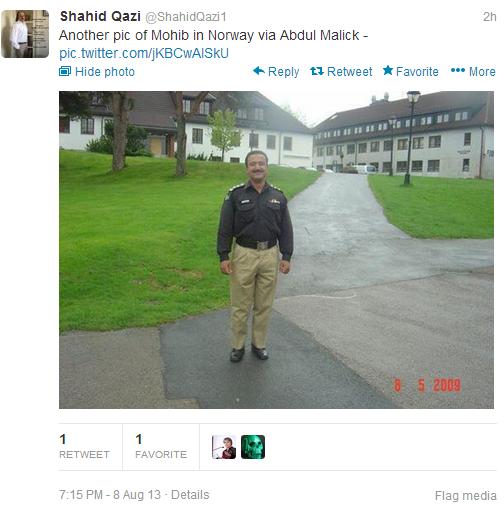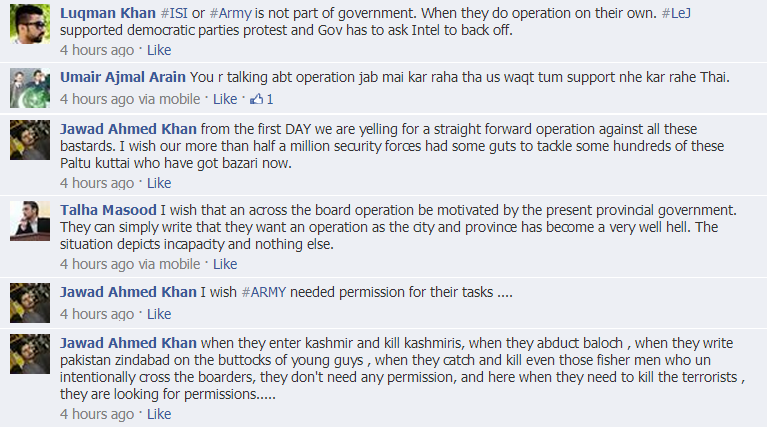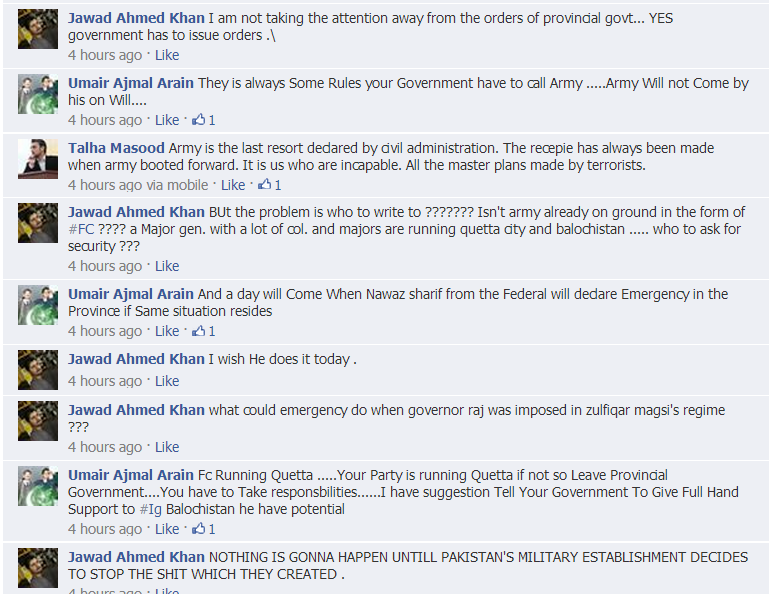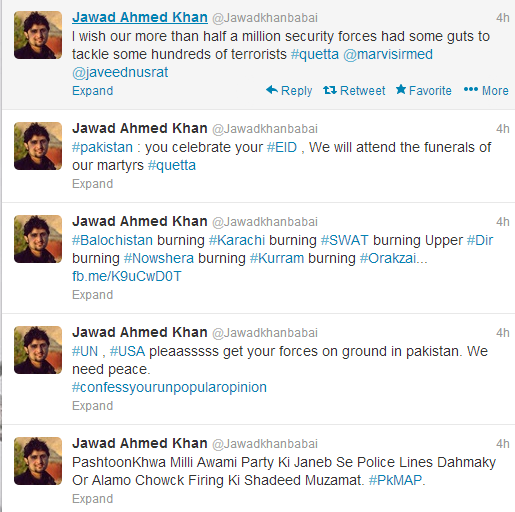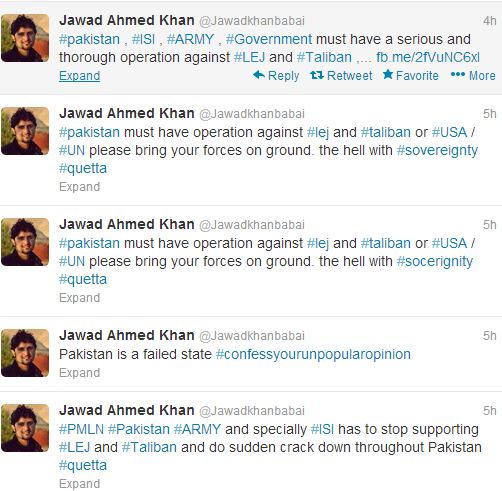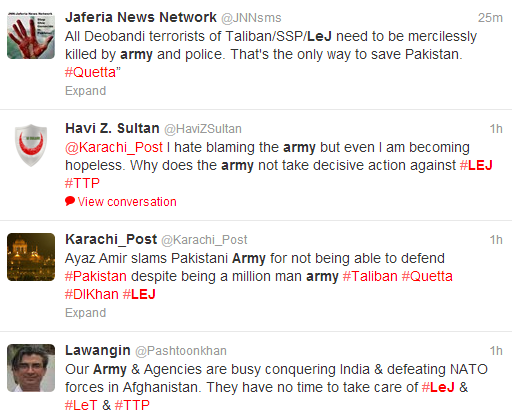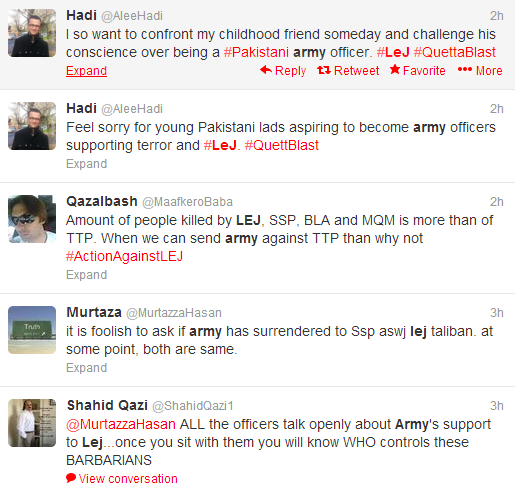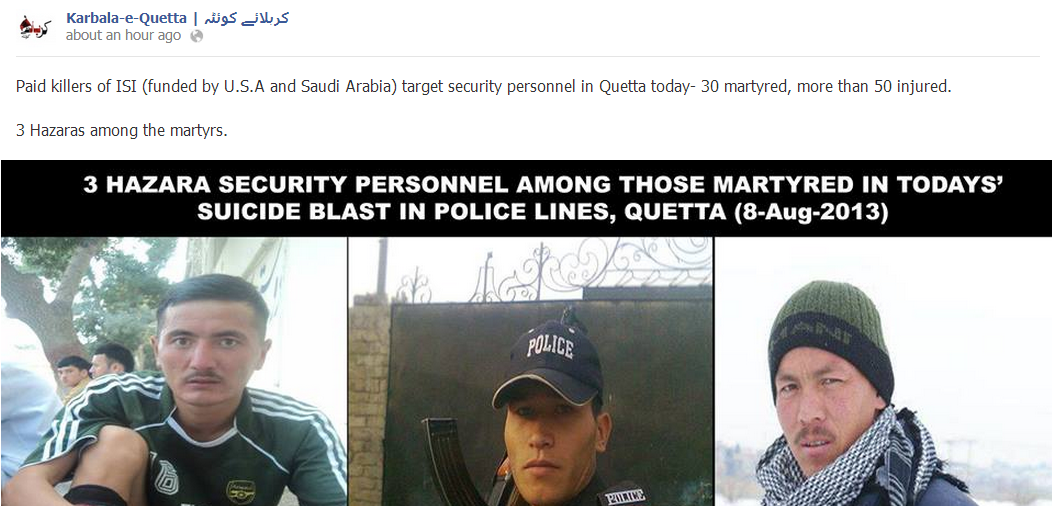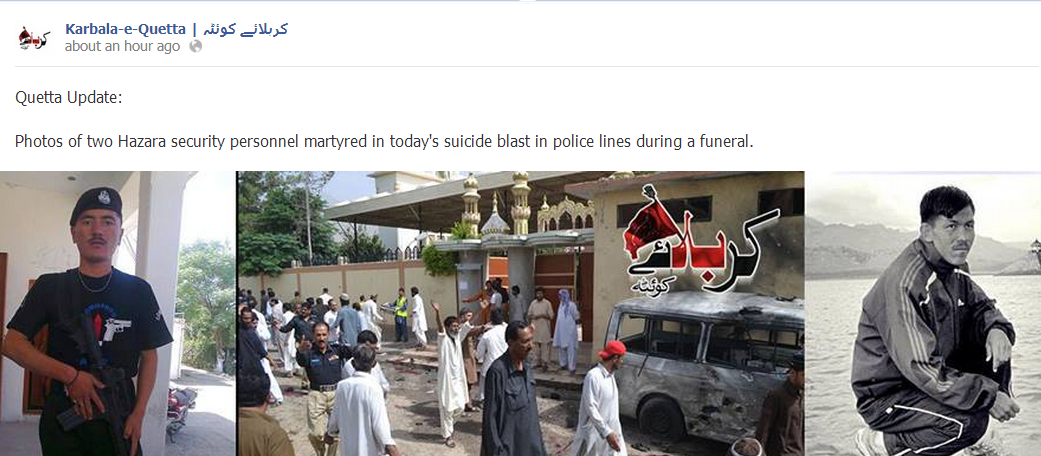 Comments
comments